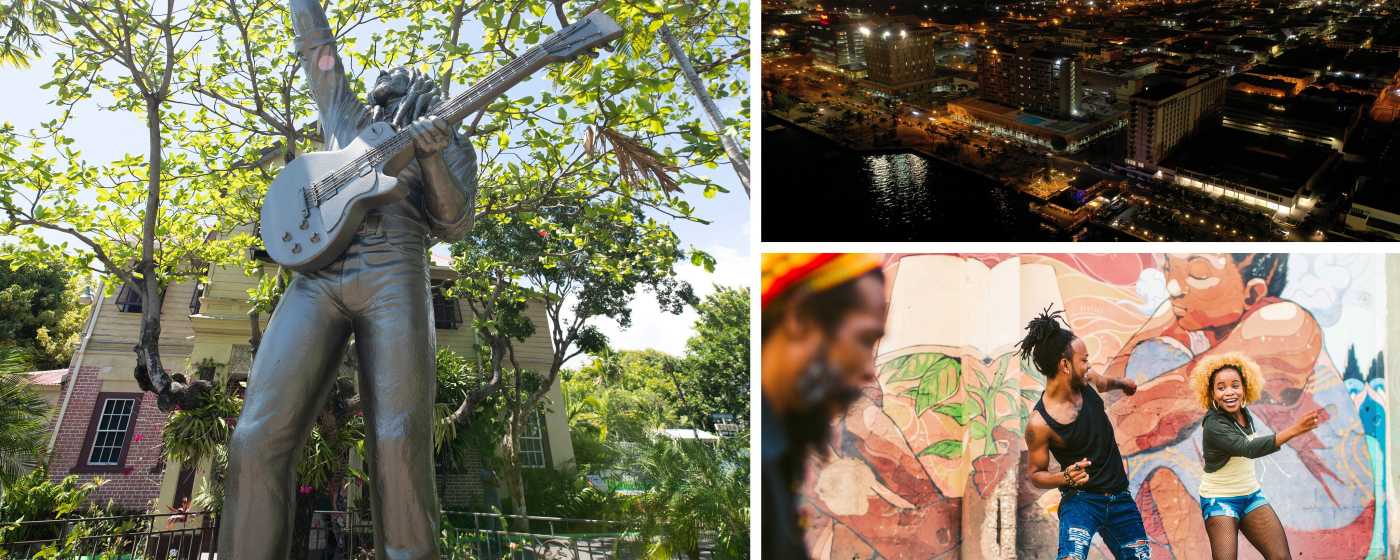 Kingston
Kingston
Explore Our Capital City
The metropolitan that is Kingston, Jamaica bursts at the seams with spectacular sights as busy city residents go about mixing work and play. It's a beautiful chaos waiting to be explored.
This is the cultural mecca of our island. The place to be if you want to experience the mesmerizing music and heady nightlife as you vibrate to the beat of the drums. You'll also find fine art galleries, epicurean dining, amazing views in the cool hills above the city, and incredible beaches.
Hotels
There are plenty of hotels in Kingston to choose from. At the heart of all the action are several first-rate international hotel chains you may know. You'll also find many fabulous local options that offer the modern amenities of a cosmopolitan city served up with our mesmerizing Jamaican vibe. The business hub New Kingston is home to several of these accommodations that will have you mere footsteps from some of the most exquisite city attractions and exciting events.
Skirting the town are a handful of spectacular guest accommodations that offer the experience of staying on the waterfront in well-manicured affluent neighborhoods or tucked away in the cool city hills. This is an excellent way to enjoy the bustling city and its quiet beauty simultaneously.
Restaurants
Kingston is the place to sample every type of food Jamaica has to offer. You'll love the array of swanky sports bars dishing up casual dining meals with a spicy Jamaican twist. The courtyard at Marketplace is one spot to treat yourself to a wide variety of Jamaica's finest eats. Here, you'll find Usain Bolt's Tracks and Records, the sprint icon's first sports bar, as well as a splendid gathering of fine dining restaurants offering dishes from Asian and European cultures. No matter what you're craving, there's a Kingston restaurant to satisfy your appetite.
What to Do
Golfing, beaches, fine art galleries, a bustling nightlife, colorful markets, and even more colorful people are just a few reasons to visit Kingston. There's no shortage of things to do in Kingston and nowhere else on the island will you feel the pulse of Jamaica quite like it beats here. 
To see Kingston's star attractions, start Downtown at the heart of it all. Visit the National Gallery of Jamaica to see the cultural exhibits on show here. Then walk through streets lined with sensational murals to dine at a local cafe. Enjoy the vibrant scene of the waterfront as children frolic and music blares from somewhere nearby. Take a quick ride to Port Royal, once dubbed the "wickedest city in the west," to visit spectacular beaches at Lime Cay or eat the best seafood at Gloria's. 
Venture uptown to visit the Hope Botanical Gardens, home to gorgeous gardens, alfresco dining, and an amphitheater that hosts regular reggae bands. The gardens are just up the road from the Bob Marley museum where he lived and recorded many of his famous songs.
Get to know Kingston, the melting pot of Jamaica's finest offerings that will leave you wanting more.