Romance Luxury in Jamaica 
Welcome to a world where romance is set against the backdrop of the beauty of our enchanting island and the genuine warmth of our people.  
Secluded Romantic Hideaways 
Jamaica is the perfect backdrop for your bespoke romantic getaway, as one of the Caribbean's most stunning destinations. 
Whether your romantic journey takes you to a gingerbread cottages flanked by a cobbled Jade vine courtyard ringed by cascades of iridescent tropical blooms, to enjoying the world's best coffee at a private villa at sunrise overlooking misty Blue Mountains, or sitting on the majestic lawns of your exclusive resort enjoying panoramic views overlooking the Caribbean Sea, Jamaica boasts a wide range of romantic hideaways.  
Find yourself in the warm embrace of a canopy of trees at one of our upscale tree houses or enjoy the Caribbean's most spectacular accommodations - the exclusive and highly coveted over water bungalows, which boasts "sea-through" glass floors for undersea views for an unforgettable experience.  
Our exclusive luxury villas and resorts also offer a wide selection of secluded beachfront hideaways designed for couples seeking privacy and tranquility, the soft kiss of the Caribbean breeze, and gentle lull of the waves for the ultimate getaway.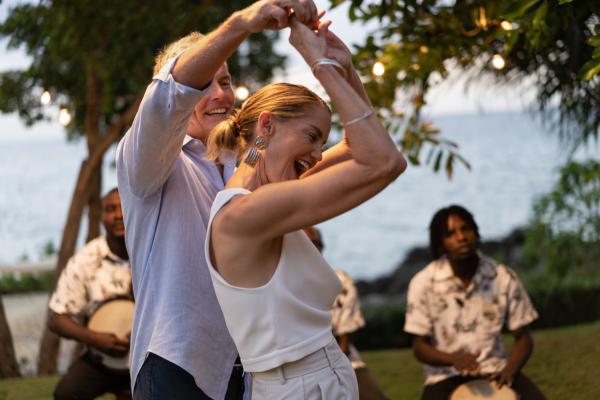 Intimate Dinners: Dining Under the Sky and the Stars 
Whether sipping on a signature cocktail at our exclusive bars with speakeasy vibes, or dining alfresco at any of our restaurants that offer stunning ocean views, prepare to indulge in the most romantic dining experiences where the serenade of waves caressing the seashore, or the sweet sounds of Jamaican cabaret are perfect soundtracks to dine to.  
Savor exquisite cuisine prepared by your private chef under the starlit Jamaican sky as you savor contemporary Jamaican cuisine that celebrates both delectable local flavors and international culinary traditions. Whether you have an intimate five-course candlelit dinner sea-side in a flower-strewn cave, dine on a private island amidst lush tropical landscapes, or in a historical plantation mansion, you will be sure to savor the beauty of our landscape, the rich history of our island, and the delightful flavors carefully crafted to tantalize your taste buds. 
Elevated al fresco farm-to-table experiences under Jamaican blue skies are available for discerning tastes, seeking private dining with organic and vegan options, with an emphasis on sustainable and ethical farming.  Couples can also enjoy other elevated gastronomy and mixology experiences with culinary classes with local celebrity chefs, or make artisanal chocolate together, a great recipe for spending quality time together.