Luxury for Families in Jamaica
Welcome to a world of luxury that redefines family vacations. In Jamaica, we believe that every moment of your family getaway should be nothing short of extraordinary with sumptuous accommodations and amenities, and immersive cultural experiences delivered with the warmth and hospitality of our Jamaican people, for an unforgettable luxury experience. 
Jamaica is the luxurious escape with something for everyone, across all generations.  
From exclusive, private accommodations with unrivaled views and luxurious grounds and amenities, to exquisite dining options, and personalized adventures, discover our commitment to crafting unforgettable family vacations, hosted by our vibrant Jamaican people.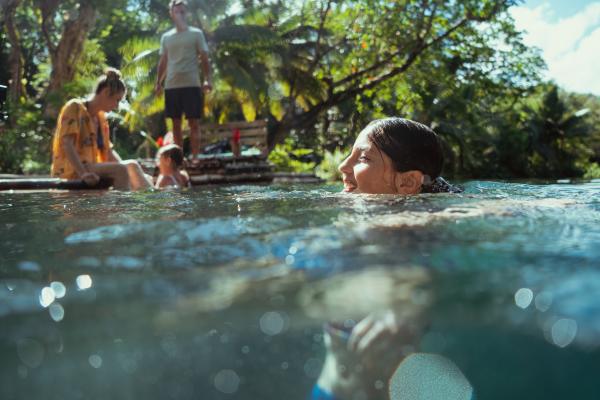 Sumptuous Accommodations: Where Comfort Meets Elegance 
Our luxury resorts and villas redefine comfort and elegance, offering breathtaking views, and spacious accommodations that cater to families of all sizes. From private beachfront villas, to upscale resort suites with their own infinity pools and panoramic ocean views, your family will enjoy the utmost in luxury and privacy.  
Jamaica's laid-back island luxury offers modern resort amenities including exquisite fine dining restaurants, professional 18-hole championship golf courses, equestrian centers, tennis courts, private coves and beaches, over water suites on a private island, private catamaran cruises, and even a private dolphin lagoon. 
For the unmistakable touch of Jamaican hospitality, opt for white glove butler service at our exclusive resorts for top-notch personalized guest services.   
Personalized Family Adventures: Creating Lasting Memories 
Jamaica's vibrant culture and natural wonders provide the perfect canvas for family adventures. Our curated activities promise unforgettable experiences for every member of your family. From deep sea fishing, swimming with dolphins, and climbing majestic waterfalls, to exploring cultural treasures, or reveling in the atmosphere at local music festivals,
- there's something for everyone! Our mouthwatering cuisine, the people, rhythm, and breathtaking beauty of our island awaits to feed your spirit of adventure, your bellies, and your souls.