You've spent weeks planning your long-awaited vacation. You've prepared an itinerary jam-packed with hours of sunbathing, relaxing spa visits and adventurous tours. No doubt exploring the local culture and food will be high on the priority list. Yet you fear the post-holiday bulge as you return to regular life, sun-kissed from your time in the Caribbean.
In Jamaica however, staying fit while on vacation is just as easy and irie as our 'no problem' mentality is to adopt. 'Fitcations' are steadily becoming the go-to type of trip for many travellers seeking to maintain their healthy lifestyles while taking a break. Fortunately, Jamaica's calendar of events has you covered with heart-rate pumping things to do, plus great facilities and hotels to keep you on track for your goals.
EVENTS
Reggae Marathon & Half Marathon is Jamaica's premier International Marathon Event. This is where marathoners, sports enthusiasts as well as beginners converge in Negril, Jamaica for a fun event characterized by good vibes and lots of Reggae music.  Reggae Marathon takes place over a 3-day period with events such as the rated gourmet Pasta Party and Marathon Expo that features some of the island's best art & craft with running related products.
The recently concluded Spinning Escape Jamaica featured more than 50 sessions over the three days delivered by internationally renowned Spinning® Master Instructors, yoga and fitness presenters from across the world. With Spinning journey rides and workshops, yoga on the beach, functional training, instructor certifications and even pool sessions – there is something for everyone. But there is so much more than just the fitness. The first staging was a great success, and 2017 promises to be even better.
"Jakes Off-Road Triathlon will start its 22nd year on Saturday April 29, 2017 at 7:00am. It features a 300 meter protected ocean swim, a 25k off-and-on road back-country mountain bike and a 7k trail run. Locally made awards are provided in overall, masters and team categories. Prior awards for Jake's include Top Five Global Off-Road Triathlon from Triathlete Magazine in 2010. Come for physical activity in pristine scenery. Come for nights kicking back in perfect earthy luxury. Come to get fit and let go. The only thing you will regret is leaving too soon!"
This is the largest Seniors Tennis event in the Caribbean. The 4th Annual Jamaica International Tennis Federation (ITF) Championships will be held at the Half Moon Resort from April 18-23, 2017. "The Jamaica ITF Championships is about friendship, ambiance, and sportsmanship and of course a lot of FUN. It's a melting pot of cultures from all over the world playing tennis in a 'festival atmosphere'."
WHERE TO STAY
Couples Swept Away, Negril
Not many hotels can boast that 10 acres of their property is dedicated solely to fitness and wellness but Couples Swept Away in Negril can say that and more. Professional grade tennis courts, racquetball and squash courts, a 25-meter lap pool, and outdoor jogging trail are just the beginning of the sports and fitness complex. With all these activities covered under the resorts' all-inclusive rates, guests have ample opportunities to sneak in an hour or 2 of activity into their day.
Half Moon Resort, Montego Bay
The harmony of mind and body are top priorities at Half Moon Resort in Montego Bay, famed for its award winning spa, Fern Tree, the largest resort spa in Jamaica. Complementing the spa's focus on renewal is the recently renovated Fern Tree Fitness Centre, offering Spinning ®, yoga, aerobics and pilates. In addition, the Fern Tree Tennis Programme gives guests the opportunity to play on 13 lighted courts with professional instructions certified by the International Tennis Federation (ITF) and US Professional Tennis Registry.
Jakes, South Coast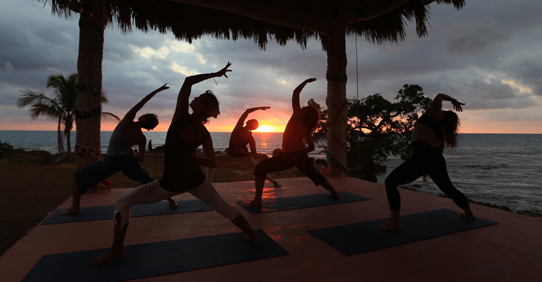 A rooftop yoga deck with 180-degree views of the Caribbean Sea certainly sounds like an invitation to find your zen. Jakes Hotel's yoga retreats are led by their in-house yoga instructor Dr. Empress Thandi Wise, a certified colon hydro-therapist. Guests can plan ahead to take part in Jake's Yoga Fitness Vacation (January 9-14) and 2nd Annual AcroYoga Fest (April 18-23).
THINGS TO DO
These attractions and tours are a fun way to keep the calories burning while surrounded by nature on vacation in Jamaica.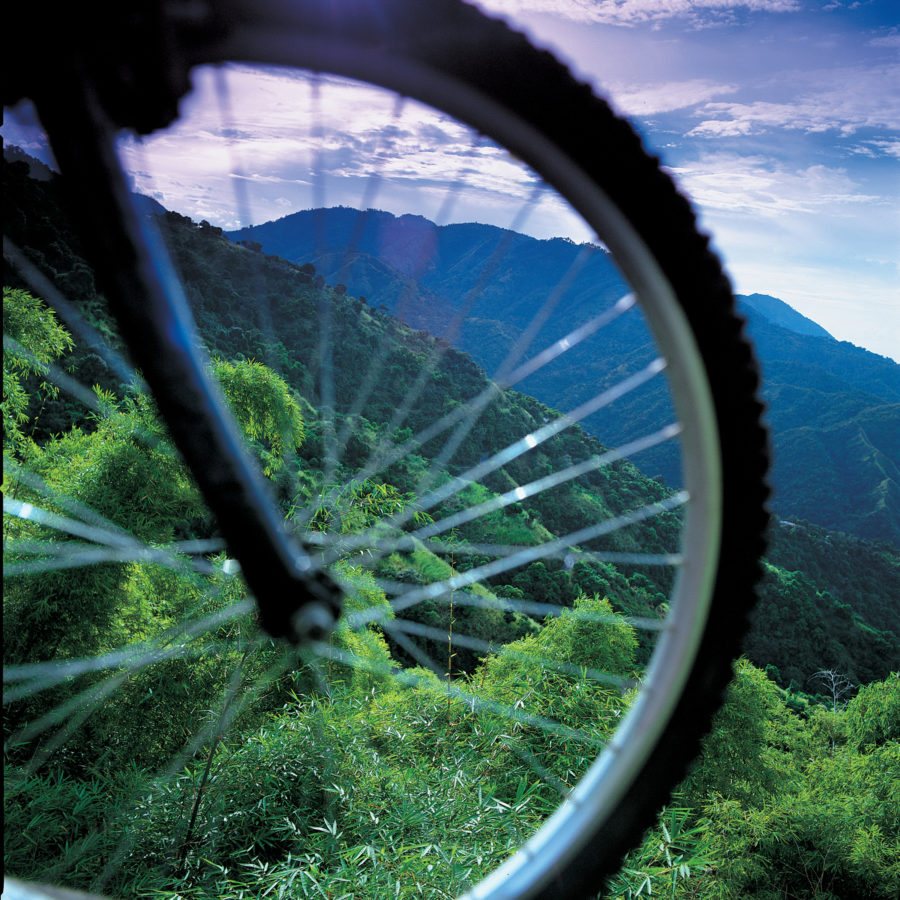 Blue Mountain Bicycle Tours offers A Downhill Riding tour which is a truly delightful bicycle trip, down the mountainsides and rolling hills, a grand way to see Jamaica. These tours are ideal for singles, couples or families who wish to experience and photograph the world's famous Jamaican Blue Mountains and the island culture and lush, tropical countryside - all while riding out in the fresh Jamaican air.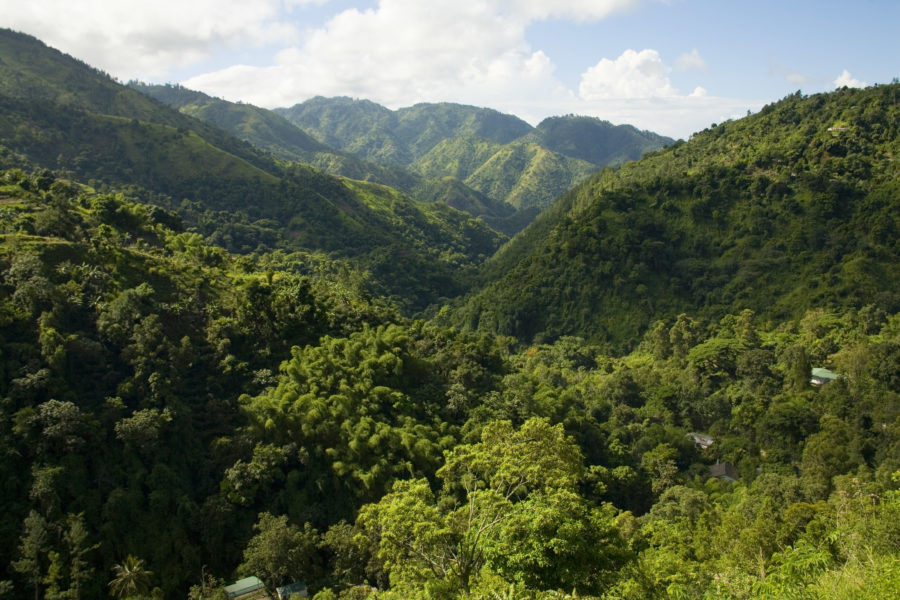 The peak is the highest on the island, rising to an altitude of 7,402 feet. If you're looking for a challenging hike and a memorable experience, get your hiking boots on and head for Blue Mountain Peak. Both thrilling and scenic, there is no other trail quite like it on the entire island.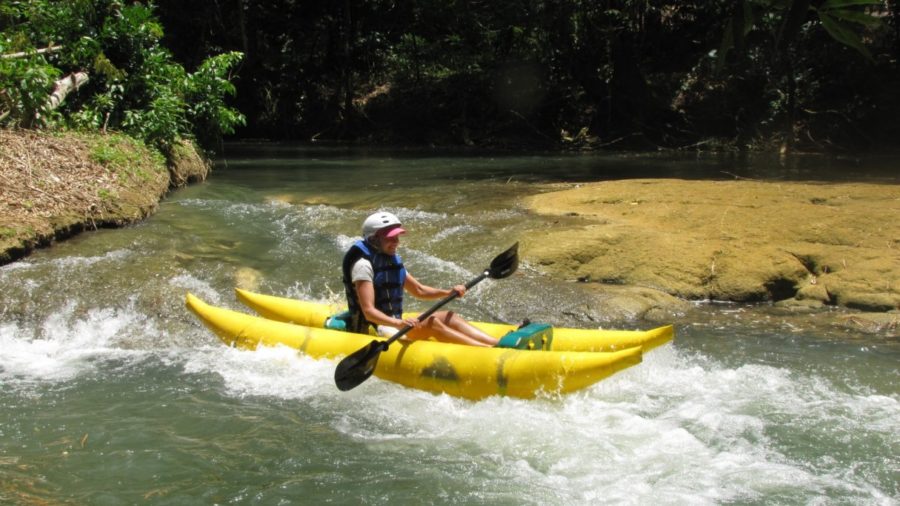 River Kayak at Chukka Adventures
Experience the cool waters of one of Jamaica's legendary rivers from enchanting lagoons to challenging rapids. Grab hold of your paddle as you challenge yourself against the river's moods as she shifts from relaxed pools to rushing rapids.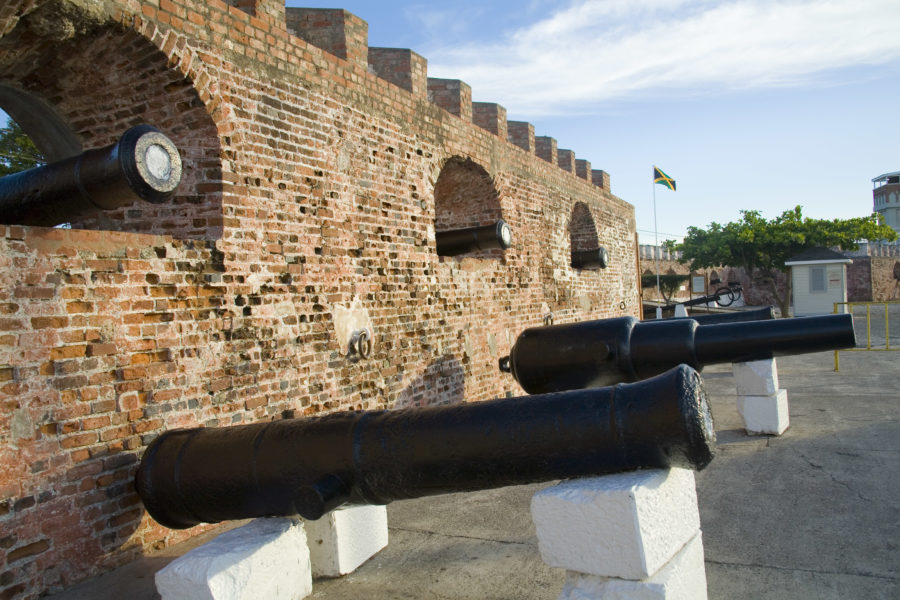 Scenic walking tours of Jamaica's resort towns and historic sites are also great ways to remain active. Our guides and maps will take you to the points of interest en route.