A delectable and hugely popular dish, jerk is one of the best representations of Jamaican cuisine, which is renowned for its flavors and spice. Jerk refers to both the spice rub (or marinade) – which is comprised of a distinct blend of herb and spices, usually applied to a meat of choice such as chicken, pork, fish, or lamb – and the particular style of cooking.
Although recipes may vary, six key ingredients remain intrinsic to an authentically Jamaican jerk spice: pimento seeds (all-spice), thyme, scallion, onion, garlic and most importantly scotch bonnet pepper. Other popular choices include cumin, cloves and nutmeg. There is really nothing subtle about a good jerk meal: you will experience an explosion of flavours, spice, and succulence.
Scotchies Jerk Centre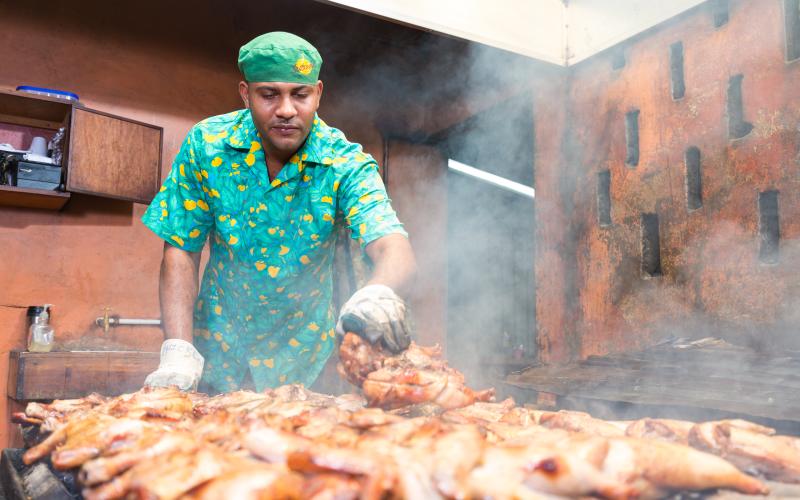 With four locations across the island in Kingston, Montego Bay, Ocho Rios and Discovery Bay, Scotchies Jerk Centre has been pleasing the palates of locals and visitors alike with mouthwatering jerk and various other Jamaican dishes since the year 2000.
The unique al-fresco environment sets the bar above the rest; patrons can sit back under thatched-roofs and enjoy their meal seated on barrel stools around rustic wooden tables. Locations include a full-service bar ready to serve up your favorite spirits and drinks.
While jerk is commonly cooked over a charcoal fire in a reused metal drum called a jerk pan, the meat at Scotchie's is cooked atop logs from the pimento tree and covered with zinc sheets – part of their secret to a succulent, bone-deep flavor.
Read more about the rich flavours of authentic Jamaican Jerk over at Nearshore Americas.
Learning about Jamaican cuisine really is something you can sink your teeth into, find out more about our unique, decadent desserts and the famous Jamaican patty here.