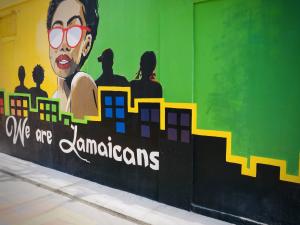 As a regular visitor to Jamaica and a person who frequents the downtown sector of Kingston, it was a pleasant surprise to discover a recent transformation after stepping onto Water Lane right past the Burger King on King Street.   As I turned the corner, I thought to myself, "This is perfect.  This is something downtown needs."
Jamaica has always been home to a wealth of artistic talent.  I experienced this as a student at the Edna Manley College of Visual and Performing Arts back in 2005.  The school was brimming with students from all parts of the island pursuing avenues of success in the arts, and it wasn't difficult to run into a variety of people with cultural interest and burgeoning talent, developing their craft and soon ready for society's recognition.  I was at home amongst musicians, dancers, actors, painters, sculptors, designers, and the like.  This was the beginning of my love for Jamaica, and the fine arts were at the heart of it.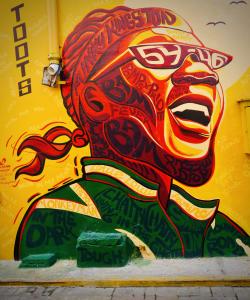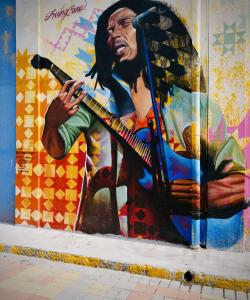 My time at Edna Manley focused on learning Jamaican Popular Music.  I studied the sounds of Mento, Rocksteady, Ska, Reggae, and Dancehall amongst others.  I learned about the music industry, the folk forms of traditional Jamaican melodies, how to play scales on my instruments, the historical progression of the various genres of Jamaican music, what roles different instruments provide in an ensemble, and other lessons that shaped me and inspired me to pursue my dreams of performing.  I was committed to the path, but there was still a long road ahead.  
Since those days, I've learned that artistic recognition doesn't always come easy.  Not only is there toil and discipline necessary to build up a superior level of skill, but there is also the challenge of finding the right audience.  If people don't know about what you are creating, there will be no appreciation or investment towards your growth as an artist.  Every artist needs their stage, their platform, their gallery; and these outlets can be challenging to find.  While many creatives find direction through education when it comes to establishing their skill (like I did at Edna Manley), it can be quite disorienting for an artist who is trying to figure out how to showcase their talent and turn that talent into income when they step out of academia.    
This is a big reason why I can praise the development that I stumbled upon downtown.  Water Lane has become a gallery of street art and mural paintings.  I was thrilled to see that the city of Kingston has come alongside visual artists and created a space for their art to be seen and applauded.  The atmosphere of Water Lane is open and inviting.  The brick paved street is clean and holds an air of sophistication.  Visitors from abroad and locals who want to savor their cultural heritage can enjoy a quiet stroll and soak in the bright colors and provocative themes of Jamaican street art.  It's a small artistic oasis on the edge of bustling markets and storefronts. 
Video Credit: https://www.facebook.com/kingstoncreativejm
As you walk down the lane, the content of the paintings themselves resonate with the Jamaican mind.  They pay homage to sounds of music and the legends that brought Jamaica's melodies to the world.  They highlight the rich folk tradition of a Caribbean island that has sought to find its own footing and accept its historical struggles.  They harken to the voices of African traditions and the influence of other lands through which Jamaica's inhabitants trace their lineage.  Each piece deserves a lingering moment to consider what is being communicated by its originator.  The visual messages will leave an imprint on the mind of viewers that deserves consideration and thoughtful reflection.  This is a scene you will take with you. 
As I mentioned before, I believe this development is something that downtown needs.  However, it is also something that world needs as well.  Downtown Kingston is filled with the captivating energy of life on the move.  It is a center of hard work and innovation.  Water Lane is a quiet spot to break from the hustle and bustle.  It is an avenue for art enthusiasts to enjoy and an entrance into not only the exciting atmosphere that is downtown, but into the heart of Jamaica as an island of creative talent.   Jamaica has so much to offer to other cultures and to visitors who desire to understand this vibrant and diverse island, and Water Lane is the perfect means to step into it.  It is another great reason to traverse the downtown sector of Kingston and engage with a community that is resilient and inspiring.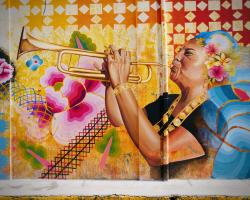 Contributed By: Jeremiah David Tindall is a musician, songwriter, and performing artist who enjoys writing, photography, and skateboarding.  He holds a master's degree in Music Business from the University of Miami, currently serves the youth of Liberty City in Miami as an administrator for a non-profit after school orchestral program, and regularly enjoys spending time in Jamaica.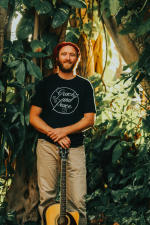 Website: www.jeremiahdavidtindall.com
Instagram: @jeremiahdavidtindall
Facebook: www.facebook.com/jeremiahdavidtindall
Twitter: @TindallJeremiah