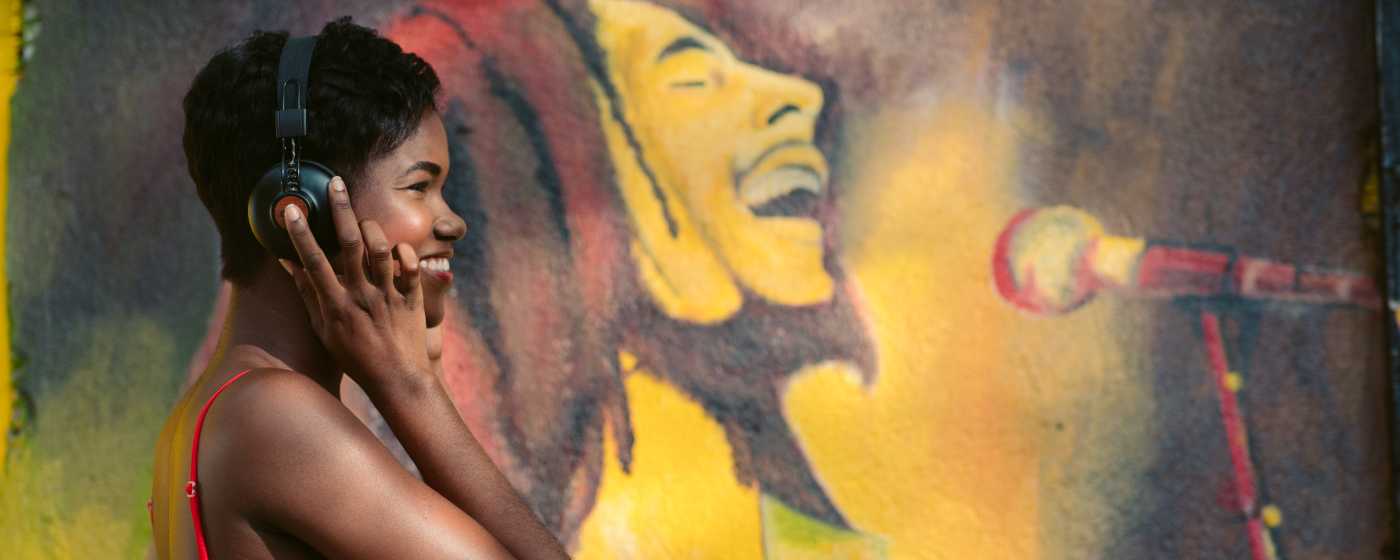 Bob Marley One Love Experience
Bob Marley One Love Experience Exclusive Trip Giveaway Sweepstakes
Jamaica is calling! Enter here to win a romantic trip to the land of One Love
The Jamaica Tourist Board
Sweepstakes Official Rules
Bob Marley One Love Experience Exclusive Trip Giveaway Sweepstakes Prize Rules & Regulations
The Jamaica Tourist Board's "Bob Marley One Love Experience Exclusive Trip Giveaway Sweepstakes" contest commences on Thursday, June 30, 2022, at 6:00pm and closes at 11:59pm on Monday, September 5, 2022. (the "Contest Period"). Eligibility
The Jamaica Tourist Board's "Bob Marley One Love Experience Exclusive Trip Giveaway Sweepstakes" contest is open to all Canadian residents except those that reside in Quebec and representatives, employees and agents of the Jamaica Tourist board, their travel partners/Co-sponsors, the judges, and persons with whom any of the aforementioned are domiciled. Entrants must have attained the age of majority according to the law of the province in which they reside.
How to Enter
The contest will be administered by the Jamaica Tourist Board. Prize winner must be at least 18 years of age. Contestants must complete the online form at https://www.visitjamaica.com/sweeps/ to be entered to win.
No Purchase Necessary
Sponsors
Contest Co-sponsors are the Jamaica Tourist Board, Air Canada Vacations and Unique Travel Corp. (the worldwide representative of Sandals Resorts), collectively the "Contest Sponsors" or "Co-sponsors".
Prizes to be Won
There will be one (1) Grand Prize to be won, consisting of:
One (1) five-night land-only stay for a couple (2 people) at any of the six Sandals resorts in Jamaica. Winner may choose between:
● Sandals Montego Bay Montego Bay, Jamaica
● Sandals Royal Caribbean Montego Bay, Jamaica
● Sandals Negril Negril, Jamaica
● Sandals Ochi Beach Resort Ocho Rios, Jamaica
● Sandals Royal Plantation Ocho Rios, Jamaica
● Sandals South Coast Westmoreland, Jamaica
Two (2) Economy Class round-trip tickets on any flight operated by Air Canada (including flights operated under the Air Canada Express® banner and operated by Air Canada Rouge® ) from the major Canadian airport served by Air Canada closest to the prize-winner's place of residence to Sangster International Airport (MBJ) in Montego Bay, Jamaica (the ACV Prize").
A random draw will take place from all contest entries.
Sandals Resorts is a Luxury Included® resort destination. Therefore, the provided prize(s) will include five nights of luxurious accommodations (one room, double occupancy), all meals, unlimited premium brand beverages, daily & nightly entertainment, all land and water sports, including scuba diving (for certified divers), Wi-Fi in all rooms and public areas, gratuities, and transfers to and from the resort designated airport.
Telephone calls, Red Lane® Spa treatments and services, specialty dining (i.e. candlelight dinners), tours & excursions, inter-island transportation, SCUBA certification courses, island departure taxes and purchases made at the Sandals Specialty Shops are not included.
Prize must be redeemed for travel within one year from the promotion end date (approximately valid between September 6, 2022 – September 6, 2023) and is not transferable or redeemable for cash. No extension will be given after the prize has expired. If the prize is not redeemed, the prize is void.
Please note: The prize is subject to space availability and selected blackout dates including but not limited to March Break, Christmas, New Year's and generally three (3) days before/after any major Canadian and/or US holiday. In addition, please note that travel during the months of January through March may be restricted during the busy winter season. Reservations may not be confirmed until 30 days prior to the selected travel date.
Sandals Resorts reserve the right to relocate any confirmed prizewinner from their resort of choice to an alternate resort within the chain based upon availability of space for the secured travel dates.
It is the winner's sole responsibility along with their travelling companion, for all costs not expressly described herein including, without limitation, flight taxes, ground transportation, trip insurance, in-flight meals, beverages and entertainment; optional seat selection fees, additional checked luggage fees, gratuities, merchandise, telephone calls and optional tours, in-destination meals and beverages and all personal expenses of any kind or nature, together with any applicable overnight layover. Reservations are subject to complimentary allotment and may not be available even if rooms and/or air are available on the brand specific website or through another travel partner.
It is the winner's responsibility and their travelling companion for all costs incurred to and from the departure point as the prize originates and terminates there. It is also the winner's responsibility and their travelling companion(s) to obtain all necessary travel documentation including passports and visas, if applicable, and to comply with any customs and immigration requirements. It is recommended that the winner and their travelling companion(s) obtain sufficient personal insurance prior to departure.
Prize winner and travelling companion are solely responsible for travel insurance (including medical coverage) and for complying with any travel notices/advisories, including but not limited to the Government of Canada's Travel Advisory for Jamaica (available at https://travel.gc.ca/destinations/jamaica) Prize winner and travelling companion must comply with all applicable, relevant government issued notices, guidelines and policies, namely, all COVID-19 related notices, guidelines, and policies. By entering the Contest, each eligible entrant acknowledges and agrees that the Contest is in no way sponsored, endorsed, administered by, nor is associated with Air Canada Vacations, its parent company Air Canada or any of its subsidiaries and affiliates, and that Jamaica Tourist Board is fully responsible for the conduct and administration of the Contest, including the selection of winner(s) and the distribution of prizes.
The ACV Prize must be accepted as awarded and may be used for products and services of Air Canada Vacations in accordance with and subject to all the relevant terms and conditions applicable at the time of redemption, including Air Canada's general conditions of carriage publicly available at: www.aircanada.ca/ca/en/aco/home/legal/conditions-carriage-tariffs.html.
ACV prize winners are responsible for all fuel, insurance (including medical and accidental insurance), surcharges, taxes, fees and other applicable charges with a credit card at time of booking. ACV Prize winners and their travelling companion are responsible for: any and all costs, expenses and taxes not expressly described herein including, without limitation, applicable local air departure taxes, ground transportation, including to and from the departure point, gratuities, merchandise, telephone calls, personal expenses of any nature for overnight layover, meals and beverages, service charges, in-flight meals and entertainment, obtaining sufficient personal travel insurance prior to departure, if desired; obtaining and carrying all necessary travel documentation, such as passports and visas, proof of vaccination against COVID-19 and complying with entry, health, customs and immigrations regulations and requirements. Please consult the website of the Government of Canada for information about COVID-19 requirements: https://travel.gc.ca/travel-covid. These requirements are subject to change without notice.
Travel does not qualify for Aeroplan points accumulation or for mileage/points accumulation in any other frequent flyer program. The use of upgrade certificates is not permitted for flights nor e-Bids.
ACV Prize winner understands and acknowledges and will ensure that their travelling companion understands and acknowledges the risks related to the spread of infectious or contagious diseases and understand it remains their responsibility to take the necessary precautions applicable to any health hazards, including but not limited to COVID-19. Prize winner is aware and will ensure that their travelling companion is also aware of the Air Canada CleanCare+ Program and the then-applicable mandatory health and safety measures. For more information, please visit the Air Canada website and more specifically the Air Canada Travel Ready hub: https://www.aircanada.com/ca/en/aco/home/book/travel-news-and-updates/2020/covid -19.html#/.
No changes permitted to reservations once date of travel is confirmed and tickets have been issued. The following blackout dates apply during which flights cannot be booked: Blackout dates are not limited to Christmas, New Years, Thanksgiving, Easter week and March break; December 16, 2022 – January 6, 2023 inclusive; April 16, 2023 – April 25, 2023 inclusive; February 26, 2023 – March 20, 2023 inclusive.
By entering the Contest, each eligible entrant further covenants and agrees to keep harmless and to release from liability Air Canada Vacations, Air Canada, its affiliates and subsidiaries, and each of their respective officers, directors, employees, agents, representatives, and subcontractors with respect to any claims or actions, losses, fines or legal costs which arise, directly or indirectly in connection with the Contest and the administration thereof, the Contest Prize and any related activity.
The Grand Prize has an approximate total retail value of $5,500.00 CAD. Actual value of the Grand Prize will depend on the departure city.
Winner and/or their Guest is not entitled to monetary difference between actual prize value and stated approximate prize value, if any. The Grand Prize is not transferable, non-refundable and must be accepted as awarded.
Prize winner waives all recourse against Contest Sponsors if services offered do not prove to be entirely satisfactory. Contest Co-sponsors reserve the right at their sole discretion to substitute the destination, or hotel, for a prize of equal or greater value if the Grand Prize as described cannot be awarded for any reason.
There will be one draw made, at 303 Eglinton Avenue East, Toronto, Ontario on September 6, 2022, at approximately 10:00 a.m. EST. The random draw will take place from all eligible on-line entries received during the Contest Period. The odds of winning the Prize will depend upon the total number of eligible entries received during the Contest Period.
The Jamaica Tourist Board will attempt to contact the potential winner by email within three (3) business days after the draw. Proof of identification must be provided upon request. In order to be declared a winner, the potential winner must first correctly answer, unaided, a time-limited mathematical skill-testing question. Before being awarded the prize, the potential winner will be required to sign a declaration and release form stating that he/she has read, understood and complied with these official contest rules, grants all consents required as contemplated in these Contest Rules, authorizes the Contest Co-sponsors to broadcast, publish and disseminate his/her name, address, photograph likeness and voice, in connection with any promotion or publicity, and/or for federal news, entertainment and information purposes at no compensation to the potential winner, accepts the prize as offered and releases the Contest Co-Sponsors from any and all liability of any kind arising out of the potential winner's participation in this contest and receipt and use of the prize. In the event that the potential winner is not eligible or cannot be contacted by the Contest Co-Sponsors within five (5) business days following the draw, does not correctly answer the mathematical skill-testing question within the time limit, or does not sign and return the release within the specified time, Contest Co-Sponsors shall have the right to disqualify that potential winner and to draw an alternate potential winner and the Contest Co-Sponsors shall be fully and completely released and discharged from any liability or responsibility in this. The contest is subject to all applicable federal, provincial and local laws and regulations.
Prize must be accepted as awarded without substitution. Prize is not transferable, cannot be redeemed for cash and cannot be sold, exchanged or bartered. Request for refund will not be entertained. Contest Co-Sponsors and the contest judging organization are not responsible for theft, loss of any form or any human or computer-generated error in the awarding of the prize, nor for the loss or misplacing of any control.
Contest Co-Sponsors are not responsible for typographical or other errors in the offer or administration of this Contest, including, but not limited to, errors in advertising, the official contest rules, the selection and announcement of winners, or the distribution of the prize.
Contest Co-Sponsors are not responsible for any problems or technical malfunctions of any computer online systems or servers, computer software problems or traffic congestion on the internet or at any website and assumes no liability for damage to entrant's or any person's computer resulting from participating in the Contest. Terms and Conditions In consideration of the awarding of the Prize to me following Verification, I hereby: Accept the Prize and acknowledge that the Prize is as described in the Rules and Regulations;
1. Fully discharge and release Contest Sponsors, their respective affiliates, franchisees and advertising and promotional agencies; their respective directors, officers, employees, representatives and agents; and their respective heirs, executors, administrators, personal representatives, successors and assigns, from any and all claims, demands, payments, actions, or causes of action whatsoever for damages, loss or injury, howsoever arising as a result of my participating in the Contest and accepting the Prize which I or my heirs, executors, administrators, personal representatives, successors or assigns may now or hereafter have against them or any of them;
2. Consent to the use of my name, address, comments and any photograph and/or any video image taken of me and/or the Prize by or on behalf Contest Sponsors and/or its/their affiliates and/or their advertising and promotional agencies without compensation or other liability to me or my heirs, executors, administrators, personal representatives, successors or assigns; and
3. Make no warranty, guaranty or representation of any kind concerning the prize
4. Disclaims any implied warranty
5. I declare that: I have complied with, and will comply with all the Rules and Regulations of the Contest, and have answered the skill-testing question in the manner prescribed;
I am an individual resident of Canada and neither I nor any person with whom I reside is employed by the Jamaica Tourist Board, their travel partners/Co-sponsors, the judges and persons with whom any of the aforementioned are domiciled or their respective affiliates, or any of their advertising or promotional agencies;
The terms of the Rules and Regulations and this Release Form shall apply to and be binding on me and my heirs, executors, administrators, personal representatives, successors and assigns.
I agree to receive communications from the Jamaica Tourist Board and Contest Co-Sponsors.
*FORCE MAJEURE
Contest Co-Sponsors and/or their suppliers do not assume liability for any loss, damage or injury of any nature in whole or in part resulting from an act of God or any other force majeure condition including without limitation: fire, volcanic eruption, environmental pollution or contamination, inclement weather, earthquake, flood, explosion, water or power shortages or failures, storms or hurricanes, riots or civil commotions or disturbances and any other acts of similar nature, sabotage, arrests, strikes, boycotts, picketing, lockouts or other labour disruptions, inability or failure of a third party service provider to provide services and/or products, restraints of rulers or peoples, expropriations, acts of terrorism, public enemies, war, invasion, insurrection, national emergency, epidemics, pandemics, quarantine restrictions, government health advisories or warnings or alerts of any kind or nature, government seizures, any laws, rules, proclamations, regulations, orders, declarations, advisories, actions, interruptions or requirements of or interference by any government or governmental agency thereof, refusal or cancellation or suspension or delay of any government authority or any license, permit or authorization, damages to its facilities or the supplier and its facilities, any other unforeseen circumstances in any country in the world or any other cause or causes of any similar nature that impacts negatively on or hampers its ability to fulfill any of its contractual conditions (all of the foregoing being herein referred to as an "Event of Force Majeure"). In the event that any of these conditions apply, Contest Co-Sponsors shall be excused, discharged or released from its performance to the extent such performance is so limited or prevented, without liability of any kind and Contest Sponsor's non-performance shall not be deemed a breach of these Contest Rules. In such case, the Prize shall be forfeited. Contest Co-Sponsors may, in their sole discretion, extend the Travel Period to the extent of any delay resulting from the Event of Force Majeure and no exchange, transfer, refund or cash surrender value will be granted.