Every great house has a history waiting for you revel in while you make your own on your special day. Great locations equal great memories, so why not start off the rest of your life at a Great House in gorgeous Jamaica.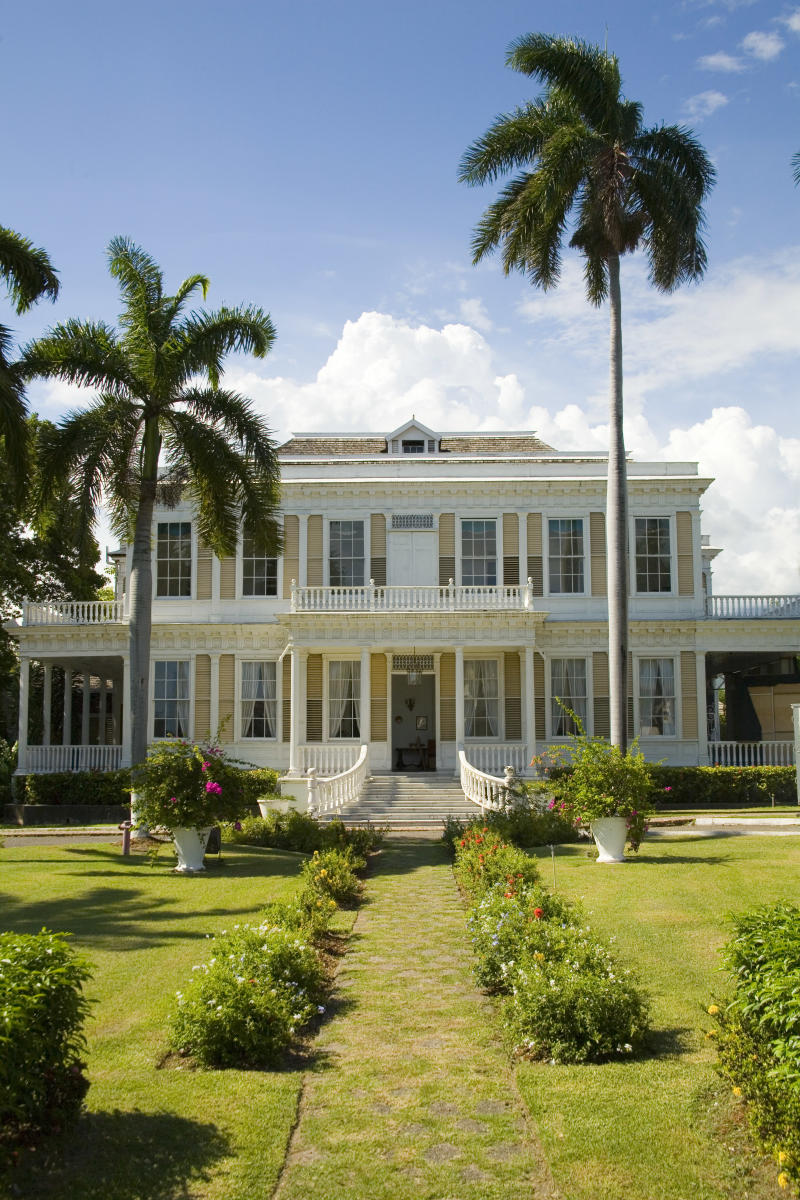 Devon House
One of the finest examples of 19th century architecture in the Jamaica, Devon House in Kingston is a true Georgian mansion at its best.  The mansion features exquisite intricacies that make the perfect backdrop for your destination wedding. From exposed brick walls and silk screened wallpapers to crown molding, 18th century bagatelle table and porcelain chandeliers. Beckoning your entrance onto the property is the beautiful fountain where ageless children pour water into the depths below. The verdant lawns compliment the white and butter cream exterior of the mansion.
After your wedding, treat your guests to their favourite flavour of ice- cream at the Devon House I Scream eatery, Jamaica's premier brand of ice-cream located right next door to the mansion's original kitchen. Or spice up your photos by dressing the part to fit this 19th century masterpiece. Hats- check! Gloves-check! Ruffles- check!
Magnificent memories of your own can be created at Devon House, only adding to the rich history already there.  Built by the first black millionaire in Jamaica, George Steibel, in 1881, Devon House originally existed on 51 acres of land, a fraction of Devon Penn, a sprawling 600 acres of land in 1667. The mansion has sojourned through the hands of several owners, finally becoming a national heritage site in 1967. Devon House is now nestled in the heart of the metropolitan area and is encircled by a number of world famous and boutique hotels.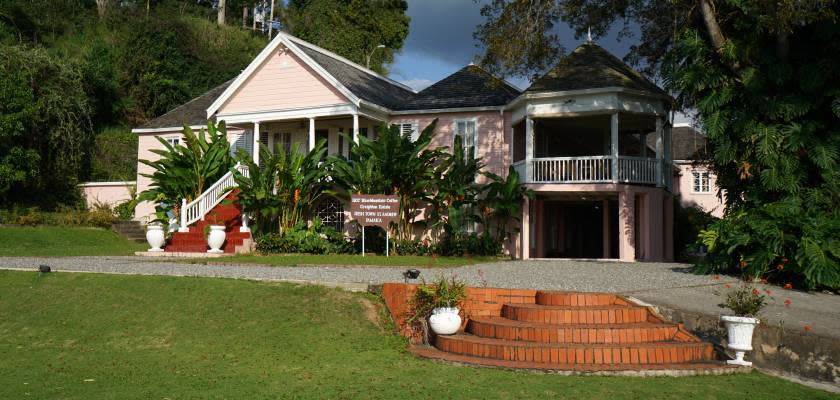 (via)
Craighton Estate Great House
Say I do to the love of your life 2600 feet above sea level in a Georgian styled great house that preserves 200 years of Jamaica's history. Sitting on 80 lush acres of land, Craighton Estate Great House give you a bird's eye view of Kingston, only 35 minutes drive away. Nestled in the cool surroundings of Irish Town in the Blue Mountain high above the Caribbean heat your guests will love the freshly brewed rich Blue Mountain Coffee. View the magnificent Caribbean Sea to where English and Spaniard travelers arrived centuries ago. Commit to your spouse before your own host of elite guests joining the Jamaican dignitaries who once favored this summer spot. Your tale that's old as time can begin right here!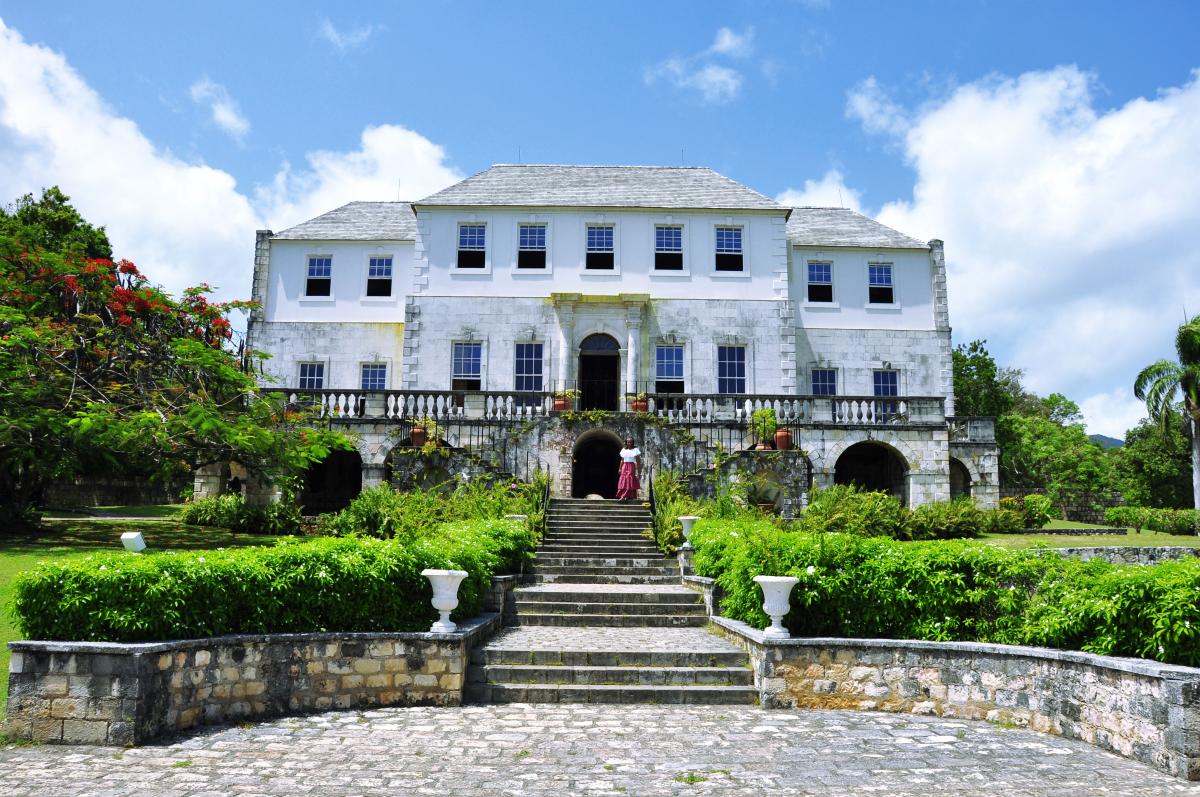 Rose Hall Great House
Restored in the 1960s with authentic furnishings from that time period, the Rose Hall Great House will add old world flair,   elegance and a little mystery to your wedding day. Picturesque Montego Bay is the setting for the famed home of the "White Witch", Annie Palmer.  The mansion which was built in the 1770s' was originally owned by a Custos of the parish. Legend has it that his grandnephew who later inherited the house married a witchcraft working wife, Annie Palmer who killed her three husbands and terrorized the slaves on the plantation.
From the luxurious lawns perched high on a hill overlooking the north coast, you are afforded a panoramic view of the jewel toned Caribbean Sea. Inside the Georgian styled mansion, with its stone base and plastered upper storey are glistening mahogany floors, meticulously crafted antiques, trimmings of gold and centuries old mahogany furnishings that will make your pictures come to life. The Rose Hall Great House will set your special day in an atmosphere of ambiance, expectation and an air of whimsy, supported by some of the most beautiful vistas of the Jamaica coast you have ever seen. The tropical flowers will take your budget to sea level by providing priceless, natural Caribbean beauty.
(via)
Bellefield Great House and Gardens
Impeccable gardens blanketed by plush green grass, rolling vines and aromatic flowers surround an 18th century great house built on a strong foundation of love . The Bellefield Great House and Sugar mill in St. James was constructed in 1794 and became part of the lineage of the Jarrett and Kerr families through marriage dating back to the first entrance of the British in 1655.
Already infused with romance, luxury and elegance are waiting around the corner at this magnificent mansion.Have your wedding in the original sugar mill which seats 250 persons comfortably providing an intimate and unique location. Or choose the expansive back lawn for a party of up to 900 guests and enjoy the beauty of the naturally plush landscape. Regardless of the location you select, Bellefield is sure to inspire romance at your destination wedding.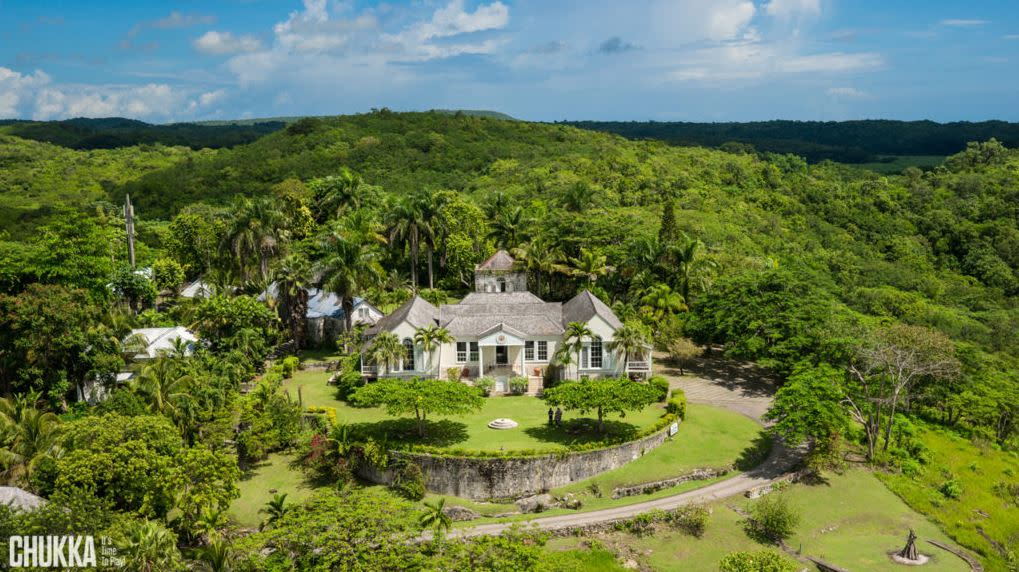 (via)
Good Hope Great House
Overlooking a peaceful valley, meandering river and undulating hills is the Good Hope Great House. Set on 2000 acres of greenery, the plantation was built in 1775 and became a wealthy sugar estate, during the 19th century. This magnificent great house and its surrounding cottages were also the dude ranch of a socialite, seeing celebrities and royalties from near and far. Good Hope offers numerous activities that can add excitement to any wedding. Go horseback riding around the property, find your Zen in yoga on the expansive Yoga Deck or take a dip in the river. Whatever your heart desires can be conceived at this old world escape, just 35 minutes drive from the airport in resort town Montego Bay.
There's no need to wait to start your honeymoon, just choose (from) any of the 10 bedrooms available in the Great House, Carriage House, Counting House, Garden Cottage or River Cottage. The Counting House is a private one bedroom and bath, perfect for your romantic honeymoon adventures.Twenty of Jamaica's 26 endemic bird species grace the property and could show up at your special event on any of the plantations lawns and gardens. Start your life journey by taking the scenic route through Good Hope Great House.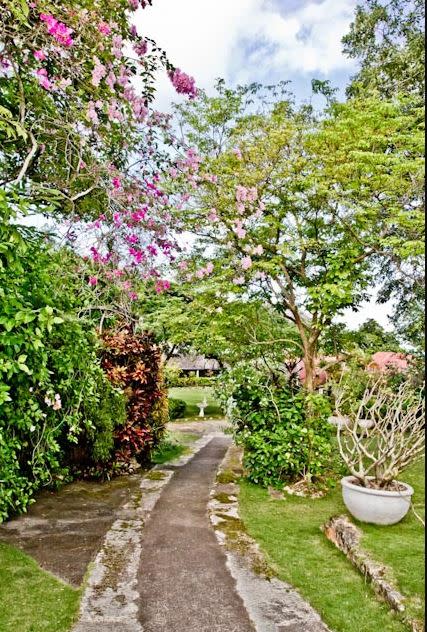 (via)
Greenwood Great House
The largest and rarest collection of musical instruments and literature in Jamaica can be found at your wedding… if of course, your wedding is at the Greenwood Great House in Montego Bay. This piece of history was built and formerly owned by the family of famous English poet Elizabeth Barrett-Browning in 1800. Greenwood
The relaxing ambiance will set the mood for your nuptials at this destination location. Serene gardens feature exotic flora and fountains that have won the test of time. Your venue will double as a conversation topic as your guests revel in Jamaican history right before their eyes. You can even introduce them to the venue by arranging a tour of the great house a few days before the wedding.