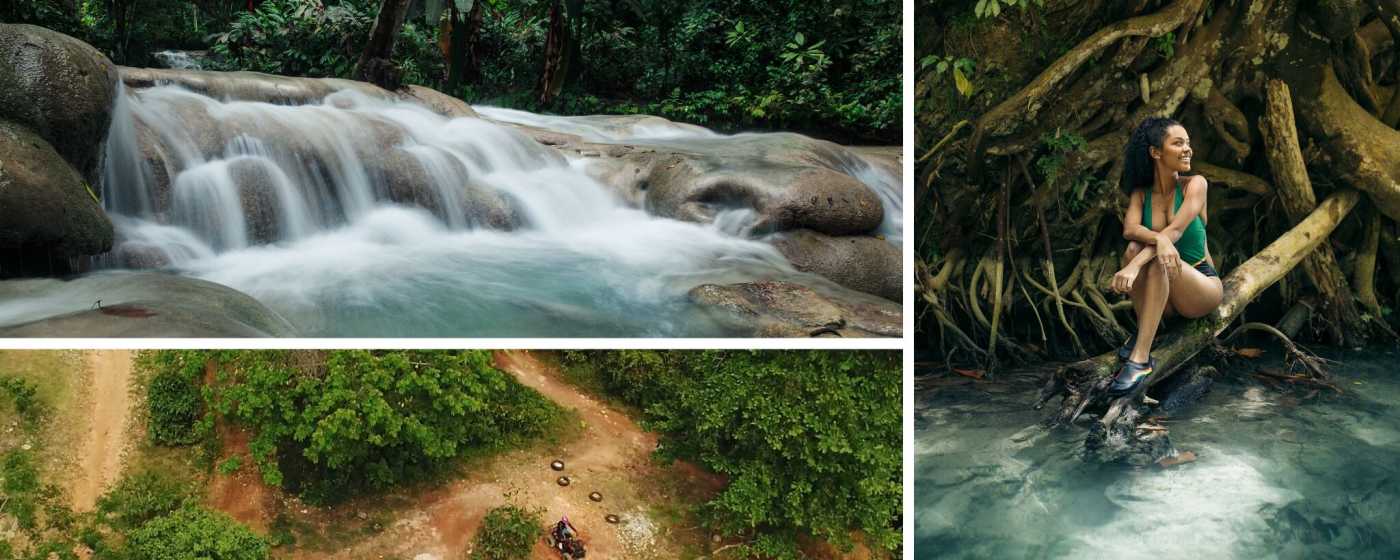 Ocho Rios
Ocho Rios
You Can't Miss This
With stunning scenery, renowned attractions, world-class resorts, and vast shopping options, the tourist-friendly hub of Ocho Rios is one of our island's major tourist regions. Situated in what locals call 'the garden parish,' abundance awaits you here in forms of greenery, flavors, and variety. Traveling through this coastal area, the tones of the region are backdropped by the roar of nearby waterfalls flowing into the Caribbean Sea.
What to Do in Ocho Rios
Ocho Rios is home to some of Jamaica's top things to do and attractions to see—on land, in water, and air. 
If entering from the west highway, you'll be greeted by some of the main attractions in Ocho Rios almost immediately. First, wash off at the popular Dunn's River Falls, then be swept off your feet (literally) at Mystic Mountain Rainforest and into the air to soar above the town. Finally, eat, drink, and be merry by the beach or pool at Margaritaville for a perfect end to the day.
Just east of Ocho Rios, see attractions like the Rio Nuevo battle site, Goldeneye estate of James Bond fame, and stop by the Spanish settlement of Port Maria to visit national heritage sites such as the Port Maria Courthouse and Fort Haldane dating back to 1759.
And, before this vacation comes to an end, ensure to pick up something special that encapsulates your time here. Weave through the string of souvenir strip stores to support our local vendors at the Ocho Rios Craft Market and others like it.
Restaurants in Ocho Rios
The Ocho Rios restaurants you ultimately choose to dine at really come down to what cuisine you're in the mood for. If your travel bucket list includes indulging in our island's famous jerk dishes, some of the best local spots to taste the authentic meal are rustic-chic Scotchies Jerk Centre and Lyming at Walkerswood rest stop just before the miles-long green canopy of Fern Gully. 
Further excite your taste buds with internationally styled culinary selections. Treat your palate at Stush in the Bush's organic farm-to-table experience in the mountains; sample a taste of France at L'Escargot or tour Italy at Evita; and try fusion cuisine at Usain Bolt's Tracks and Records that'll take your appetite 'to di world.'
Where to Stay in Ocho Rios 
There are a multitude of places to stay in Ocho Rios that can fit your style and budget in the form of villas, guesthouses, apartments, or hotels. Live luxuriously at a timeless boutique resort, enjoy a worry-free all-inclusive family vacation on the sands, or take it easy at a condo apartment facing the sapphire sea. Whether you're perched on a ridge, in the middle of the bustle, or being caressed by sunshine at an Ocho Rios beach resort, you're not far from your next excursion.
What to Know
What you need to know about this resort town is that its north-central location is connected to highway roads that make the journey a breeze, no matter whether you've landed in Kingston or Montego Bay. If you only have a few hours to spare after arriving at Ocho Rios cruise port, no problem, numerous attractions within nearby reach make a fun-filled day easy to come by.
Ocho Rios offers possibly the fairest share of our treasures. It meets laid-back and adventurous desires from the city to the forests with plenty of things to do that cater to both business and leisure travelers.