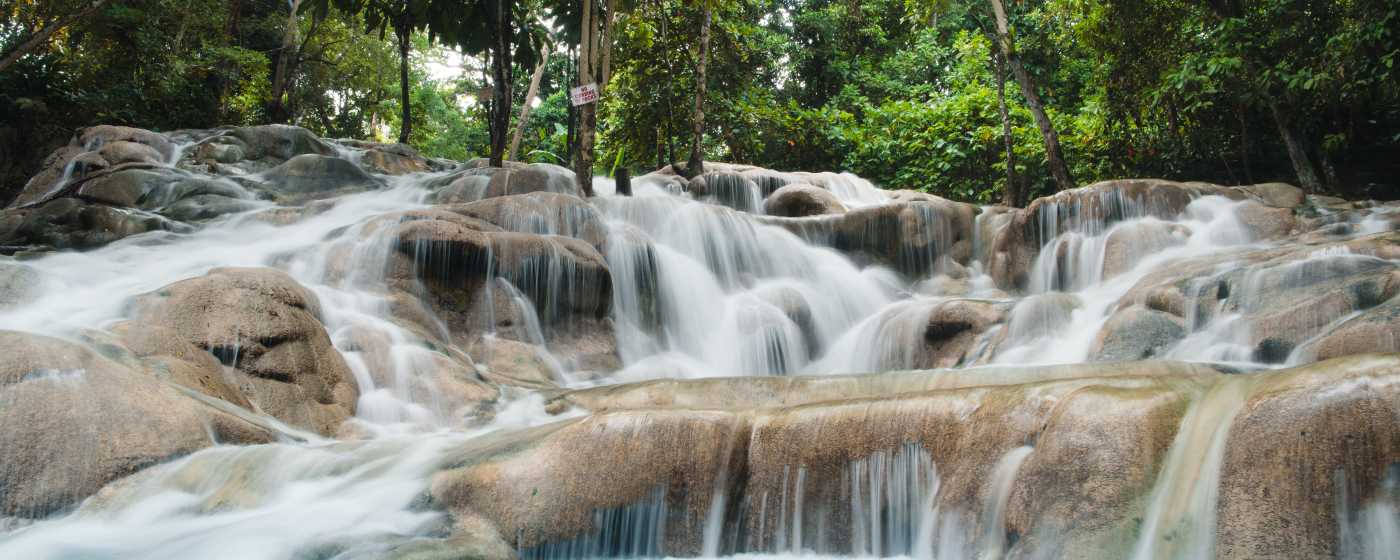 Dunn's River Falls
Island Gully Falls
Nestled in the hills of the White River Valley on the outskirts of the resort town of Ocho Rios lies a secluded treasure called Island Gully Falls, also popularly referred to as the Blue Hole. This attraction is not to be confused with other 'blue holes', such as one near Appleton Estate or the mineral spring near Negril. This waterfall attraction straddles neighboring St. Ann and St. Mary parishes; the trip to get there winds through uneven hilly roads framed by emerald surroundings.
Island Gully Falls is a series of cascades that boast electric-blue natural pools. The water cuts through mountainous rocks before pouring into a collection of mesmerizing swimming holes. Natural minerals found in the water are what create its shocking color; it is almost as if the river glows in this area. In addition to other stunning water body hues in Jamaica, such as at Blue Lagoon and Glistening Waters, Island Gully Falls could have you experience some of the bluest water you've probably ever seen!
To get to the coveted prize, you'll navigate jungle terrain and narrow, slippery pathways. Small flowing streams run alongside the walking trails to connect to large swimming areas. Continue walking to reveal more waterfalls and the pools that collect at each level. A tour guide can lead you over the rocky grounds and across makeshift bridges to various points of interest throughout the property.
Island Gully Falls History
The White River is said to have gotten its name because of the clarity of its freshwater. This stretch of waterway is home to numerous attractions, including Calypso rafting, river rapids adventures, and swimming. Island Gully Falls is a cascading portion of the White River. The land that this section of the river flows through is owned by a group of families. The once private property captured the hearts of local people and was eventually opened to the public.
Island Gully Falls Activities
Relax with a massage from nature, thanks to the gushing force of some of the cascades; powerful enough to wash away any tension! Take your pick of jumping, diving, and floating in beautiful waters at various levels. Small caverns that open into the water also await you. Islander bamboo huts and wooden tables provide a relaxing space by the river to enjoy a cold drink and good vibes on island time.
The spectacle of a majestic waterfall such as this is one thing, but getting under (or better yet jumping off of) is where the real fun could be! If you're feeling adventurous, you may grab hold of a rope securely wrapped around a tree and embark on a climb up an angled rock face of the large, main waterfall. If you dare to go the other direction, you may also launch from the waterfall into the deep pool below. Seeking the adrenaline rush of jumping, but without the rush of water against your feet? Jump from an elevated concrete platform into a refreshing bliss.