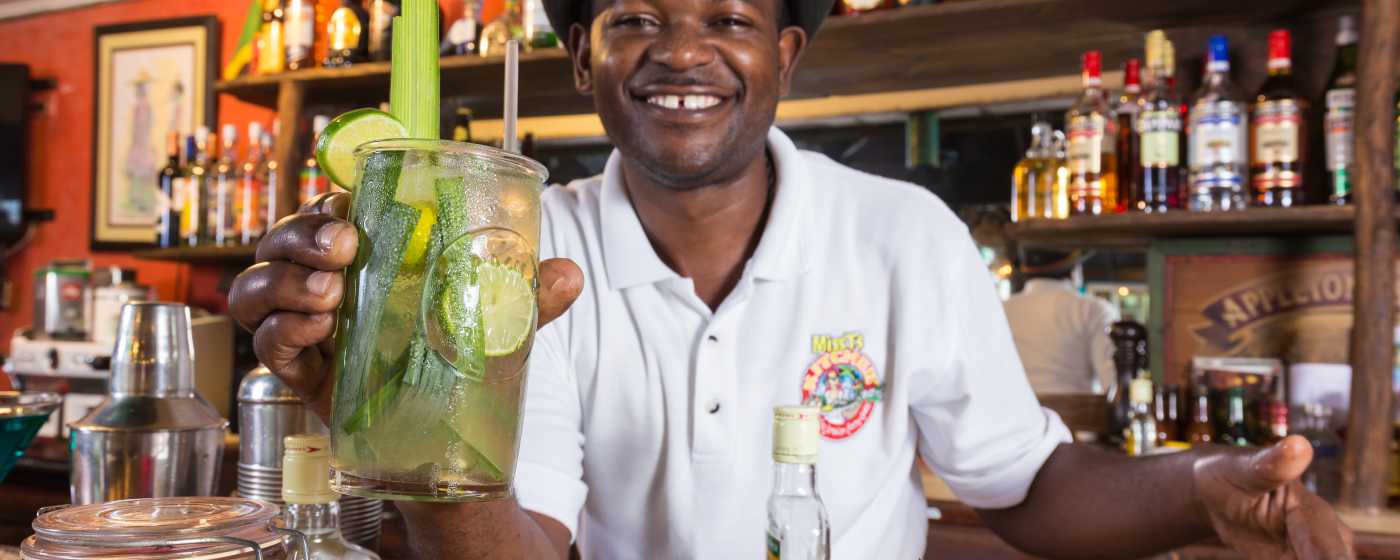 Spirits
Spirits
taste the Jamaican spirit
Once you've caught the spirit of Jamaica, be sure to get a bottle of it. A souvenir of local liquor, from Appleton Estate rum to Red Strip beer, is a great reminder of the memories made while in Jamaica, one unforgettable sip after another.
Rum: Here, on the island of Jamaica, the rum flows freely. First distilled on the sugarcane plantations of the Caribbean in the 17th century, rum is part of Jamaica's history, and something we have a lot of pride in. Made from molasses and sugarcane juice, and left in oak barrels to mature, the rum can have many variations. From light and gold rum used in cocktails, to dark, spiced and premium rum, enjoyed neat.
Appleton Estate: Fragrant, smooth, award winning. The production of Appleton Estate rum dates back over 265 years to the place where it is still created, the lush Cockpit Country of Jamaica. Nestled in the foliage of the Nassau Valley, Appleton Estate rum owes its taste to the unique terroir in which it is made, the perfect combination of geography, soil and weather. With expert precision and timeless methods, the Appleton Estate stands as the oldest sugar cane estate and distillery in Jamaica with continuous production. Led by Master Blender Joy Spence, the estate produces a variety of rums such as the Appleton Estate Signature Blend, Appleton Estate Reserve Blend and the Appleton Estate 50 Year Old Jamaica Rum.
Hampden Estate: On the Queen of Spain Valley in the interior of Jamaica lies the 3500-acre Hampden Estate, home of the Rum Fire White Overproof Rum and Hampden Gold Rum. One of the oldest sugar cane estates in Jamaica, Hampden Estate's history dates to 1753. Today, the estate is known for producing full bodied pot still rums with significantly high levels of natural esters, the flavour and aroma producing components of alcohol.
Rum Cream: Combine the flavour of aged Jamaican rum with velvety cream and a collection of fruits and spices and you'll have Jamaica's beloved alcoholic beverage, rum cream. Made famous by the Sangster's brand, rum cream is a treat enjoyed by both seasoned rum drinkers and the occasional dabbler in such fine spirits. Here we have it straight over ice, with a scoop of ice cream or even as a morning pick-me-up in a cup of Blue Mountain Coffee.

Beer: We love our beer just as much as our rum. Our famous Red Stripe beer is a pale larger, with 4.7% alcohol. First brewed in 1938 from a recipe developed by Paul H Cottler and Bill Martindale, it's now made in the Kingston brewery, and ordered by the caseload. Also look out for Red Stripe Light, Red Stripe Sorrel and Red Stripe Lemon, along with Dragon Stout and Malta, our non-alcoholic beer.