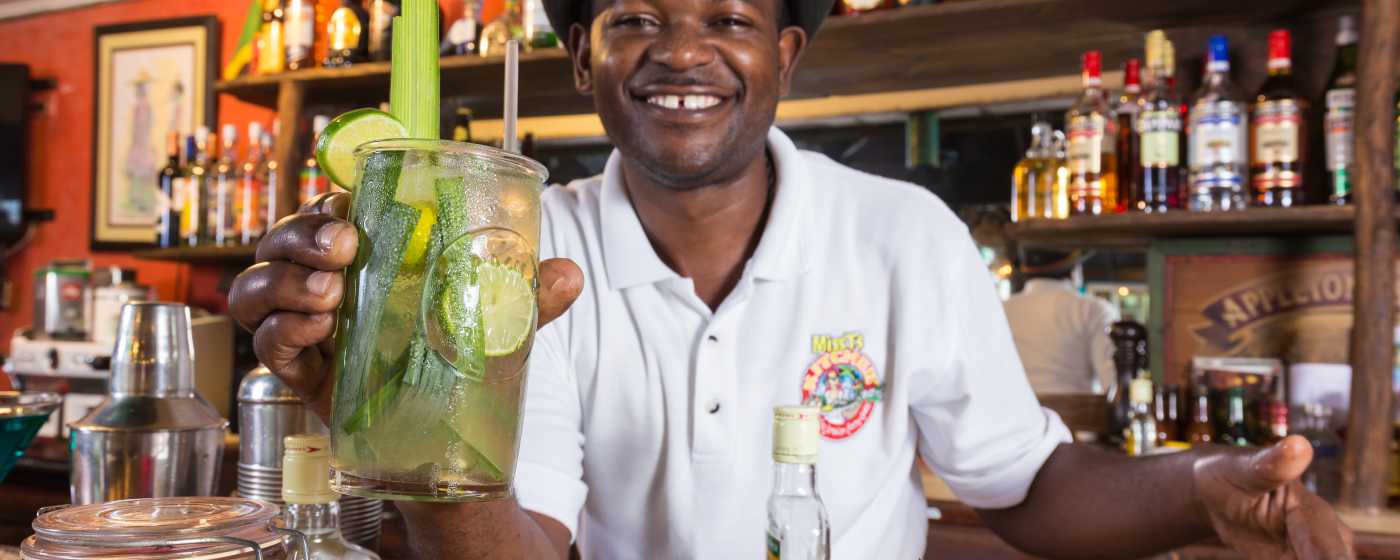 Spirits
Spirits
Taste the Jamaican Spirit
In the land of groovy beats and spicy cuisine, an ice-cold beer or exotic tropical cocktail can always be found in the mix. Jamaicans are the life of the party everywhere and our rums, beers, and liqueurs help get the party started. Here in Jamaica, you'll find spirits that are world-renowned in quality and vast in variety.
Jamaican Rum
Rums in Jamaica span the spectrum of overproof white rums to light-colored golden rums to deep tawny hues of premium selections aged for many years in oak barrels. Made from sugarcane and its byproduct molasses, we take pride in our rums in Jamaica and have produced several award-winning brands for centuries. White and golden rums are used in our colorful cocktails and will delight your palate with a strong yet refreshing buzz. The premium selections on offer are perfect to enjoy sipped neat, perhaps after dinner while taking a walk in the golden hues of the evening sun.
Popular local cocktails featuring Jamaican rum include Rum Punch, Mai Tai, the Bob Marley shot, and Dirty Banana. You should also try the ever-popular strawberry daiquiri and piña colada made with our brands of rum. These cocktails aren't like anything you've had anywhere else. Jamaican rums take them to a new level, enhancing your vacation experience with exciting new flavors. If you prefer to simply chase your rum with soda, try it with Ting, our award-winning brand of grapefruit soda.
Jamaican Rum Festivals & Tours
An exciting way to experience the wonder that is Jamaican rum is by visiting the Jamaica Rum Festival held in Kingston each year. All our premium rum creators including Appleton Estate, Wray and Nephew, Hampden Rum, and Monymusk Plantation erect intricate displays to showcase their rums and byproducts. It's a great opportunity to see art and craft exhibitors, taste delectable delights made with local rums, and enjoy a smooth reggae performance from popular local acts.
An estate tour is another great way to experience Jamaican rums. Appleton Estate Rum , Hampden Estate Rum and Worthy Park Estate have popular tours. Head to the picturesque Nassau Valley in St. Elizabeth for the Joy Spence Appleton Estate Rum Experience  to Trelawny for the Hampden Estate Rum Tour. or to Worthy Park in Lluidas Vale, St. Catherine. All are popular experiences for visitors and locals alike who enjoy exploring the beautiful plantations and sampling some of the world's finest rums.
Red Stripe Jamaica
Dubbed the "coolest beer in the world," Red Stripe Beer is undoubtedly synonymous with chill. It's a pale lager with a unique bottle shape best enjoyed ice-cold. While the original is the most popular variety, look out for other flavors for those who like that sort of thing. It currently comes in light, lemon, melon, and sorrel with more flavors in the works and the flavored varieties currently only available in Jamaica.
If you're a stout lover then try Dragon, a local stout also brewed by Red Stripe, and Malta, a non-alcoholic stout beverage. Either stout makes a delicious energy drink when blended with nuts and your milk of choice. Ask your bartender to make you a Peanut Punch with stout to savor this smooth flavor.