(Via)
Port Antonio is synonymous with serenity, sweeping vistas, and scrumptious cuisine! After you've spent an exciting day trekking through the rain forests or dipped into the Blue Lagoon for a quick swim, or explored Monkey or Navy Islands; this virtually untouched paradise has even more secrets to uncover, their thriving local cuisine. Whether you're in the mood for an informal roadside jerked dinner wrapped in aluminium foil, a fine dining experience or everything in between, Port Antonio's culinary scene can satisfy any craving.
It's food time! Here is a carefully curated list of the best places to eat in Port Antonio:
Boston  Jerk Centre – Fairy Hill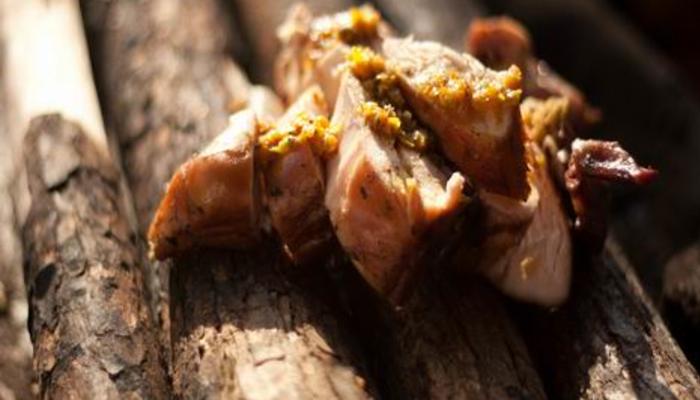 Portland is credited as the original birthplace of jerk cuisine and the first instances of jerk cooked for commercial sale in Jamaica. Set just west of San San is Boston which became home to the original jerk pits in the 1940's, and located a mere half a mile away from the first ever jerk pit is the present day Boston Jerk Centre. Initially, the area served their traditional meal which was jerk pork and roasted breadfruit; today they have become a little more innovative with dishes of jerk chicken, sausage, conch, lobster, shrimp, fish as well as fruits and natural fruit juices among other culinary treats. If you're in the area for a bit, head out to Boston Beach, which is regarded the best place to catch some waves in Jamaica, and watch the surfers ride the waves or learn how to do it yourself! Be sure to check out Ivy's Jerk Centre and Shaggy's Jerk Shop which are at the 3rd and 4th jerk pits there. Dance and rock away to the tunes that the resident music master, DJ Sheppy spins out, as you feast on the years perfected jerk spices engulfing your senses.
Anna Banana (Wi Yaad) – 7 Folly Road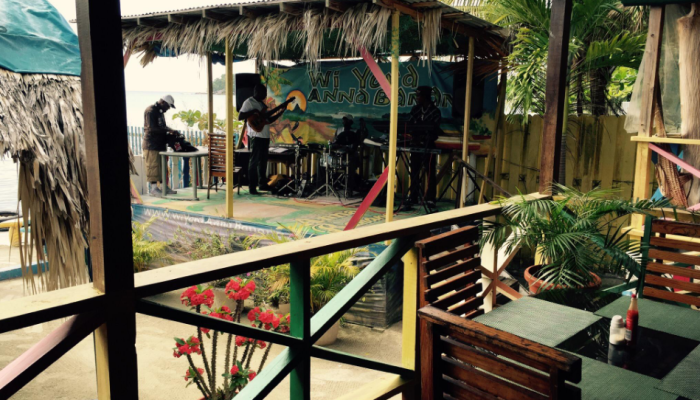 (Via)
Anna Banana has earned its reputation as being one of the most popular restaurants in Port Antonio. This restaurant specializes in all things seafood, with lobster, crayfish, conch, shrimp, and all types of fish cooked to order in a range of Jamaican styles. If you're not a seafood fan, their nightly specials such as the curried goat, barbecued chicken and stewed peas is done ready to order for your enjoyment. The ambiance at Anna Banana is unmatched; the view of the ocean and the gentle breeze wafting from it, coupled with the live music from their house band – The Unity Band and the mouth-watering aroma of the meals being prepared makes for a delightful dining experience.
 
Woody's Low Bridge Place – Drapers Region, East of Port Antonio (along the main road)

(Via)
Owned and operated by the affable Charles "Woody" Cousins and his wife Cherry, the eponymous restaurant opened its doors in 1986 and has since then become the go-to place for its famous homemade burgers and traditional Jamaican meals in Port Antonio. Anyone who has been to Woody's will tell you that this restaurant is very different from others because of the warmth and hospitality of the owners. Woody, an aspiring reggae artist just might treat you to a live rendition of one of his original pieces. You can even get a short nature tour of the gardens with flowers and herbs onsite and gain a wealth of knowledge of their medicinal purposes from the business duo. What makes it that much more appealing is of course, the food! Cherry's homemade jerk seasoning marinated into their various jerk dishes is so delicious that you might want to take one home with you, and you can. A jar of the jerk seasoning can be purchased from the restaurant, as well as one of Woody's reggae CD's. This restaurant caters to all lifestyles including vegetarianism, which is as tasty as it is healthy. If you want a more traditional Jamaican meal, be sure to call ahead so they can prepare it just right for you; and don't forget to try their homemade ginger beer, which pairs extremely well with all the meals prepared.
Bushbar – Geejam Hotel (San San)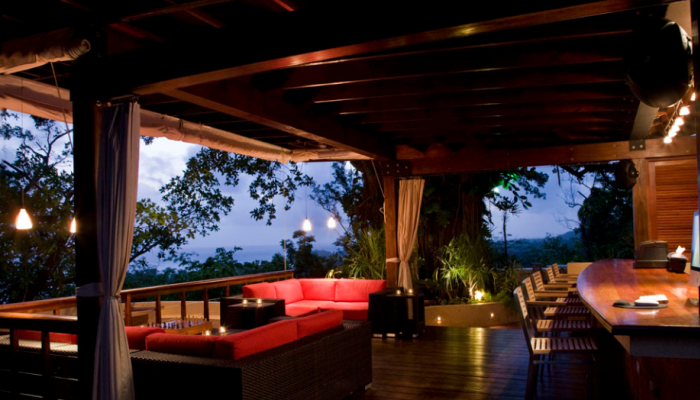 (Via)
For a more refined and elegant dining experience, you can visit the "lushly exquisite" Bushbar which has an ambient sound system, outdoor pool table and a spectacularly sweeping view of the forest and ocean that expands the limits of even the most vivid imagination. The Bushbar features savory Jamaican and international dishes, which add a level of transcultural flair to the already globally integrated kitchen. To add to the dining experience, you can ask for a tour of the gorgeous property and the recording studio that is located there, where it is said that internationally renowned stars such as Alicia Keys and even Diplo have recorded. They have service for all times of day, so you can stop by whenever you would like- a working lunch, breakfast with the family or a date night dinner. Be sure to stop by on a Friday night where The Jolly Boys will treat your ear to a superior auditory experience and a an overall fantastic time.
We're the go-to source for the best places to eat in Jamaica, check out the first installment of our series here!