(Via)
History
The Milk River flows languidly on Jamaica's south coast, weaving between the parishes of Clarendon and Manchester. Its discovery is rooted in a time period dating back to the 18th Century, where a slave stumbled upon a saline spring while seeking refuge in the hills from the merciless beatings of his slave master. He bathed his wounds in this peculiar spring and when he returned home his wounds were completely healed, to the amazement of his fellow slaves and s master Johnathan Ludford. The slave master vowed to never punish the slave again if he would only show him this miraculous spring; the slave showed him the site and immediately appointed a watchman over the area, after Ludford enclosed it. The Government inherited the property upon Ludford's death, and in 1794 public baths were built and opened to the public.
Milk River Hotel and Spa
The property has since been developed into the Milk River Hotel & Spa, a national monument having been declared a national heritage site by the Jamaica National Heritage Trust, and is managed by the Ministry of Tourism and Entertainment. It boasts a hotel and nine mosaic tiled baths filled with healing mineral water that guests can enjoy for a limited time. The chemical make-up the waters have been found to be remarkably radioactive, more so than leading European spas, (fifty-four times the strength of the minerals as the luxurious Baden Spa in Switzerland) and because of this it is recommended that guests take no more than 3 baths per day, at 20 minutes each.The waters are reputed to cure multiple ailments such as rheumatism, gout, neuralgia, sciatica, lumbago, nerve conditions and liver disorder.
Guests staying at the hotel can expect unlimited use of the baths as well as hearty, authentic Jamaican breakfast and dinner, starting at $96USD per night.  If you only want to enjoy the springs for a day, you can access them from 7AM to 10PM for $600JMD for 15 minutes or take a swim in the public mineral water swimming pool opened on weekends.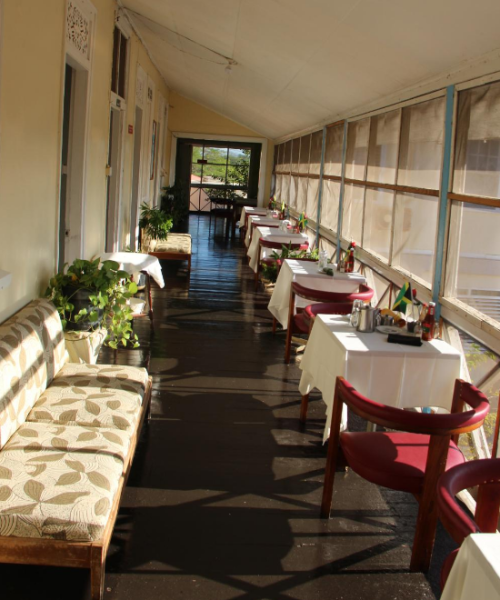 (Via)
Visitors get to privately enjoy the therapeutic virtues of the bath, in any of the exclusively assigned bath houses. Also, depending on your preference, you can ask for a package with a private room equipped with air conditioning and a washroom, a sumptuous lunch and a thorough massage that will leave you feeling refreshed and revitalized.
Milk River Hotel and Spa is just what you need for some much needed rest and relaxation, venture off the beaten path and experience its soothing healing waters on your next trip!
If you're loving the relaxed homey vibe of the south coast, extend your visit and check out the best places to stay in Manchester here, or find out the best places to have lunch while you're in the area here!