The summer of 2023 promises to be one to remember in Jamaica, the vivacious Caribbean paradise famous for its immaculate beaches, throbbing reggae rhythms, and gracious hospitality. This tropical treasure is preparing to host a number of must-attend events that will leave guests with priceless memories thanks to its distinctive blend of cultural heritage, natural beauty, and exciting entertainment. There is something for everyone in Jamaica this summer, from music festivals and party events to cultural celebrations. So, prepare for a once-in-a-lifetime experience by packing your luggage, embracing the island lifestyle, and being adventurous!
MochaFest (May 25-30, 2023):
The most empowering 5-day urban vacation and party series festival is taking place in Negril. Celebrate with some of the most extraordinary and adventurous African Americans adults from around the globe. Don't pass up this priceless opportunity!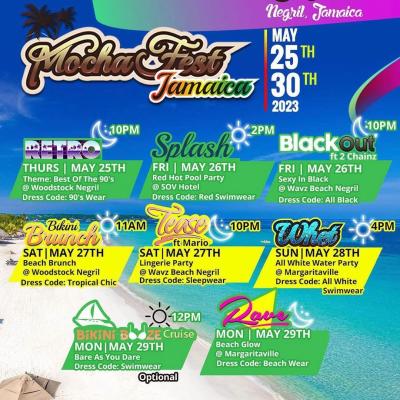 Boston Jerk Fest (July 7-8, 2023):
Without indulging in the mouthwatering flavors of Jamaican jerk cuisine, a trip to the island is not complete. The Boston Jerk Festival honors the legendary jerk heritage of the island and is hosted in the stunning parish of Portland. Enjoy succulent jerk chicken, pig, and seafood that has been prepared with the ideal combination of herbs and spices. Experience this gastronomic delight's colorful ambiance, live music, and cultural activities.
Reggae Sumfest (July 16-22, 2023):
The largest reggae music festival in the Caribbean, Reggae Sumfest, is an annual event that attracts music lovers from all over the world. This week-long celebration of Jamaican music and culture, held in the energetic city of Montego Bay, includes a remarkable lineup of regional and international performers, electrifying concerts, and a lively street party atmosphere. Experience the spirit of reggae as you lose yourself in the throbbing beats and dance the night away under the stars.
July 16 – Sumfest Family Fun Day
July 17 – Sumfest Street Dance
July 18 – Sumfest All White Party
July 19 – Sumfest Blitz All Black Party
July 20 – Sumfest Global Sound Clash
July 21 & 22 – Concert Festival Nights 1 & 2
Dream Weekend (July 28-August 1, 2023)
The most well-known DJs and performers in Jamaica headline Dream Weekend, an annual week-long vacation in Negril that combines a high-energy atmosphere unmatched by anything else. During this time, there are often 10 activities, all of which are held on Negril's white sand beaches. A number of locations in Florida, New York, Queens, Atlanta, Ontario, and London are already selling tickets.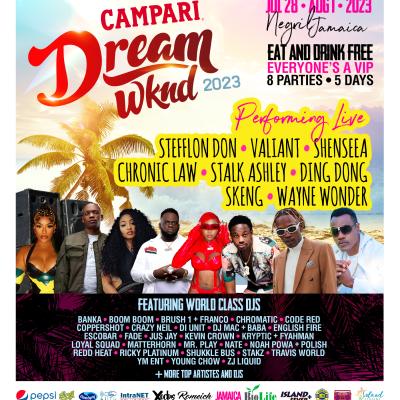 Emancipation Jubilee (July 31, 2023)
The Emancipation Jubilee, which commemorates the end of slavery in Jamaica, is an emotional occasion that respects freedom and the African roots of the island. This all-night celebration, which takes place at Seville Heritage Park in St. Ann, includes traditional drumming, storytelling, cultural acts, and a candlelit vigil. Additionally, visitors can examine historical displays to learn more about Jamaica's struggle for liberty.
Emancipendence Celebrations (August 1-6, 2023)
The island's vibrant history and cultural traditions are truly reflected in Jamaica's Independence Day celebrations. On this day, the entire country comes alive to celebrate the nation's liberation from colonial rule. As residents proudly display their Jamaican identity, visitors may anticipate parades, street celebrations and live music. Every municipality in Jamaica, from Kingston to Montego Bay, holds its own distinctive celebrations that let tourists take in the country's vibrant spirit.
Best Weekend Ever (August 4-7, 2023)
Six special events have been planned to provide you with the "Best Weekend Ever" party experience. Party on Ocho Rios' white sandy beaches for the finest feelings ever. This event shall surely be a great way to close out an exhilarating summer experience in Jamaica.
With its captivating scenery, lively culture, and contagious energy, Jamaica is slated to host a number of must-attend events in the summer of 2023. From the storied Reggae Sumfest to the mouthwatering tastes of the Boston Jerk Festival, the "Emancipendence" celebrations to the nonstop party atmosphere at Dream Weekend and Best Weekend Ever, the island offers a diverse range of experiences that will leave you with the most unforgettable summer memories.