Longing for vast open-air spaces, gorgeous views, and fast-paced adventure to fling me from what has become the humdrum of work-from-home and social distancing, I counted down each day until our visit to Chukka's Ocean Outpost at Sandy Bay with the excitement of a toddler waiting for Santa. I told my 10 year old that we were about to go off on another of our mother-daughter fun days and her anticipation just barely eclipsed my own. We needed this.
I was still apprehensive, we are in the middle of a pandemic after all, but I knew we needed at least a small taste of adventure to infuse some exuberance into our lives to keep our spirits high. I researched Chukka's protocols to comfort the voice in my head and I was quite satisfied. Off we went, to the breathtaking stretch of coast in between the bustling resort towns of Montego Bay and Negril.
Chukka Sandy Bay
Chukka has nine locations throughout the island offering outdoor activities in Jamaica and this one was just recently expanded with upgraded activities. We were booked for horseback riding, the ATV tour, and power snorkeling on the catamaran party cruise. I'd never been power snorkeling before and had no idea what that was, but I was eager to find out.
Horseback Riding
We arrived and were greeted by warm friendly smiles that immediately put me at ease. Our temperature was taken and we were asked to sanitize our hands before we were checked in and whisked off to the horseback trails. This was the perfect start to our day, as our horses were gentle and our guides were knowledgeable, sharing with us information about the 600-acre property that was once home to a sugar plantation.
I can't describe the euphoric feeling that overcame me, trotting around in what can only be referred to as paradise. We rode around in green, lush pastures, up hills overlooking the dazzling Caribbean Sea, and through farmlands with goats and their kids running around. I was immediately transported to nirvana, a time and place before lockdowns and worry. As our horses swam around with us on the beach, the laughter of my daughter floated back to me and I was so happy to be in that time and place. It was just what we needed.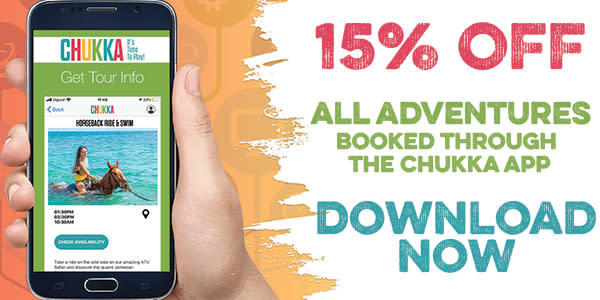 ATV Tour
I left her to play on the swings with friends while I went on the ATV tour. This was my first time on an ATV and I was happy that it was on such a big property with wide-open spaces. We flew through small puddles and rode along the beachfront, up over rickety hillsides, and on side streets in the surrounding countryside. Kids waved as we slowly meandered through their community taking in the beauty of nature and Jamaican country life.
Chill Time
As I rejoined my little one for lunch, the DJ picked up the pace and played today's pop, reggae, and dancehall hits. We chowed down on some delicious jerk chicken with festivals then headed over to the large infinity pool to relax before our power snorkel cruise. 
The music was pumping and the pool was large enough for us all to comfortably distance and enjoy. Those who weren't in the pool danced on the deck or lounged on hammocks and swinging daybeds around the property. Others tried to get on hammocks mounted out in the sea. That was fun to watch since few were successful!
Power Snorkeling
As we made our way to the catamaran to begin our journey out to our snorkeling site, we were once again sanitized and introduced to our power snorkel devices. This was my first time using one and it made it so easy to move around in 18-feet-deep water on quite a windy day. We snorkeled up to a reef and saw gorgeous tropical fish and some unique sea creatures. One of our guides found something resembling a sea sponge and gave it to my daughter to hold.
"Is that thing alive?" I asked. She promptly dropped the poor creature when he responded in the affirmative. I'm pretty sure it was happy to be back in the water, too.
As we made our way back to the shores, the party cruise got lively. The music was good and the rum punch was flowing. The sunset glow was the perfect cap on what was an amazing day of adventure at Chukka's Ocean Outpost. It was the perfect reset we needed.