Chukka Ocean Outpost - An Open Air, Nature-Adventure Paradise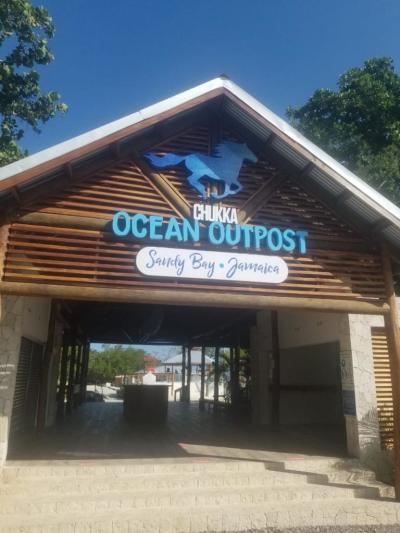 Every community needs a hub, a place where the action happens; where people unite to join the fun or simply be. This is Ocean Outpost, Chukka's newly expanded seaside ranch and adventure spot for Western Jamaica. Nestled between shady mangroves with unobstructed views from mountain to ocean, thrill seekers and nature lovers can get their "Triple Play" on while relaxing in a picturesque and historically rich location.
Located just outside the town of Sandy Bay, Ocean Outpost is an extension of the people and culture found in the community. The first "Free Village" on the island's west side, Sandy Bay was originally a township established by former slaves – a land for freedmen who were no longer under the control of plantation owners. Their spirit lives on in every moment of liberation and release enjoyed by guests on the property.
Chukka belongs there, just as much as the wild bamboo shoots, fruit trees and palms that grow from the ground do. It's a place of memories, not only those made by its current day visitors, but by the children who ran joyfully through its land decades ago. Many of the tour guides who helped to craft the experiences provided at the Outpost are the sons of villagers who grew up on "Freedom Street" and around the property. They know every nook and cranny; every cherished spot on land and sea and have designed each tour to flow unobtrusively through its terrain. Dune Buggy and ATV trails meander through 18th century ruins on an old sugar plantation and you can move from mountain to sea on horseback.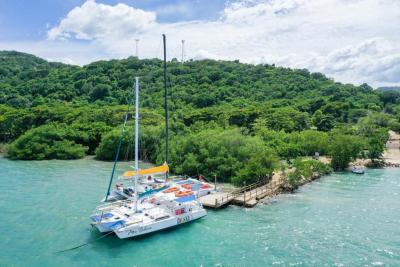 The Ocean Outpost is an idyllic playground scattered with swings, hammocks and suspended lounge beds that sway in the ocean breeze, a curved infinity-edge pool and over-the-water gazebo  at Gilly's Restaurant & Bar – all at the tip of the blue Caribbean Sea just waiting to be explored. Take a kayak, paddle board or even get on a purpose made hammock and zipline into the ocean from Driftwood beach or sail out on the Chukka Catamaran to explore an intricate set of reefs by power snorkel – the first tour of its kind on the island. 
The atmosphere at Ocean Outpost brings you back to yourself. The You away from the everyday – the fun You, the happy You, the real You. Take a moment to get curious and stroll around the property while checking out new and unfamiliar things, such as the friendly love birds in our bird aviary or the diverse vegetation that grows naturally on the land. Let our resident DJ lure you onto the pool deck with some of reggae's greatest hits because a little jiggy never hurt anyone or simply find a quiet spot to relax and unwind.
They call it social distancing, but we call it creating spaces and moments. We've carved out spots throughout the Outpost where you and your loved ones can take refuge to breathe in the fresh ocean air, soak in the sun or relax in the shade. Our new way of life has taken some adjustment, but it has also brought us back to basics. We've renewed our commitment to open-air property design, immersive outdoor excursions and uncontrived experiences that feel like what they are, natural and not forced, while ensuring our guests' safety at all times. From our world-class tour management protocols to our health & sanitization measures, we've mastered the ability to both thrill and protect our guests.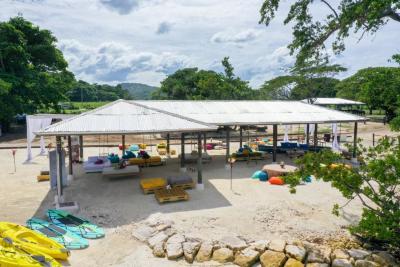 Chukka's offsite expedition tours begin at the Ocean Outpost and provide the best activity to showcase some of Western Jamaica's most stunning sites. Discovering the best of nature, history and culture does not always mean it will be conveniently located. Sometimes the path to get there is a little longer or a little bumpier, but that's what preserves it and makes it the best.  Our purpose built 4x4 "open air" expedition trucks will take you there. These experiences will immerse you in nature and/or culture providing guests with unforgettable authentic community engagement and usually unseen beauty.
Chukka tour experiences are not just about the destination, but also about the journey. As you voyage through the island's towns and countryside, you'll get a true local perspective from your dedicated tour guide who will share knowledge and answer questions while you soak in real Jamaican street vibes from people living in the communities. Think roadside fruit vendors, fishermen and rum bar domino players – life on the island is vibrant and full of character. The destination is your choice with Chukka's "Triple Play" mix and match options. Zip from one mountain to another, over a river and through a valley above an unspoilt canopy of trees. Take a river walk up the pristine cascades of Mayfield Falls or float easily downstream on a bamboo raft for two. You can do it all with no compromises.
Chukka's Ocean Outpost is a true reflection of the Chukka way – a thoughtfully designed place to play that connects guests to authentic, instagrammable and unforgettable nature-adventure expeditions and outdoor experiences that ignite emotional reconnection to nature and childhood memories of playtime.