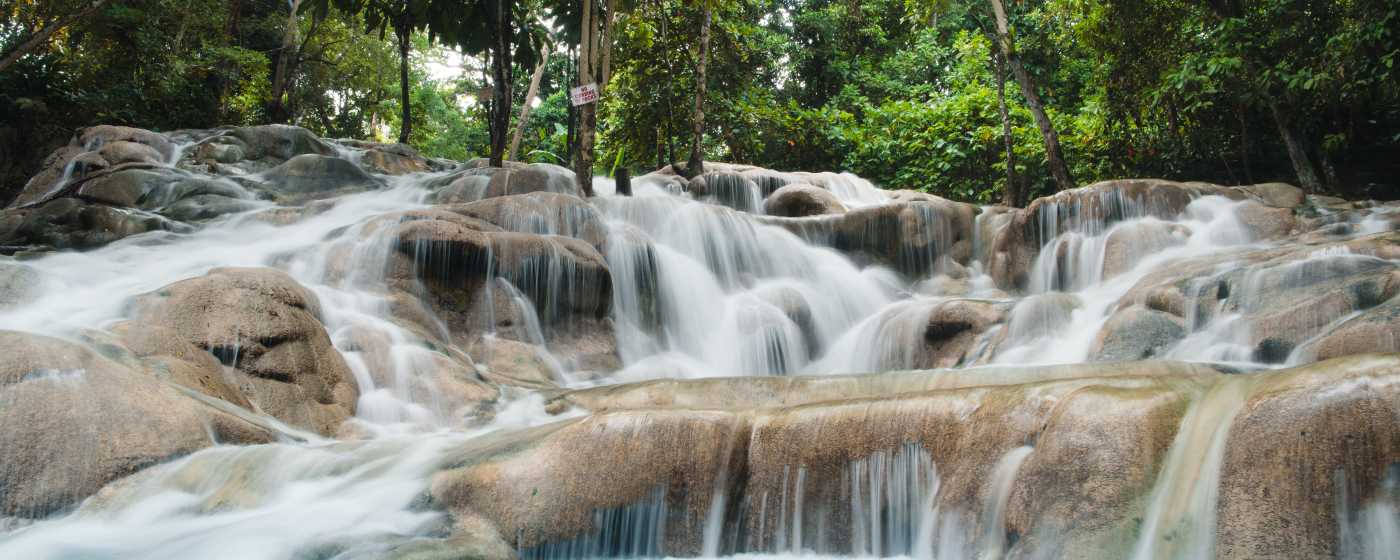 Dunn's River Falls
White River
Freshwater rolls from the mountains to the White River Valley past coconut plantations, bamboo groves, and lush vegetation. The winding waterway creates multiple activities and attractions along its course. White River is one of the longest in the country of Jamaica, flowing for 27 kilometers and resting on the boundary of St. Ann and St. Mary parishes. Thanks to its limestone bedrock filter the aquamarine water steadily maintains a translucence. The clarity of the stream is what is said to have led to White River acquiring its name. Visit this unique area in the Heartbeat of the World to enjoy multiple experiences along a single stretch.
White River History
The arrival of Spaniard colonizers in 1494 led to many local sites with Spanish names, some of which are still in place today. Though there may be only a few Spanish structures remaining, a popular one arches White River known as Old Spanish Bridge. The stone crossing was built in the 17th century and is one of the past indicators of Spanish colonization in White River Jamaica.
White River Activities
White River's diversity stems from tumbling rapids to forming lagoon pools. The area does not skimp on thrilling activities, from the land, air, and of course water!
Break out your riding hat and boots if you have them! A horseback ride through striking landscape along dirt trails and the river's bank awaits. Take the journey up a notch (literally) with Chukka's zipline adventure spread across green canopies in varying lengths, from 150 to 800 feet long. Soar through the verdant forest with a bird-eye view of the White River from the treetops.
The naturally occurring pools are fit for rafting trips through a series of groves toward the Caribbean Sea. Bamboo rafts fitted for two are captained by experienced guides who maneuver the watercourse to cruise leisurely down the stream. White River rafting Ocho Rios may not be as long as the Rio Grande or Martha Brae rafting, but it's still a relaxing way to travel. Opt for a quick beer stop and maybe even a cool dip during the scenic ride.
Stunning swimming spots along White River Ocho Rios include Blue Hole, Island Gully Falls, Reggae Hill, and Thatch Hill River Park. In addition to an energizing swim, you can climb multiple cascades, take a daring jump from hanging rope swings or elevated rocks, and explore underwater caverns.
Thanks to its wild rapids White River tubing Ocho Rios is another popular option, an activity most other rivers in Jamaica can't. The excursion literally sweeps you off your feet and into a float. Gliding along the river enveloped in nature's authentic beauty brings you over limestone beds and under arching bamboo. If you're feeling for extra adventure, try kayaking through the snaking twists and rapids of White River.
This distinctive waterway swims through sites of history, village livelihood, and breathtaking scenery. Visiting White River, from the hills to the plains, will surely reveal a one-of-a-kind experience from Jamaica!