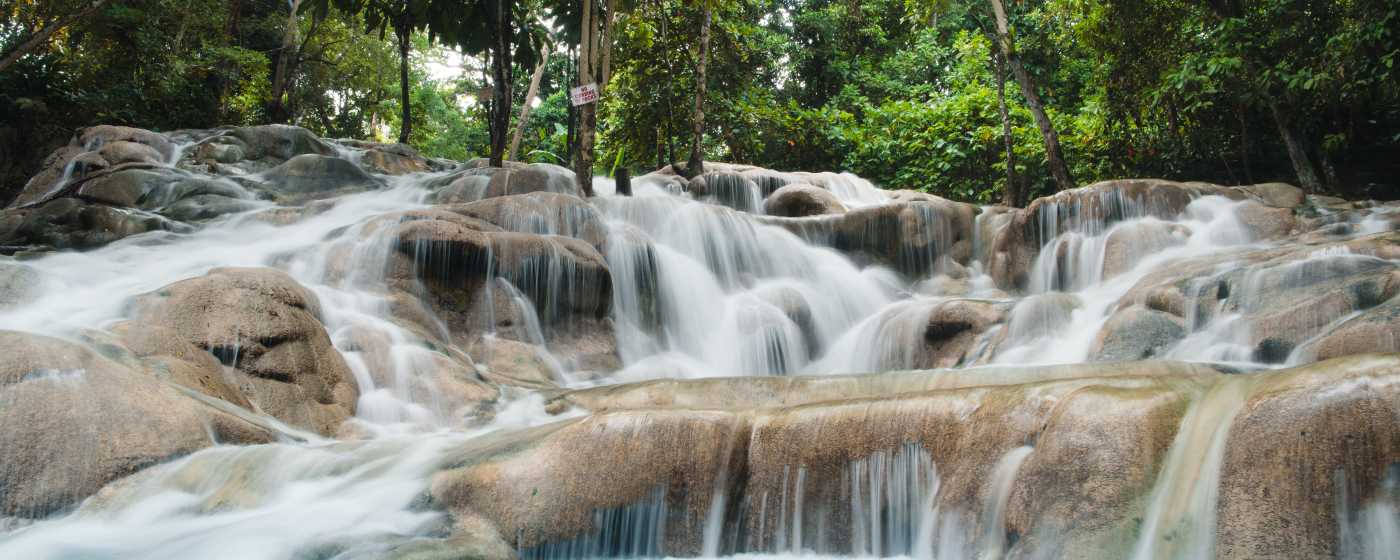 Dunn's River Falls
Rio Grande Jamaica
Portland Jamaica's famous Rio Grande River meanders from the heights of the John Crow Mountains into a verdant valley sitting below. Along its banks and tributaries lie luxuriant foliage, tropical rainforests, waterfalls, and natural pools. It is one of the country's largest rivers, also greatly known for its erratic yet transporting waters.
Rio Grande History
The English translation of 'Rio Grande' is 'big river', appropriately named by Spanish settlers between the 15th and 16th centuries thanks to its extensive length. During Jamaica's glory days in the banana trade industry, bamboo stalks were cut and tied together to construct durable rafts. These were utilized to transport the golden produce plus other goods from inland plantations to the harbor in Port Antonio.
Just like our iconic jerk cuisine and advent of local surfing, the parish of Portland is also the reputed birthplace of river rafting in Jamaica. Rafting on the Rio Grande began out of necessity due to its choppy waters preventing the use of boats; commodities would be transported on rafts to be prepared for international export. Hollywood actor Errol Flynn popularized bamboo rafting for recreation in the 1950s. This was sometime after being struck by our island's beauty and purchasing the Titchfield Hotel and Navy Island during one of his many stays in Jamaica; there is also a marina named after him in the parish capital.
Rio Grande Activities
As the banana trade industry declined, the use of rafts for tourism and leisure became even more popular. A collection of bamboo thrones mastered by experienced captains on the wide river make the 'Rafters Rest' boarding location easy to spot. Your raft captain will maneuver the moody waters while you sit back, relax, and do nothing but absorb the serene beauty of this unhurried river ride. Seated on the raft, you and a chosen companion can float through a green valley on island time (which in this case can be roughly 1 to 2 hours). Flora and fauna will be on full display whichever way one chooses to look! Rafting excursions have spread to other rivers in Jamaica since its inception, such as Martha Brae River and White River, but rafting on the Rio Grande has maintained the largest and longest operation of its kind on the island for decades.
If you get the chance, opt for a culinary stop along the river route. Indulge in real 'yard style' cooking on the river banks, boasting lunch seasoned with earthly flavors and island spices. Its smoky cooking station is complete with pots simmering over coal and wood fires, plus vendors offering a range of beverages and souvenirs for sale.
In addition to guided rafting and swimming, the Rio Grande Valley also has routes that lead to natural attractions such as Scatter Waterfalls, Fox Caves, Nanny Falls, and historic towns populated with descendants of Maroons. A visit to Rio Grande Jamaica is a visit to a lifeline, an innovation, and ultimately a visit to a true paradise.