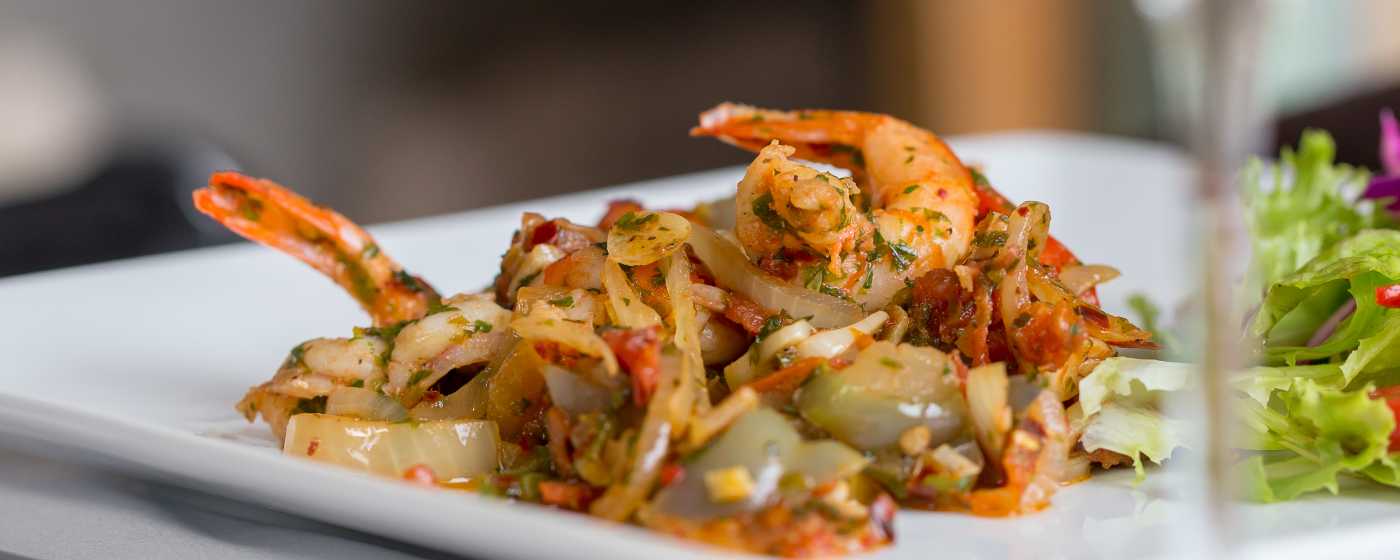 Fine Dining
Fine Dining in Jamaica
Elegant Restaurants
While in Jamaica, enjoy an elevated meal at any of the fine dining establishments offering swanky settings to complement a high caliber of culinary eats. Your exquisite taste can be satisfied on various ends of the island, from Kingston to Negril. Whether you're celebrating a special occasion, seeking a romantic dinner for two, or simply living your best vacation life, there's a fine dining restaurant in Jamaica that'll impress you with the best the island has to offer.
Kingston
Black Orchid Restaurant at Eden Gardens is an exquisite eatery that mirrors the poise of its host resort. This elegant restaurant is considered one of Kingston's premier fine dining venues and boasts a refined ambiance. Nearby, Terra Nova Hotel possesses two esteemed eateries: The Regency and The Terrace. The resort's colonial charm spreads to these restaurants, creating light sophisticated spots.
A stroll away is the historic Devon House mansion and lawns, Jamaica's first gastronomic center. One of its many offerings includes Steakhouse on the Verandah on the mansion terrace, specializing in premium steak and wines. You can also escape to the mountains to the iconic Strawberry Hill where fine cuisine and exceptional far-reaching views have been known to attract elite crowds for decades.
Montego Bay
Marguerite's, a stand-alone restaurant, and The Sugar Mill, at Half Moon resort, both sit on respective historical locations as two of Montego Bay's long established fine dining options. For flavorful French food, Petit PariZ at the Hyatt Zilara resort brings romantic flair from the city of love to Jamaica. And for a gourmet delight, The Restaurant at Round Hill is led by a James Beard award-winning chef. The seasonal menu teases the taste buds with anticipated dishes, and elegantly plated meals are served on the picturesque upper terrace.
Ocho Rios
There's possibly no better place to enjoy surf and turf than Spring Garden Seafood and Steakhouse. It's reputed to offer one of the most exclusive dining experiences in Ocho Rios and you'll have plenty of seafood options to choose from to pair with your choice of meat. Meanwhile, in nearby Runaway Bay, L'Escargot offers fine French delicacies and wine pairings.
If you crave a twist on your fine dining experience, Stush in the Bush provides a farm-to-table experience that creates gastronomic euphoria. This experience is available by reservation only, as it includes a tour of the organic farm where all the food comes from with the goal of providing guests a meaningful connection to their meal.
Negril
Take your pick of upscale, seaside dining in the coastal city of Negril. Bongos Restaurant at Sandy Haven Resort has an intimate indoor option that inspires romance as your gourmet dishes overlook the world-famous Seven Mile Beach. 
You can also find a blissful balance of global cuisine and captivating views on Negril's West End cliffs. Rockhouse Hotel's namesake restaurant is renowned in Jamaica and celebrated as Negril's premier fine dining destination. Rockhouse Restaurant grants an enviable sweeping view of the azure Caribbean Sea with front row seats to arguably the most stunning sunset on the island. 
A short distance away is Blue Mahoe Restaurant of the Spa Retreat Hotel, named after Jamaica's national tree. Blue Mahoe, like the tree, is noted for its distinctive qualities which include a spectacular cliffside setting for outdoor dining. At the The Cliff Hotel, Zest Restaurant is a delight for all the senses with a softly lit clifftop patio serving passion on a plate.
Luckily for visitors, many resorts offer fine dining restaurants on-site but that doesn't mean they're restricted to guests. Enjoy a taste of Jamaica in a new way by treating yourself to top-class dining.
EXPERIENCE OUR ISLAND