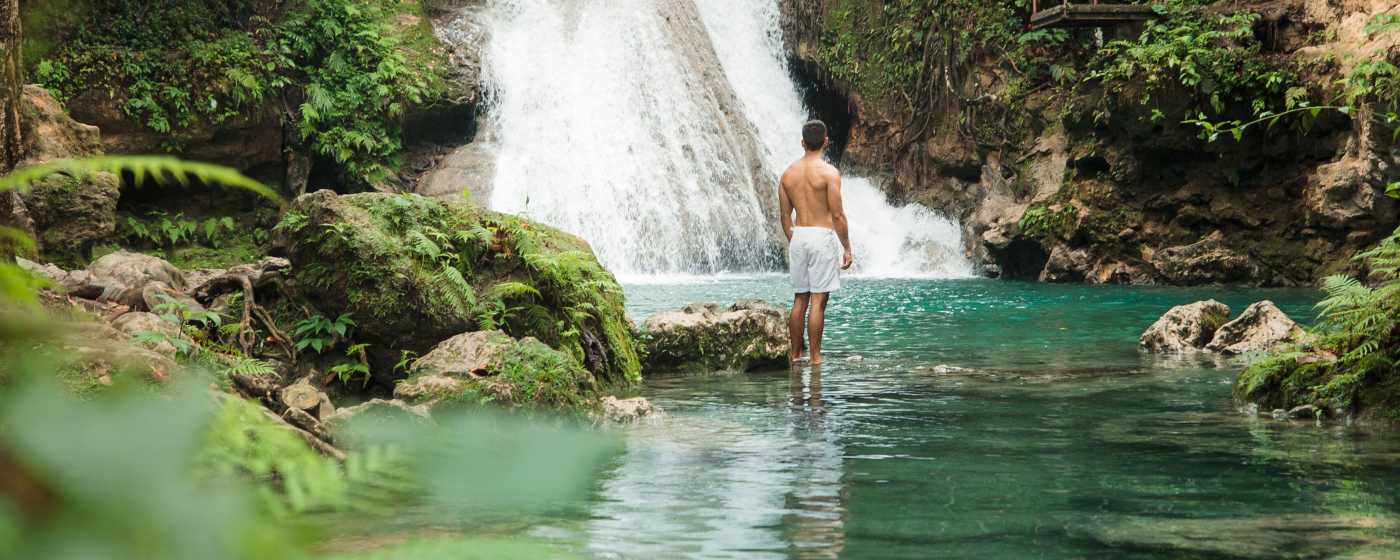 Activities
Activities
get out and about
Go beyond the powdery soft sand beaches of Jamaica and experience activities that speak to your interests and let you walk in step to the beat of the island.
What do you fancy? Are you a nature-lover who will enjoy the crunch of fresh fallen leaves beneath your feet as you hike the Blue Mountains at the crack of dawn? Are you a thrill-seeker making a splash as you race an ATV through muddy hillsides along a river's edge? Will you climb to the top of Dunn's River Falls or trek to the home of the one and only Bob Marley? Or will you sit back on a bamboo raft with an ice-cold Red Stripe beer and enjoy the ride, true island-time style?
Take a dive into some of the best Jamaican activities and explore the possibilities for yourself.
Best Places to Visit in Jamaica
Come hang out with some of the friendliest tour guides you'll meet anywhere. They know almost everything about our island and will help you discover the top places to visit in Jamaica. You'll find every type of tour, from cultural experiences and food adventures to thrilling rides, picturesque sails, and luxury indulgences.
Venture out to any of the many attractions that will transport you back in time, teach you something about the island, take your breath away with their beauty, or even spook you. Dine like a local at a number of popular restaurants or make a reservation for a five-star culinary feast.
Of course, if you're here for the beaches, you'll find plenty. From picture-ready, white-sand beaches to rugged cliff's edges and magical black sand coastlines stretching for miles and miles touched only by clear blue skies and crystal clear waters. And if you're here for golf, then you'll certainly enjoy our world-class courses with idyllic tropical backdrops and perfectly manicured greens.
Fun Activities in Jamaica
We know a trip to Jamaica is already synonymous with fun. Our insider secrets will help you to find the best activities like where to shop, which events to go to, and where to hang out for a memorable nightlife experience.
Island shopping highlights the best of Jamaican arts and handmade craft items. The discerning collector will want to visit the fabulous galleries showcasing Jamaica's finest artists, while culture seekers will love the craft markets that are an experience in and of themselves. Shoppers can watch as creations come to life and interact with local craftsmen while taking in the sights and sounds of an authentic street market.
Jamaica is the home of reggae music and several major music festivals happen here every year. We love a good party and our nightlife boasts a wide variety of happenings to choose from. Listen to a live band, check out a "wickid" local street dance, or go club hopping to shake a leg. Jamaica is the place to enjoy a fabulous beach party with a strong and exotic cocktail featuring our signature rum in hand while rocking to the deep reggae beat from sundown until the break of dawn.
Find information about festivals as well as lots more events based around food, sports, spirituality, and high-energy party weekends on our events page.
No matter which activities you choose, you'll surely feel the rhythm of island life as you unwind and take on the beat of Jamaica.
EXPERIENCE OUR ISLAND