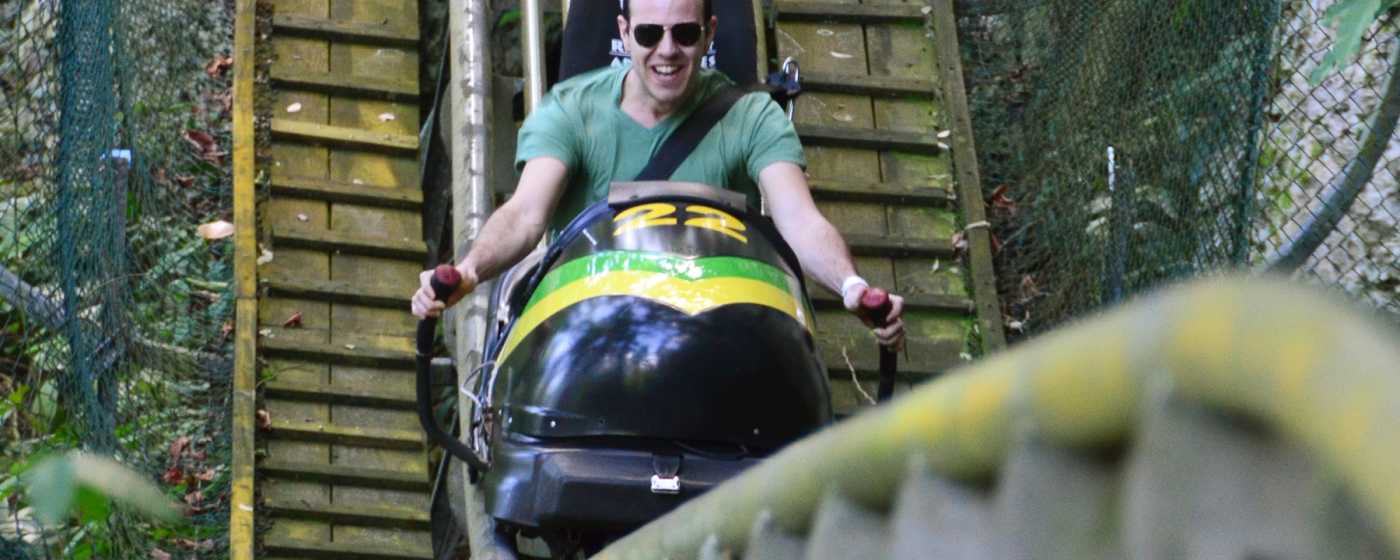 What to Do in Ocho Rios
What to Do
see it all in Ocho Rios
Seeking an exciting atmosphere of city life that strikes a balance with the tranquility of surrounding nature? Ocho Rios, the capital city of St. Ann parish, is an impressive fusion of civilization and adventure.
Ocho Rios Rivers and Waterfalls
Its name translates to 'Eight Rivers' in English, referencing the abundance of flowing water at just about every turn. With multiple Ocho Rios waterfalls to explore, you can easily experience the uniqueness of various bodies. 
For decades, Dunn's River Falls has been one of the most popular attractions in the country of Jamaica. The naturally occurring cascade series, which you can overlook from ziplines and a hanging bridge, flows from 180 feet high to meet the salty waters of a pristine beach below. Konoko Falls and Turtle River Falls lie just two stone throws away, each with a selection of on-site features that complement their main attractions.
Venture east of the town to uncover White River, a popular site for bamboo rafting through a channel lined by colorful fishing boats. Sections of the river, including Blue Hole and Island Gully Falls, possess a mesmerizing turquoise hue which beg you to jump in and tube down its spiraling waves.
Ocho Rios Beaches
Of course you'll want to sink your toes into powdery sands and have tiny grains smooth away your worries. Luckily, locating a beach to laze on is almost effortless here.
For absolute unwinding by whispering waves, the stretch of immaculate sand and sea at Bamboo Beach Club grants you a perfect beach day. The iconic Margaritaville in the heart of the coastal area is another popular pick for Ocho Rios beach lovers. Steps away from a stocked bar and pool waterslide is its shore, laden with vibrant chairs and tall glasses of tropical cocktails. If you want to mix your dose of vitamin sea with additional activities, nearby attractions like Dunn's River and Turtle River Falls & Gardens offer a satisfying variety.
Adventures in Ocho Rios 
Escapades of all kinds are always nearby, even if you don't visit a thrill-seeking venue like Mystic Mountain and Yaaman Adventure Park. Many Ocho Rios attractions provide daring activities sure to give patrons a rush. For a different type of adventure, travel the narrow winding roads on the Zion country bus. It journeys to the Rastafarian-populated Nine Mile community, birthplace and resting place of reggae icon Bob Marley. 
Ocho Rios Party Scene
It's normal to encounter the pulsating beats of a sound system while wandering through the town. In Ocho Rios, where you can wiggle hips from land to sea, the question to ask is what kind of party are you seeking? Day and night, the electric Margaritaville vibes flow as freely as their drinks. Switch scenes on a Cool Runnings' Catamaran and Rum Punch Party which offer coastline cruises with bottomless drinks, bopping music, and snorkeling. 
Ocho Rios History Sites
Things to do in Ocho Rios aren't limited to enjoying the landscape and party scene. The resort town also has sites equally rich in history and aesthetics. Thirty-acre Rio Nuevo was the definitive battle site between the Spanish and English in the 1600s. The property boasts an enviable river plus a beachfront, and dates back to 900 AD. Similarly, the Seville Great House Plantation and Heritage Park also grants a picturesque step back in time. Artifacts from the Tainos, Africans, and Europeans can be found here alongside a lookout view of the glistening horizon, popular for picnics and horseback riding. 
It's relieving to know that such diversity is offered in a small area like Ocho Rios. With so much so close, how will you choose to experience it?