The first sensation that you might register is the comforting warmth, radiating from the Caribbean sun as you disembark your cruise ship. As you stretch your legs on a seemingly foreign stable ground, you will marvel at the stunning architecture of the terminal gates leading you into the port. This is only the beginning of an apparent theme woven throughout the town of Falmouth – an architectural goldmine.
Exiting the terminal finds you in a cobblestone paved courtyard, reminiscent of the historic times that shaped Falmouth; that of pirates, buccaneers and when sugar reigned supreme in spheres of economics and trade. A beautifully carved, three-tier fountain is the first thing you'll see, along with fellow ship guests posing and taking photos. Surrounding you will be sweet melodies wafting from a steel pan taking you through all genres of classic Jamaican folk songs. In fact, music spills from almost every corner of the Falmouth port, each with a distinct sound and style. A duet of acoustic and bass guitar with soulful vocals in the Craft Market and a full band with drums and a peculiar grater which adds beautifully to the ensemble, complete with an energetic folk dancer just before you exit the port.
Both wings flanking the main area are lined with duty free jewellery stops from all major international brands: Pandora, Diamonds International, Rolex, Cartier, Colors Duty Free Jewellers and Tanzanite International. Take advantage of the competitive prices, with extensive variety at any of the shops as you stroll about.
You will find ultimate ease of access while traversing throughout the Port, the inconspicuous and seamless structure of the ramps makes it easier to use wheelchairs/walkers. In addition to this, there are numerous trolleys available to transport persons to their stations as soon as they exit the terminal. The attendants are courteous and patient and will quickly get you to where you need to be with no hassle.
You only have a few hours in this slice of paradise, so you must make the best of it. If you purchased a tour package to make this happen, your assigned station will be found in the dispatch area which is to the far left of the main courtyard. The attendants at the Information Booth will be eager to direct you or you can wait for the trolleys that go between the dispatch area and the terminal exit. Also available is a 40 - 45 minutes shuttle trolley tour of the Town of Falmouth, which can be arranged at the Information Booth.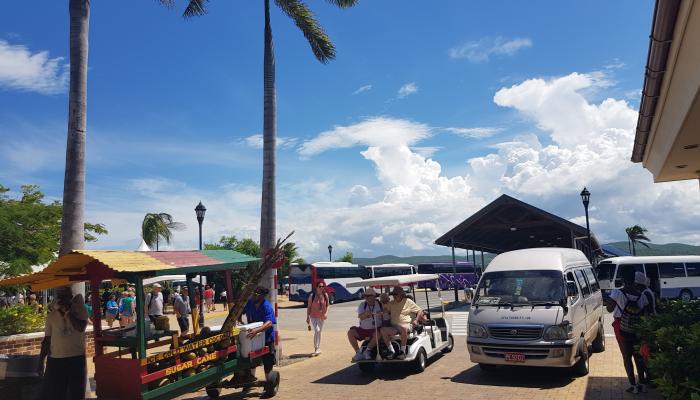 If you forgot to book a tour, no problem! Near to the dispatch area are representatives from exciting locations offering tours. Choose from cave exploration with Green Grotto Caves, float your problems away through a raft tour on the Martha Brae or be refreshed with a tour from the world renowned Dunn's River Falls. A whole host of activities is also offered from Chukka Caribbean such as horseback riding, cliff diving, ATV driving or even hiking through an exotic rainforest. Choose just how you would like to spend the time in Jamaica and start making plans to stay longer the next time round!
After enjoying duty free jewellery shopping you might decide to stop for lunch, and you're in for a treat. The Port balances options for food from American favourites along with Jamaican cuisine by means of a Quiznos with Jamaican influenced menu items like the Baja Chicken Sub and Jerk Chicken Sub, also Nathan's Famous Hot Dogs, Dairy Queen (DQ), Starbucks and an Aunt Annie's shack. Not to be outdone, there is a small hut that offers hot Tastee Jamaican patties that you can wash down with a soda, beer or even a coffee beverage from the Blue Mountain shack nearby. A dine-in restaurant is also an option, the Spice Kitchen and Bar offers a variety of tasty Jamaican meals all served with a warm smile.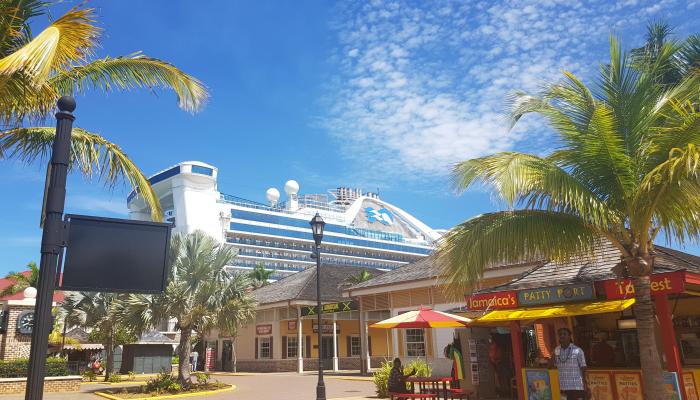 You haven't really been to Jamaica if you return home without a souvenir or craft item to remind you of the best time you spent here. There is a dedicated craft market in the centre of the Port that showcases the works of art made by our extraordinarily talented locals. You will be delighted at the sight of exquisitely carved wooden animals and jewellery boxes as well as handmade jewellery. Try your best to not lose too much time in trying to see every single item from every stall, tempting as it may be since each item is seems more alluring than the last. The souvenir shops like Sentiments, Rasta Vibes and Tuff Gong, will have you decked out in Jamaican branded t-shirts, hip-packs, hats and just about any other apparel you decide is necessary to wear on your tour in Jamaica or right before your re-embark.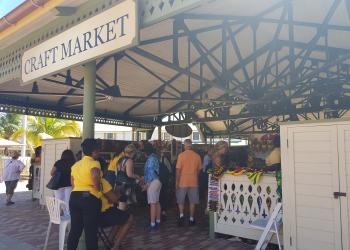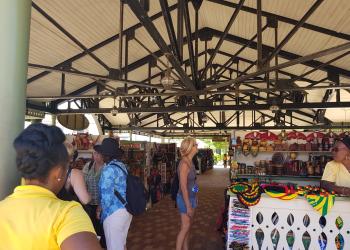 If you want to spend some more time outside of the Port but with similar options for craft items, there is a new craft market immediately outside the Port, with even more authentic Jamaican goods up for grabs. 
You can spend the whole day at the port if you would like, as there are options for a spa day and even a complete makeover with options for hairstyling, manicures and pedicures, from licensed operators in the dedicated beauty salon area. Or if you want to party all day, the all-access Margaritaville is there for you to enjoy. In the heat of the excitement, don't forget to cool down with a coconut jelly from any of the threestalls at the Port (ask for Ian, tell him we sent you!), or any of the snack carts interspersed throughout.
The Falmouth Cruise port is one of the state of the art ports in Jamaica, with its own twist of historic heritage and culture woven into its very cobblestones and grand architectural designs, juxtaposed with modern creature comforts of jewellery stores, fast food chains and authentic Jamaican crafts; Come and see for yourself!
Find out more about our cruise ports here!