Jammin' in Jamaica: Exciting Events from October to December 2023
Jamaica is the place to be this fall! With so many amazing events happening, you'll be sure to find something to make your heart skip a beat. Whether you're looking for a reggae music festival, a food extravaganza, or a cultural celebration, there's something for everyone. So, if you're planning a trip to our lovely island this fall, we've got you covered! 
Merritone Music 33rd Annual Family Reunion & Homecoming Festival​: October 27-30, 2023
Location: Montego Bay, Jamaica
Attend a week-long event dedicated to the music of Jamaica, for Jamaicans, residents of the diaspora, and visitors from all over the world. Attendees will be treated to a Thanksgiving-themed service and a variety of musical performances, culminating in a five-day, four-night inclusive resort stay during National Heroes Week.
Website: www.merritonemusic.com
Jamaica Food and Drink Festival: November 2-5, 2023
Location: Kingston, Jamaica
This is a huge mix of amazing drinks and food, amazing DJs and live shows, amazing cooking, and so much more. It's six days of amazing food and drinks - when you're trying to decide which events to do, the best thing to do is do them all!
Website: www.jafoodanddrink.com
Cycle Jamaica: November 9-13, 2023
Location: Montego Bay, Jamaica
This cycling vacation is perfect for all levels of cyclists. Whether you're an elite rider, you'll be up for a challenge from the island's best, and if you're just starting out, you'll have full support all the way. Plus, you'll have time in the afternoon to hang out with your cycling buddies, explore the island, and take advantage of the spa facilities. There are two routes to choose from - a short one and a long one for those who can't go faster than 16mph.
Website: www.cyclejamaica.com
Treasure Beach Food, Rum and Reggae Festival: November 10-12, 2023
Location: Jack Sprat, Lover's Leap, Pelican Bar, Little Ochie, Treasure Beach Sports Park, Treasure Beach, South Coast
This 3-day festival will focus on promoting St. Elizabeth as the breadbasket parish and stimulate interest in the south coast region. Activities will include:
Nov. 10, 2023 – Live concert at Lover's Leap with mouth-watering food offerings and cocktails.
Nov 11, 2023 – Tour of local farms, rum producers' locations, boat excursions Pelican Bar, Little Ochie, Beach party at Jack Sprat and much more. Jesse Royal in Concert at Jack Sprat
Nov. 12, 2023 – Festival Village and Curry Goat Cricket Match at Breds, fun activities for the entire family.
Website: www.foodrumreggaefestival.com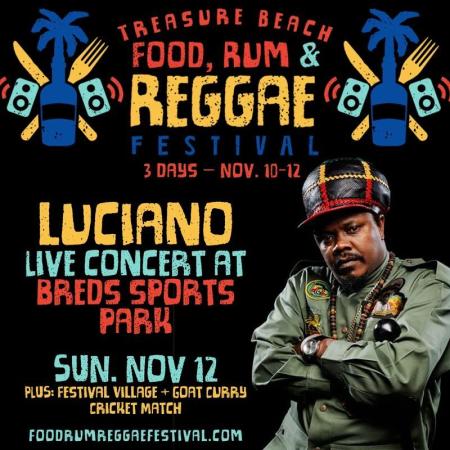 Jamaica Open: November 11-14, 2023
Location: Tryall Golf Club
The Jamaica Open, the premier event of the Jamaica Golf Association, is celebrating its 56th renewal this year. It is the longest-running and most prestigious golf tournament in the Caribbean, attracting professional golfers from all over the Caribbean, North America, and Europe.
Website: www.thejgatour.com
Swim for the Sanctuary: November 11, 2023
Location: White River House Beach (east of Shaw Park Hotel)
If you're a swimmer, local or international, this is the event for you! It's a two-day open-water swim where you can compete in a variety of challenges, from 500m to 5km. All proceeds go to help the White River fish sanctuary.
Website: www.jamaicainn.com/jamaica-inn-foundation-gofundme-500in5/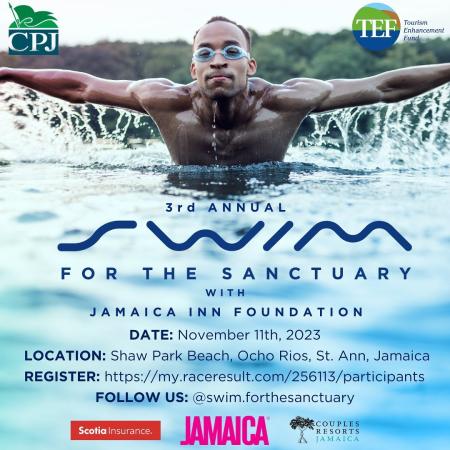 Mouttet Mile: December 2, 2023
Location: Caymanas Park, St. Catherine, Jamaica
Caymanas Park is proud to host the one-mile race with a purse value of US$150,000,00, making it the richest day of racing in the Caribbean-speaking English-speaking region. The race will consist of the top 3 year old native breeds and imported thoroughbred horses, with 4 spaces available for international entries. On race day, VIP's and sponsors will be treated to an exclusive, luxurious in-field activation. The facility is undergoing a gradual upgrade and on race day will be equipped with a classier, glitzier, and more comfortable in-field hosting area, allowing for a more refined, curated selection of fashion, food, culture, and rum experiences.
Website: www.caymanasracing.com
Reggae Marathon: December 1-3, 2023
Location: Negril, Jamaica
If you're a marathoner, sports enthusiast, or just starting out, come to Negril for the Reggae Marathon. It's the top International Marathon Event in Jamaica, and it's full of good vibes and Reggae music, so you're sure to have a great time. Plus, you'll have plenty of supportive fans along the looped course, which is certified by the World Health Organization. And the awesome music will keep you energized and having a good time as you put in the miles.
Website: www.reggaemarathon.com