Wha Gwaan
If you're visiting Jamaica during the months of July to December, you'll find a range of events to attend from sports, entertainment, shopping to even wellness and art. Jamaica is rich in culture, history and art as well as music. We've selected some of the best events to attend to end 2019 from across the island.
FALMOUTH FOOD FESTIVAL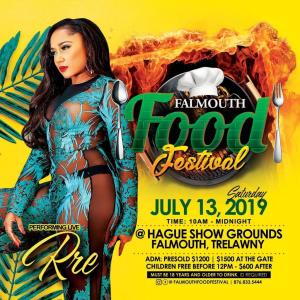 Hague Show Grounds, Falmouth, Trelawny
July 13, 2019
Usain Bolt helped give this rural parish of Trelawny an international profile. The yams he supposedly ate as a boy there, helped make him the world's greatest athlete. If you're in the area, this is a great festival to attend as it will be sure to satisfy your taste buds and craving for Jamaican entertainment with live performances by international super star Spice and Gage.
The event will showcase Jamaican food culture — from contemporary delights savored by Bolt and dancehall's elite artists, to down-home food legends like folklorist Louise Bennett and Bob Marley.
The Falmouth Food Festival comprises five areas:
Jerk Village — Where delicacies (chicken, pork, fish, etc) using Jamaican herbs and spices will be showcased.
-Fisherman's Shack — Catering to seafood aficionados.
-Culture Yard — Traditional Jamaican food such Ackee and Saltfish, Callaloo, Roast Yam and Saltfish, and Drops (gratered coconut) takes pride of place.
-Farmers' Market — Where patrons can purchase fresh fruits and vegetables.
-Vegan Delight — 'Raw' and 'live' food will presented in this area.
LITTLE OCHIE SEAFOOD CARNIVAL
Alligator Pond, Manchester
Date: July 14th, 2019
https://web.facebook.com/littleochiecarnival2014/?_rdc=1&_rdr
This all-you-can-eat seafood event is a must attend! The seafood fest is now 21 years old and is put on by popular seafood restaurant Little Ochie Seafood. The restaurant started with "rum talk" among friends on the grey sands of the Alligator Pond fishing beach where serving breakfast to fishermen  became a thriving business and now an event. The family event offers live entertainment and games for the children. See here for more details https://web.facebook.com/littleochiecarnival2014/?_rdc=1&_rdr
REGGAE SUMFEST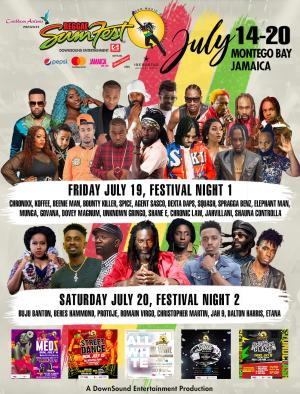 Catherine Hall, Montego Bay
Date: July 16-22, 2019
Reggae Sumfest 2019 will be the 27th staging Anniversary of this music festival. Known as the greatest Reggae show on earth, organizers have planned a week of activities that includes an all-white party, a sound system explosion, a beach party and the two final nights of the festivals which are Dancehall night and Reggae night concerts. The Montego Bay event mixes the genre's legends with local acts. The concert nights feature Buju Banton, Beres Hammond, Chronixx, Spice, Christopher Martin, Koffee, Spragga Benz, Elephant Man, Dalton Harris, Bounty Killer and Beenie Man and more than a dozen other artistes.
Visitors can look forward to great music and performances as well as Jamaican food that will be available at the venue. See here for more info https://reggaesumfest.com/
PALI-PRO SURF CONTEST
Palisadoes Strip, Kingston
Date: July 23-29, 2019
https://www.visitjamaica.com/event/pali-pro-surf-contest/1137/
This anticipated surfing event brings together regional and professional surfers who compete for the contest prize and the many ratings they can earn from the presence and interest of the growing number of local spectators and supporters. This Caribbean Challenge Cup series event will also be hosted in Trinidad and Barbados. See here for more information https://www.visitjamaica.com/event/pali-pro-surf-contest/1137/
GUARDSMAN GAMES
Hope Gardens, Kingston
Date: July 28, 2019.
http://www.guardsmangames.com/
Challenge your physical strength and stamina in this unique event that features a gym circuit, fear factor themed, mental challenge and a military style obstacle course. It's a great family event even for those not participating as children attending the event can visit the petting zoo, view self-defense demos, have tours of the Hope Zoo, gym challenges, eat at the food court and enjoy the rides for kids.
This year's event is partnering with international organization the ONE Academy and will take on a new format called an obstacle race course. International Obstacle Course racing is now considered the world's fastest growing sport and this partnership is great for Jamaica as the Guardsman Challenge will be an OCR World Championship Qualifier event! See here for more information http://www.guardsmangames.com/
KINGSTON CREATIVE: ARTWALK
F&B Downtown, 107 Harbour Street, Kingston
Date: July 28, 2019
This is your chance to explore hidden treasures of Downtown Kingston, see new artists perform and support Jamaican entrepreneurs at Market Street. Artwalk is a walking tour and also has artistic performances that showcase culture and talent and bring people Downtown. Artwalk serves to position Kingston as an Art District. Craft items will also be on sale for visitors. See more information on that here https://kingstoncreative.org/
DREAM WEEKEND
Negril, Jamaica
Date: August 2-6, 2019
https://jamaicadreamweekend.com/jm/
Dream Weekend is a premier party experience and Jamaica's number one and most anticipated music festival held on the white sand beaches of Negril, Jamaica for 6 days of 10 back-to-back parties with popular high-energy genres of music. The entertainment also includes performances from local and international artistes, inclusive world-class liquor and food and a one of a kind experience because of the quality of production. Visitors interested in attending this event can consider hotel packages at popular luxury hotels by Dream Weekend at Riu, Couple's Swept Away, CoCo La Palm, Rondel Villiage, Hedonism and others. The party series this year includes the Dream Live Concert, YUSH, Celebrity Playground, Twisted Spiritz Glow, Daydreams All White Party, Xtreme Wet &Wild, Dream J'Ouvert, Igloo and World Vibes. See information here https://jamaicadreamweekend.com/jm/
In addition to the party experience, Dream Weekend offers the perfect opportunity to explore beautiful Negril! Go to Ricks Café to enjoy the sunset and enjoy local food or head to West End for the best massages. Negril is known as the capital of casual so resort chic and breezy outfits are appropriate. Also because the area is under a watershed there is rain around lunch time almost everyday so plan activities around that! Don't forget to check out our famous Seven Mile beach and if you like snorkeling or scuba diving some of the best marine life can be seen up close at shallow depths in this town!
MONTEGO BAY JERK FESTIVAL
Catherine Hall, Montego Bay
Date: August 1, 2019
http://montegobayjerkfestival.com/main/
This year is the 10th staging of this food inclusive event! Approximately 12,000 patrons grace the event with both locals and visitors enjoying various Jamaican dishes, music and fun out on by the organizers. This year, the organizers are bringing two international chefs to participate in cooking demonstrations. August 1st is Emancipation Day in Jamaica and celebrated as a national holiday. This event in particular is fun for the entire family and the gates are open early so children can enjoy the rides. The entertainment begins in the evening. See here for more information http://montegobayjerkfestival.com/main/
BAZZI IN CONCERT AT MOON PALACE RESORT
Moon Palace Resorts
Date: August 17-20, 2019
International superstar Bazzi will be in Jamaica for 4 days and is slated to perform his hit new single "Paradise". Known for songs like 'Mine', Bazzi will be performing at a private concert at Moon Palace Jamaica, a AAA Four Diamond luxury all-inclusive resort in Ocho Rios.
The family-friendly property offers guests the opportunity to experience 17-acres of ivory sand on the longest stretch of private beach in Ocho Rios.
INTERNATIONAL FOOD AND WINE EVENT 
The Boardwalk Village, Negril
Date: August 17, 2019.
This all-white event hosted by the Negril Chamber of Commerce will be great night of food, wine, fun, dancing, and music. There will be a variety of International cuisines by the top chefs from Nine Negril's best hotels / resorts. Participants include: Couples Resort, Skylark, RIU Negril, The Boardwalk Village, Beaches Negril, Royalton Negril, Azul Sensatori Negril, Hedonism II, and The Cliffs. There is also live music. This event is unique as its proceeds will be in aid of the Negril Health Centre / Clinic Fund and NCC Projects. The NCC has adopted the Negril Health Centre endeavoring to make it capable of delivering first-class medical care that is accessible to all Negril residents and visitors.
UNITY IN DI CITY
National Stadium, Kingston.
Date: August 17, 2019
Unity in the City Gospel Experience is an annual Gospel event that seeks to draw members of the faith together. This annual mega concert features some the most acclaimed gospel talents from across the globe. It pulls together a wide cross-section of patrons to a world class non-denominational atmosphere and has revolutionized the gospel music industry with an eclectic combination of music, comedy and dance. It's a family event with a luxurious VIP appeal. It is Jamaica's number one, most anticipated and sought after gospel event. See more information here http://unityinthecity.com/
AMALGAMATION- The Global Edition
Little Theatre, Kingston.
August 30, 31, September 1. 2019.
https://web.facebook.com/pg/plieforthearts/photos/?ref=page_internal
The 2019 Gala dubbed the Global Edition will feature principal dancers from nine world renowned companies for ballet talent. These are the Bolshoi Ballet company from Russia, The New York City Ballet and American Ballet Theatre, the Cuban National Ballet, the Royal Ballet of London, the National Dance Company of Mexico, the Royal Winnipeg Ballet of Canada, Alvin Ailey American Dance Theatre of the USA, dancers from Kazakhstan, Spain and Jamaica's Plie Collective which consists of dancers from the National Dance Theatre of Jamaica, LaCadco, The Company Dance Theatre, Movements Dance Company and The Ashe Company.
If you're into the arts this is a fantastic event to attend for the entire family and age groups. Children and aspiring dancers are also encouraged to attend as the three day event will also have the dancers conducting workshops and seminars and will be awarding two international scholarships in dance to two successful Jamaican dancers to the Alvin Ailey School and Complexions Contemporary's highly competitive New York Dance Intensive programmes. See more here     https://web.facebook.com/pg/plieforthearts/photos/?ref=page_internal
 JAMAICA BRIDAL EXPO
Montego  Bay Convention Centre.
September 6-8, 2019.
http://www.jamaicabridalexpo.com/
Destination Jamaica has long been recognized as one of the world's best and sought after wedding and honeymoon destinations. Jamaica Bridal Expo showcases varied product offerings available to the wedding market. This includes global trends as well as creating networks between service providers and creatives as well as potential customers. The three day event kicks off with a welcome cocktail event at the famous Bellfield Great House. The second day a wedding conference takes place at the Montego Bay Convention Centre and the final day is the Bridal Expo. See here for more information http://www.jamaicabridalexpo.com/
JAPEX TRADE SHOW
Montego Bay Convention Centre
Date: September 11-13, 2019.
The Jamaica Product Exchange Trade Show was inaugurated 26 years ago and has remained the premier trade show of put on by the Jamaica Hotel and Tourists Association. The event provides a forum for suppliers of the Jamaican tourism product to meet with overseas travel wholesalers and tour operators in a professionally organized business exchange. This activity is described as Jamaica's premier travel trade event which showcases the destination's diverse tourism product for niche marketing. It's also a great opportunity for Jamaicans to interact with suppliers and see what's available in the industry. Persons are able to browse booths and even purchase items that are available. Many local products will be available and this family event also offers entertainment.
HERO CPLT20/JAMAICA TALLAWAH CRICKET TOURNAMENT
Sabina Park Stadium
September 12, 13, 15, 18 and 19, 2019
Cricket! Lovely cricket! Jamaicans are huge sporting fans and cricket happens to be a national favourite. Events like the Hero T20 however takes cricket up a notch as it is played in the night where patrons can enjoy entertainment intermittently during the game. The matches are short and exciting as countries within the Caribbean compete for the top spot.
This year, the Jamaica Tallawahs have signed legendary cricketer Chris Gayle as their marquee player for the 2019 season. Gayle is the leading CPL run scorer with 2111 runs and has scored three CPL hundreds, all of those for the Tallawahs. See here for more information http://www.japex.org/
 I LOVE SOCA COOLER FESTIVAL
Kingston
September 28 and Boxing Day December 26th, 2019
https://www.ilovesocajamaica.com/#iglive
I Love Soca Jamaica is a premier cooler event that is a huge pull for soca lovers across the Caribbean, Canada and the United States. The event features vibes from the best local and international Djs as well as international soca artistes performing live. See event details here https://www.ilovesocajamaica.com/#iglive
MISS GLOBAL PAGEANT
Montego Bay
Date: September 29, 2019
The Miss Global Jamaica international Pageant is a beauty pageant seeking to develop the attitudes, cultural and political awareness and etiquette of the participants. June 29th saw the crowning of the Miss Global Pageant Jamaica who will be representing Jamaica at the International Miss Global Pageant to be held at the Montego Bay Convention Centre. The pageant
MERRITONE FAMILY REUNION AND HOMECOMING
Kingston and Trelawny
Date: October 14-22, 2019.
https://web.facebook.com/Merritone-Music-214030577561/?_rdc=1&_rdr
Merritone is a legendary sound system which started in the 1950s. This year marks 69 years since it first started. The name Merritone Music identifies the famous Merritone Sound System, which originated in Morant Bay, St. Thomas. The late Val Blake the founding father of Merritone Music, was also the father of the Blake brothers, Trevor, Winston, Tyrone and Monte.
Merritone has the distinction to have played, and shared billing with some of the legendary soundmen of the era. Soundmen such as Sir Coxone Down Beat, Tom The Great Sebastian, V Rocket, Count Nick, Sky Rocket, Duke Reid The Trojan, Doc's, Lord Koos, King Edwards, Prince Buster, and The Mellow Canary, to name a few. These were the pioneers who helped to mould the 'sound system' into a Jamaican phenomenon, which has become the number one source of entertainment for Jamaicans of all classes. It is the same sound system that has provided the major launching pad for Jamaica's most successful 'dance hall' DJ's such as Hugh Roy, Big Youth, Yellow Man, Beenie Man, Sean Paul and Elephant Man, to name a few.The sound system has developed fans globally and the reunion draws fans from the diaspora as well as locally. The week of events begin with a thanksgiving service at Webster Memorial United Church and features a series of musical events in Kingston. It culminates with a 5-day/ 4 – night gathering over the national heroes weekend at the Melia Braco Resort featuring several activities showcasing Jamaican music and culture. It has attracted a group of faithful and loyal multi-generational followers, many of whom come to Jamaica year after year to attend these events. See here for more information https://web.facebook.com/Merritone-Music-214030577561/?_rdc=1&_rdr
BARRY G & FRIENDS FAMILY REUNION
Island Lux Beach Park, Negril
Date: October 18- 21, 2019
https://barrygfamilyreunion.com/
This event is a family weekend festival hosted by radio personality Barry G and Friends and will celebrate the best of Jamaica's music, cuisine and culture. The festival also focuses on segments that include health and wellness entertainment. Activities include a farm tour and "plant suppn" by Farm Up Jamaica, and a historic reunion with Barry G and David Rodigan. Demarjay, the young Jamaican trainer and social media sensation will lead the wellness and health day.  See here for more information https://barrygfamilyreunion.com/
 JERSEY MIKE'S JAMAICA CLASSIC NCAA BASKETBALL TOURNMENT
Montego Bay Convention Centre
Date: November 22-24, 2019.
https://www.jamaicaclassic.com/
This event is the anticipated inaugural National Collegiate Athletic Association (NCAA) Division 1 Men's Basketball tournament which will be equivalent to events held over some 20 years in existence in other tropical destinations annually- the Bahamas (Battle 4 Atlantic), Puerto Rico (Puerto Rico Shootout), Virgin Islands (Paradise Jam), Maui-Hawaii (Maui Invitational), Cayman Islands, and in multiple locations in Mexico. Eight top American universities and their alumni and fans will come to Jamaica to play games for three days. See here for more information https://www.jamaicaclassic.com/
REGGAE MARATHON
Negril, Jamaica
Date: December 8, 2019
https://www.reggaemarathon.com/?v=52c5706bc98f
Reggae Marathon, Half Marathon & 10K is set for December 8, 2019 in Negril and continues to attract runners and walkers from across Jamaica and over 38 different countries. The internationally certified event is in its 19th year and continues to grow. One of the highlights of this year's Reggae Marathon, Half Marathon and 10K is the fact that the race has joined four other Caribbean marathons to form the Five Island Challenge, sponsored by the Atlanta Life Insurance Company of USA. See here for more information https://www.reggaemarathon.com/?v=52c5706bc98f