For more information go to www.visitjamaica.com/deals/ and check out all the amazing deals to get you started on your trip to Jamaica or speak with one of our experienced travel specialists here on Messenger. 
Escape to the simplistic beauty and timeless elegance of Goblin Hill Villas, a 12-acre property nestled in the cool rolling hills of Port Antonio between the majestic Blue Mountains and the breathtaking Caribbean Sea.
This gorgeous property has twenty-eight villas on a private enclave with one and two bedroom units, opening to lush tropical gardens overlooking turquoise waters. Rooms are equipped with ceiling fans, air-conditioning units, fully functioning kitchens, living and dining area with terrace or balcony. Wi-Fi is available as well as a digital entertainment system with access to streaming music, news, and an entire library of movies. While not in the rooms, Cable TV is available in the library.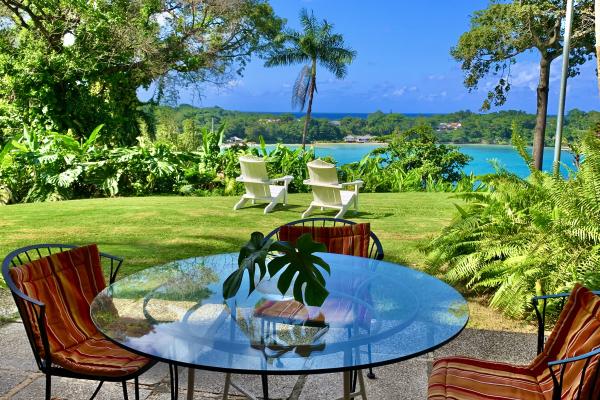 Goblin Hill has a mouthwatering array of dining options. Staples on the menu include but are not limited to ackee and saltfish – our national dish, curry goat, pumpkin soup, bammy, festival and baked plantain. You can arrange for delivery of breakfast and dinner to your villa or show off your cooking skills in your villa kitchen or you can even bring along your own personal cook if you so desire! To satisfy your sweet tooth, you can opt to be treated to a dessert of home-made ice cream or coconut pie. Another option is to seek out Goblin Hill's Belgian neighbour, Vera who will excite your tastebuds with amazingly scrumptious European pastries. On her menu are croissants, pies, brioches, pains au chocolat, danishes, cannolis, flans, quiches, and cheesecakes. Indicate your interest at the reception desk before 5pm for a next day delivery. You will be glad you did!
With all that delicious food available, you may want to take advantage of the two newly resurfaced tennis courts, where you can play amid lush flora and towering Royal Palm trees. For a less strenuous activity, there is a nature trail on property which passes through a small rainforest, luxuriant zoysia lawns and onto a terrace overlooking San San Bay and Pellew Island also known as Princess Nina Aga Khan's Island. The trail provides ideal hideaways from which to admire the spectacular sunset on a balmy summer evening or to enjoy some quiet time for an afternoon read of your favourite novel.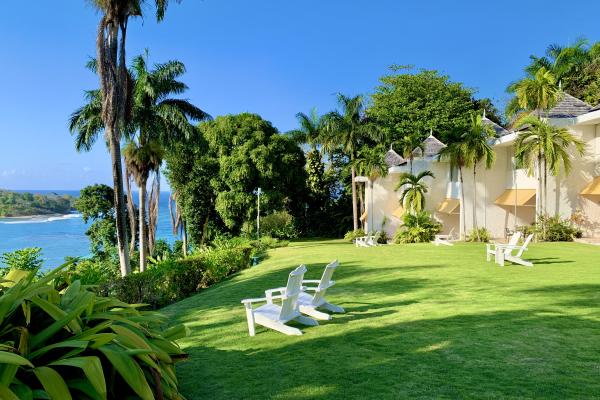 For bird lovers, several endemic bird species can be found on the property, particularly near the terrace and the pool. The most enchanting of them all is our very own Doctor Bird, or Swallow Tail Hummingbird which is the National Bird of Jamaica. It is but one of 320 species of hummingbirds and is found only on the island. A list of birds seen at Goblin Hill prepared by the Jamaican Birdwatching Society is available at the reception desk for guests' perusal.
Goblin Hill is ideal not just for couples but families as well so if you plan on bringing the kids along on your vacation…no problem! Let them take a splash in the swimming pool while you keep a close watch right from the comfort of your room. And if you are feeling a little adventurous and wish to take a splash yourself, San San Beach and the world-famous Frenchman's Cove Beach is only a few metres away.
Reconnect your mind, body, and soul in one of the most pristine spots in Jamaica. We have made our recommendation and the ball is now in your court. Here's your chance to make Goblin Hill Villas at San San your home away from home.