When it came time to decide where to go on a girl's getaway weekend, Jamaica was the only place we could unanimously agree on. From the breathtaking beaches, stunning sunsets, reggae rhythms, and Caribbean culture, choosing Jamaica for a wondrous weekend, was a no-brainer!
With four women packed and ready to go, we headed to the airport to commence our Apple Vacations experience. With a direct flight to Montego Bay, we arrived to the sounds of Bob Marley, gathered our luggage and found the Apple Vacations representative to show us to the shuttle to transport us to our hotel; Secrets Wild Orchid Montego Bay. We chose this hotel because it is adults only. Expecting to see mostly couples and honeymooners, I was surprised by the number of small groups of friends vacationing together, just like us! We were in awe when we arrived at Secrets Wild Orchid Montego Bay. As soon as we walked in, we were greeted with smiles and a drink. This was the beginning of our relaxing weekend. After check-in, we got to our rooms and felt at home. Everything was clean and meticulous. I had an amazing ocean view room that did not disappoint. I immediately changed into my bikini and headed to the beach. The white sand, gorgeous water and incredible view, left me speechless. Secrets Wild Orchid Montego Bay, absolutely exceeded our expectations and booking our holiday with Apple Vacations made the experience even more enjoyable. We didn't have to worry about anything, it was all taken care of! Here are a few highlights from the girl's getaway weekend:

Bikini's on and ready to hit the water! Tip: bring your own inflatables to use at the beach.
Food was super delicious and with a choice of seven a la carte restaurants, a buffet, and room service available, you will never be hungry! My favorite restaurant at Wild Orchid Montego Bay was Himitsu, a hibachi style venue with the chef cooking right in front of you: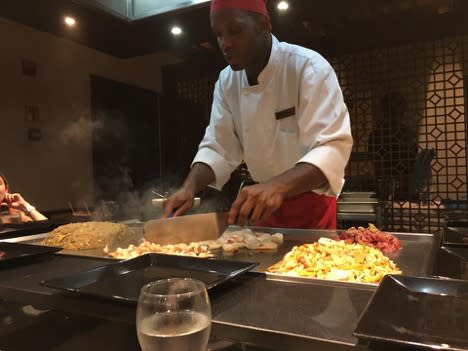 It was my birthday during the trip and the staff went above and beyond to make me feel special. I was surprised with this treat: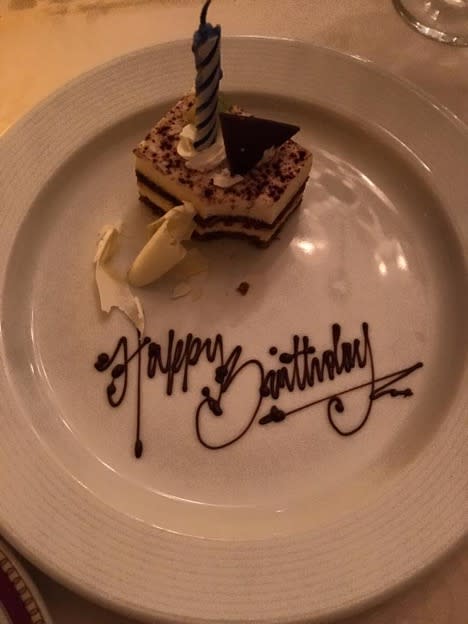 A must-do while in Jamaica is a visit to Dunn's River Falls and Park, a natural waterfall that you can climb and swim: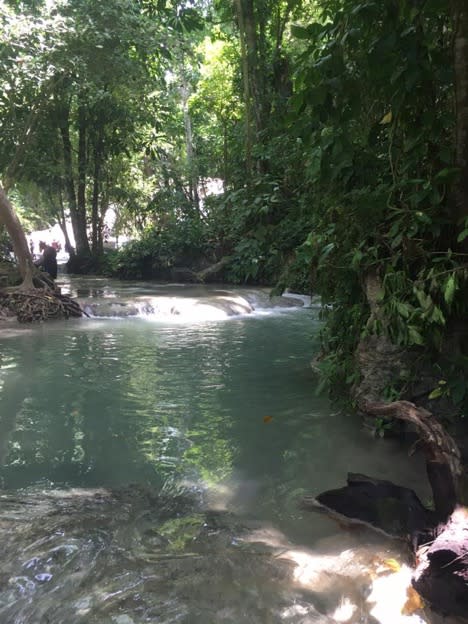 Most memorable part of my time at Secrets Wild Orchid Montego Bay is this view! Remarkable!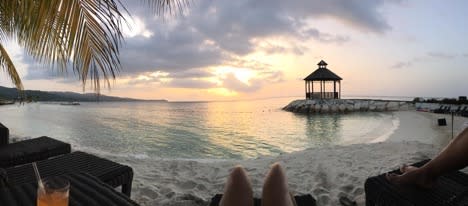 Everything was top-notch and first-class service at Secrets Wild Orchid Montego Bay in Jamaica. And booking the vacation with Apple Vacations was a breeze. I absolutely recommend Secrets Wild Orchid Montego Bay and Apple Vacations for those travelers who don't want to worry about a thing, other than what drink to order at the pool!
Apple Vacations currently has travel deals to Jamaica. Click here for more details:
http://bit.ly/2aVenDv