Royal Passover' Makes Jamaica Accessible To Strictly-Kosher Tourists
 
Though Jamaica boasts over 400 years of rich Jewish history and is a prime location for family-friendly vacations, there has never been an organized Passover program for Jewish tourists on the island. That will change this spring, when a new partnership with the Jamaica Tourist Board, the Chabad of Jamaica, and Royal Passover brings the first-ever strictly kosher Jamaica Passover program to the 5-star Melia Braco Village in Montego Bay.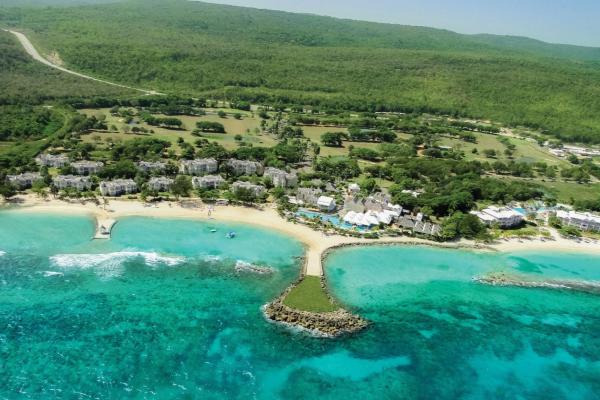 The 5-star Melia Braco Village resort in Montego Bay, Jamaica will host the first-ever strictly kosher Jamaican Passover program this spring.
"We are thrilled to partner with Royal Vacations to bring the first-ever Jamaican Passover program to the island," said Jamaica's Director of Tourism Donovan White. "Jamaica has long been an ideal destination for Jewish families looking for both a tropical island getaway and a healthy dose of Jewish heritage, and the Jamaican Passover program is a great addition to the 'Jewish Jamaica' experience."
Seeing untapped potential for Jewish tourism in Jamaica, Tzvi Berg, a veteran of the Passover program industry and the Director of Royal Passover, has embraced the island vibes and is working to make Montego Bay the next big destination for Passover programming, as well as Jewish weddings and Bar Mitzvahs.
"Jamaica is well known for her extraordinary natural beauty and world-renowned culture, but many do not know about her Jewish history and the many Jewish historical sites that dot the island. These include several preserved Jewish cemeteries, the final resting places of some of the Jewish pirates of the Caribbean, and the 100-year-old Shaare Shalom Synagogue, one of four remaining sand floor synagogues in the world," said Mr. Berg. "It is my mission to make Jamaica truly accessible to strictly-Kosher tourists by removing the kosher food concern entirely and providing Jewish heritage tours and programs."
While Jewish travelers to Jamaica have long struggled with finding kosher food on the island, the Royal Passover program and the Chabad of Jamaica will make such concerns a thing of the past. Under the strict supervision of Rabbi Yaakov Raskin, co-director of Chabad of Jamaica, the program will highlight delicious kosher cuisine prepared by a team of top Israeli chefs. The menu will also feature a medley of gourmet cuisines from France, Italy, the United States, and Israel, as well as authentic Jamaican jerk chicken, prepared by a team of Jamaican grill masters.
In addition to steel drums, reggae music, and beachside barbecues, Royal Passover hopes to inspire its guests with a private Jewish music festival featuring world-class entertainment including Avraham Fried, Cantor Yaakov Motzen, Nissim Black, Tal Vaknin, and Yoni Z. The Jamaica Passover program will also include stimulating lectures and Torah classes by Rabbi Dr. Elie Abadie, Director of the Jacob E. Safra Institute of Sephardic Studies at Yeshiva University; Rabbi Arthur Schneier, Senior Rabbi of the Park East Synagogue New York City and Founder and President of the Appeal and Conscience Foundation; Professor Alan Rechtschaffen, Senior Lecturer of Laws at New York University; Rabbi Samuel Frankel, an expert in mindfulness; and Meir Kay, a motivational speaker and producer of viral videos about positivity and Jewish values.
To find out more about Royal Passover's all-inclusive program at the Melia Braco Village in Montego Bay, Jamaica, please visit www.RoyalPassover.com.
 
For more information on faith-based travel to Jamaica, please visit: www.visitjamaica.com