The exclusive Rose Hall area of Montego Bay, known as the Elegant Corridor, is home to some of the resort area's most prestigious hotels and resorts. Embedded with the history of one of Jamaica's largest sugar plantations, Rose Hall is synonymous with luxury. Let this opulence transcend your most special occasion with these destination wedding venues in Montego Bay's Rose Hall area.
Managed by Rose Hall Developments, these six venues offer everything from ocean views to venues steps away from the water Caribbean Sea. Find one that speaks to you…
Rose Hall Great House
Undoubtedly Jamaica's most famous great house, the Rose Hall Great house stands majestic atop the Rose Hall estate, overlooking rolling greens and the ocean below. This sprawling mansion offers several on site venues for weddings, with various expansive lawns and gardens. Don't let the legend deter you from celebrating your love at this popular wedding venue.
The Aqueduct
The ruins of this 18th century aqueduct form a spectacular backdrop to any wedding ceremony. Perfect for smaller ceremonies, your guests will be wowed by the waterwheel dating back to 1839, along with the stunning ocean views.
Beach Gazebo
Beaches are the quintessential destination wedding venues, and Rose Hall offers just that. Say 'I Do' under a gazebo next to a private beach with your closest family and friends.
White Witch Golf Course
One of the Caribbean's most celebrated championship golf courses, the White Witch Golf Course lends its immaculate greens and breathtaking views for destination weddings of all sizes.
Ocean's Edge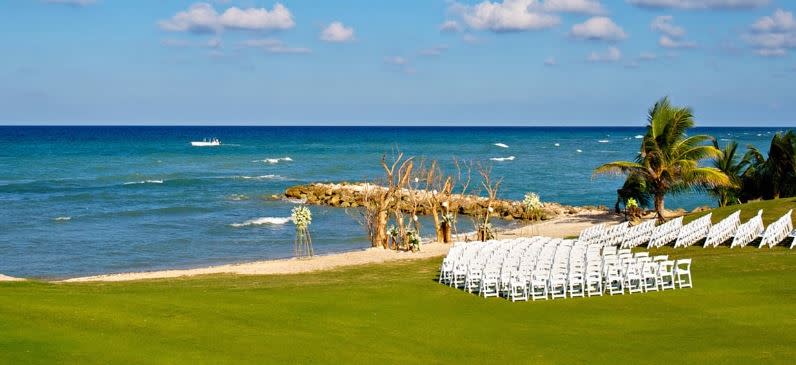 Enjoy the ultimate in privacy with a secluded beach wedding in Montego Bay at Rose Hall's private beach. Crystal clear waters and the sound of the crashing waves will set the scene for an unforgettable day.
Johnny Cash Great House
A friend of Jamaica and a former resident of Rose Hall, Johnny Cash has left his mark on the Rose Hall estate, one in the form of his island home. Have your nuptials in the Johnny Cash Great House located on the Cinnamon Hill Golf Course.
Mount Zion Church
For traditional brides looking for quaint old world charm, the Mount Zion church atop a hill in Rose Hall is the ideal option. Let the peaceful air of this historic church, with its long mahogany benches and Georgian styled architecture, create the picture-perfect ambiance for your wedding day.
For more information on Rose Hall wedding venues, and to speak to an event planner go to https://rosehall.com/wedding-events