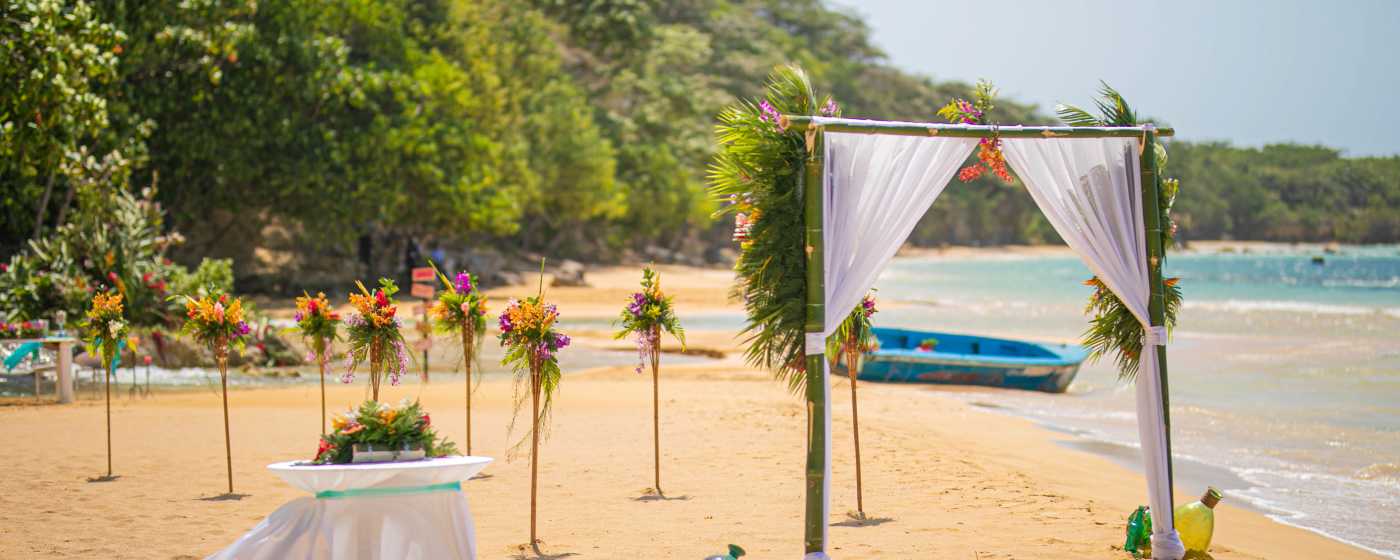 Saying I Do Wedding Planning
Wedding Planning
What a dreamy time in your life. You've said yes to the biggest question ever and now you're looking forward to the big day. It will be everything you've ever hoped for as you've chosen the enchanting island nation of Jamaica to host your destination wedding.
You made the right choice. Jamaica is a phenomenal place to get married. The lifelong memories you create here stand to strengthen your bond and endear your guests. Our island is full of wedding experts who will deliver every intricate detail you request to complete your perfect day.
If you love planning events, then you'll love all the options here to explore! Choose from breathtaking backdrops, dazzling decor, scrumptious bites, and an ambiance to remember. If event planning isn't your thing, relax and trust our experienced wedding professionals to produce an event beyond your wildest dreams.
Wedding Planners
There are so many particulars to consider when it comes to planning a wedding. A destination wedding puts just a little extra on that list. Thankfully, you've chosen a superior location that is known for stress-free, expertly crafted events.
There's a wonderful abundance of wedding planners on the island to choose from with lots of dreamy ideas to help you craft a magnificent day. They will help you to find your perfect island gown, select a caterer according to your wishes, and a cake specialist who will design a beautiful centerpiece wedding cake that's as decadent as it is divine.
The accommodating wedding planners at I Do Islands will help you to navigate getting married in Jamaica and planning a flawless event. So too will Wedding Belles and the sought-after folks at Helen G Events, to a name just a few of the options.
Choosing a wedding planner who has seen and done it all will also help you decide on a wedding venue that speaks to your vision, budget, and needs.
Wedding Vendors
You've certainly chosen a destination filled with charming entertainers and rousing DJs who will deliver a party you'll never forget. Your wedding planner will help you choose a playlist speckled with groovy island tunes to set the tone for your special day, while also ensuring your special songs are in the mix too.
Capturing every special moment will be one of our acclaimed visual artists who will snap every photo and record every look, kiss, and dance. You'll end the day with the perfect keepsake of your memories in Jamaica to share with your loved ones. The award-winning Merrick Cousely is just one of the top-rated wedding photographers here in Jamaica who will deliver absolutely magical moments.
Enlist the services of local florists and decor specialists for amazing transformations of any space to bring your wedding vision to life. Make it a luxe affair dripping with details, or go for a minimalist approach with subtle natural touches.
Picture dancing the night away under the twinkling stars of a balmy island night. Kissing your newly wedded love as you see the reflection of the moon in their eyes and hear the waves of the ocean breaking softly in the background. We've done all the planning for you, come to Jamaica and begin the love of a lifetime.