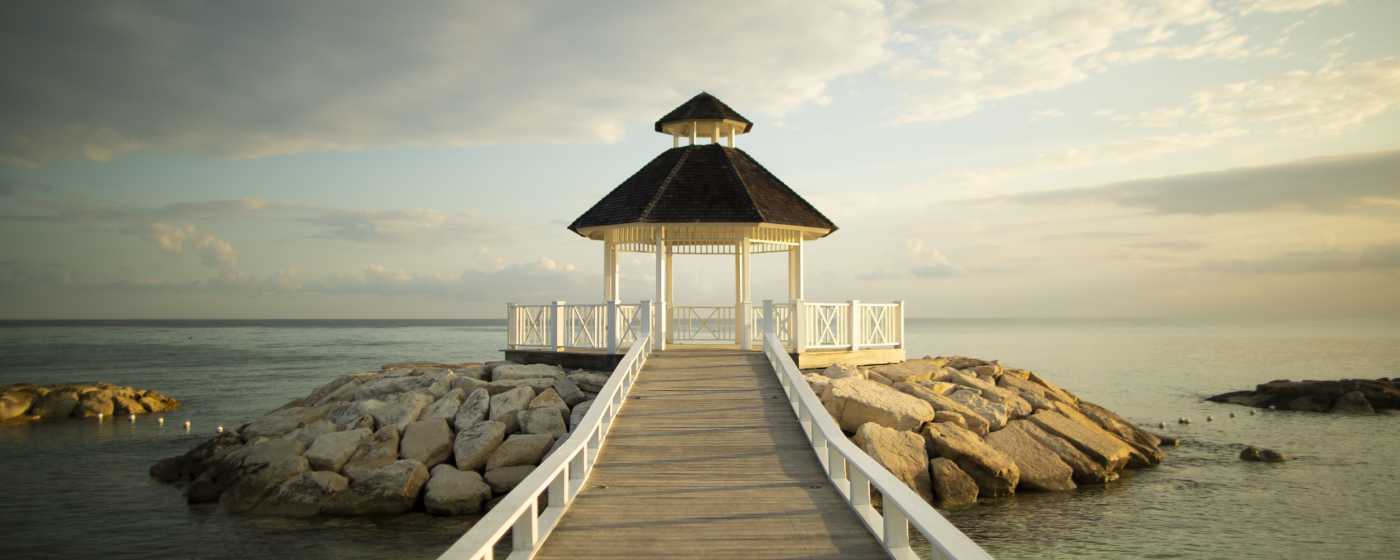 Getting Married
Getting Married
romance on the island
Gather your friends and family in Jamaica to make a joyful noise as you solidify your union with your loved one. Tying the knot with your partner is one of the most exciting adventures of your life. Let us help make this happy time your fondest memory.
Why Here?
It's easy to see the appeal of getting married in a tropical paradise: warm waves, dreamy beaches, and sunsets more romantic than you can imagine. You should definitely say "I do" in Jamaica, and here's why:
 
1. It's private. If you're looking for a meaningful time away with your special someone and those closest to you, escaping to the island rhythm and sway is the way to go.
 
2. We're prepared for you. Being one of the most romantic spots on earth means that we know exactly what's needed to make your dream day come true.
 
3. It's a wedding and honeymoon all in one. Make your dreams come true by extending your wedding into an adventurous, romantic, and luxurious honeymoon, starting your lives together in pure bliss.
Don't Forget
You may be caught up in a whirlwind of love, but there are a few important things you must remember: We couldn't be more excited to have you share your special day with us, but do plan ahead of time so that everything can be put in place ahead of your special day.
Visitors can be married 24 hours after arriving in Jamaica, providing prior application has been made for a marriage license to the Ministry of Justice. The application must be submitted to: 
Customer Service Desk
Ministry of Justice
Commerce Court
61 Constant Spring Road
Kingston 10
JAMAICA
Unlike many countries, Jamaica does not require a blood test before getting married. However, the following documentation is required:
Proof of citizenship - certified copy of birth certificate, which includes father's name
Parent's written consent if under 18 years of age
Proof of divorce if applicable (original certificate of divorce)
Certified copy of death certificate for widow or widower
Special Note
All documents that are not issued in English must be translated by an Official Translator and subsequently certified by the Ministry of Foreign Affairs of the country of residence and by the nearest Jamaican Mission or Honorary Consulate.
Processing Fee
The processing fee for the Marriage License is Four Thousand Jamaican Dollars (approximately US$50.00). The marriage license is valid for three months and the application is a same-day process. For more details about obtaining a marriage license, visit the Ministry of Justice website.
Plan with Confidence
We love the idea of people coming here for one of the best days of their lives. Several resorts will make all the arrangements for you. Special wedding packages can include performance of the ceremony, taxes, transportation, wedding cake, and flowers. Check ahead as these packages vary, and select the options that are important to you. We may be an easy-going island, but we don't see why you should compromise on any of your special plans. For more information on getting everything ready for your dream wedding, check out our I Do Jamaica Magazine.
Choices Abound
In Jamaica, we specialize in turning big dreams into romantic realities. There are several non-denominational marriage officers who can perform ceremonies at a location of your choice. Let us help you plan an enchanting and memorable wedding experience complete with a picturesque backdrop. Whether you've envisioned exchanging vows on a white sand beach, a cliff overlooking turquoise waters, or even in an exotic garden, Jamaica is the ideal tropical portal to your happily ever after.