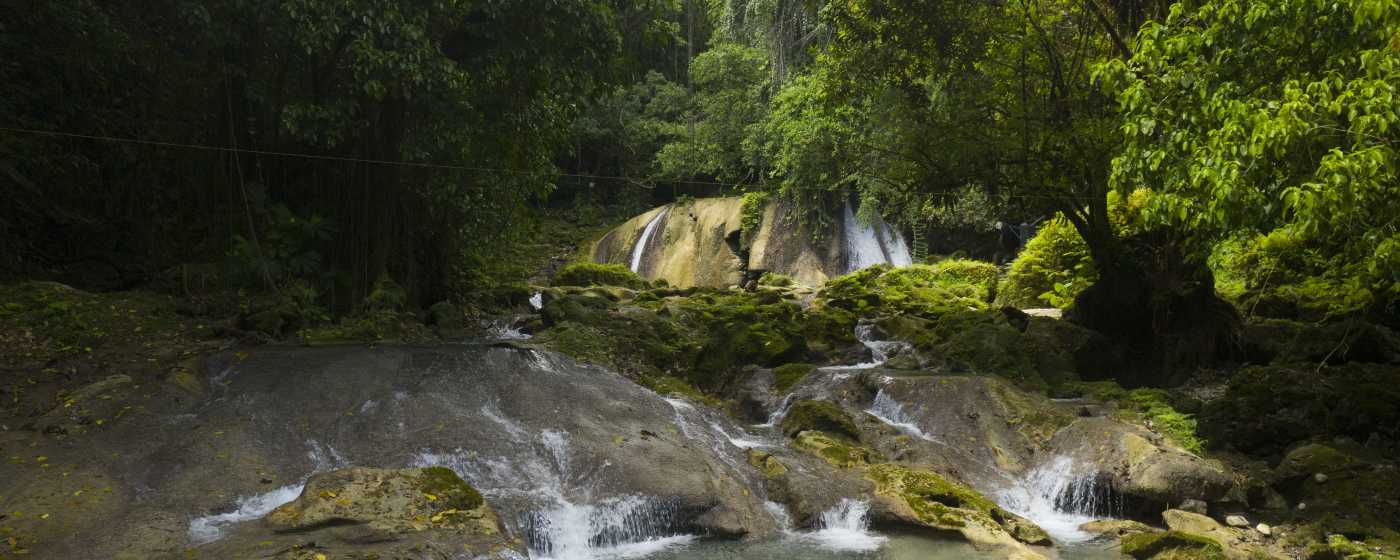 YS Falls
YS Falls
A Hidden Gem
Towering curtains of rushing river gush into bowls of freshwater pools below to create one of Jamaica's most breathtaking natural attractions. YS Falls is a nature-crafted mix of magnificent cascades, rural countryside, and prolific rainforest with added adventure thrills.
Getting There
YS Falls in Jamaica is no stranger to crowds and tour buses, which regularly fill the parking lot during the warm afternoon hours. En route to the attraction, located on Jamaica's South Coast, you will travel through a 2.5-mile tunnel of bamboo stalks creating a shady canopy. The lime green Bamboo Avenue is a picturesque rest stop dotted with small fruit stalls. These humble stands are dominated by fresh coconuts ready to be chopped open for their liquid nectar. Many visitors also opt to make a quick stop at a nearby village called Middle Quarters renowned for selling a local delicacy, peppered shrimp. Grab bags of bright red crayfish doused with spicy scotch bonnet pepper sauce peeking from vendor buckets.
History
Originally a cane farm that also produced logwood for export, the YS estate dates back to the 17th century. YS Falls transformed into a nature-based attraction in the 1990s. Today, the estate shares a cattle ranch and thoroughbred horse farm. Upon entry to the venue, a tractor-drawn jitney will transport you a mile away through the postcard-perfect countryside to the main attraction. Stunning views of distant hills, grassy pastureland hosting grazing animals, and downstream rivulets precede the majestic cataract waterfalls.
Activities
The 120-foot YS Falls has been considered by many to be one of the most spectacular waterfalls in Jamaica. The seven-tiered cascade series is surrounded by lush gardens, and is equipped with a hanging rope swing and zip line by Chukka Adventures for thrill-seeking travelers. Just like at Dunn's River Falls, the exhilarating experience of zip lining over the falls provides a new unparalleled perspective to view Mother Nature's artistic creation. A canopy tour allows patrons the opportunity to "fly" 40 feet above the cascades. River tubing rides lets you absorb the environment's serenity while floating down the bamboo-shaded streams that feed the falls.
On-site guides assist visitors by directing them where to safely step and swim in the partly rocky river with rushing waves. If you prefer not to get your feet wet to traverse the falls, wooden stairs lining the side grant an equally magical view. Multiple mini waterfalls pour into crisp swimming areas that complement the spring-filled pool by the general lounge section. The natural park setting, centered by the spring water pool appropriate for young children and non-swimmers, also features play areas, picnic grounds, a gift shop, bar, and restaurant. After your exhilarating swim in the river or pool, be sure to re-energize with a hot Jamaican meal and an ice-cold refreshment.
This expansive estate hosts a variety of activities perfect for a family outing, road trip with friends, or even a getaway with your spouse. Experience a truly natural treasure; experience YS Falls!