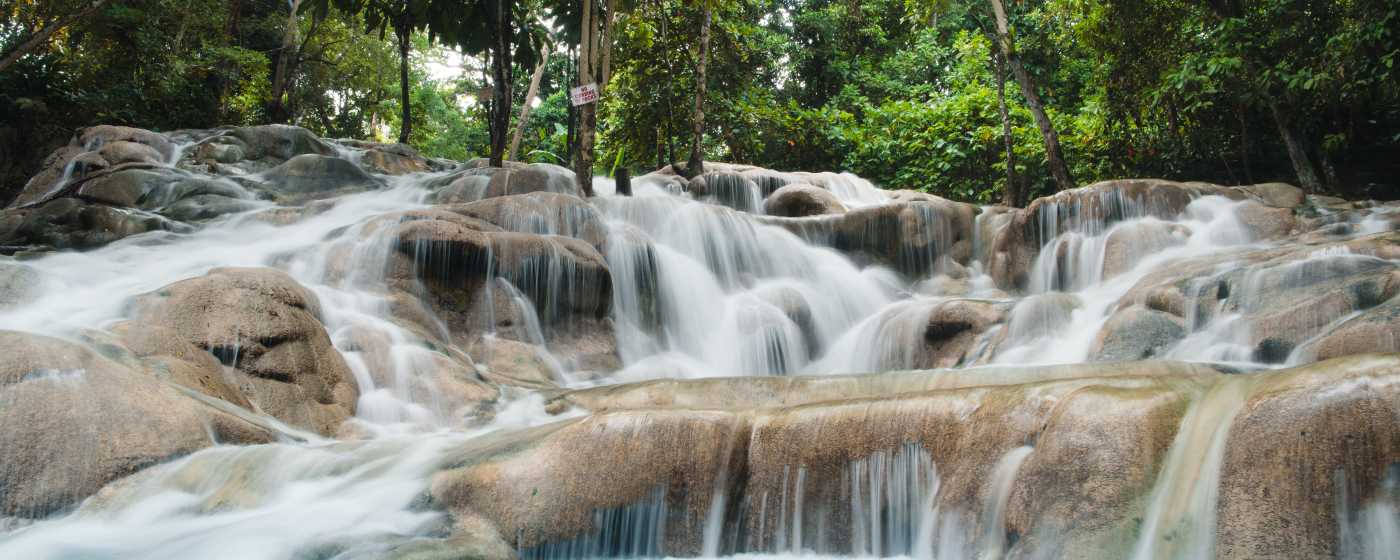 Dunn's River Falls
Turtle River Falls
Beyond a stretch of street-side vendors and crafts on display, a sloped right turn leads to a fertile land known as Turtle River Falls and Gardens. This attraction is a stone's throw beyond Dolphin Cove, Dunn's River Falls, and Evita's Restaurant. Though it's only metres away from the bustle of the Ocho Rios city, the tucked escape feels like a whole new world! Turtle River Falls and Gardens sits on a 15-acre rainforest, where a river pours into 14 cascading waterfalls. Professional photographers are available to capture your unforgettable moments to later be procured at the gift shop along with other trip keepsakes
Turtle River Falls Jamaica History
Enchanted Gardens is the previous name of this natural river gorge. The property was once a resort owned by former Prime Minister of Jamaica, Edward Seaga, with rooms built on the hillside. The slice of property labelled as Turtle River Falls and Gardens with flourishing patches cut by wandering streams and tiered cascades was a result of the resort closure in the early 2000s. Under new ownership, the attraction reportedly obtained its current name from the similarity between a turtle shell shape and the curved rocks that the river flows over. 
Turtle River Falls and Gardens Activities
Turtle River Falls has an abundance of water to admire and enjoy, with a bonus of climbable rocks. Walking towards the sound of a partially hidden waterfall will soon reveal the first of many viewpoints; steps adjacent to the water will lead you further. Ascend the cascades while shaded by leafy branches, and cooled by the natural air conditioning of the rushing river. Different areas along the journey allow you to swim, dip your toes, and submerge up to the knees in refreshingly chilled water. A spring-fed swimming pool is an ideal place to cool off, washed in the purities of nature. Find yourself beneath a small cavern that will put you behind a water-screen.   
Towering green canopies and vibrant flowers fill the garden stretch. It is home to dozens of native plants that flourish effortlessly on these grounds. This attraction is just one example that befits St. Ann's nickname of 'The Garden Parish'! Take a leisurely walking tour through one of the Heartbeat of the World's exceptional botanical gardens here; other blooming sites in the parish include Konoko Falls, Shaw Park Gardens, and Cranbook Flower Forest. Its sunshine-filled fields provide a sizable space for families to enjoy. With maybe 100 species of plants blessing the land, a tour guide can show and educate you on a great selection.
Exotic birds frolic around a walk-in aviary, while Japanese koi splash in a pond. Animal lovers may jump at the opportunities to feed birds in the large dome-shaped housing or the fish in a lily-covered pond on property. A fistful of feed should summon the colourful creatures, adding another dimension of life to this already captivating venue.
Bask in tropical splendour and find true enchantment of a lush hideaway at Turtle River Falls and Gardens.