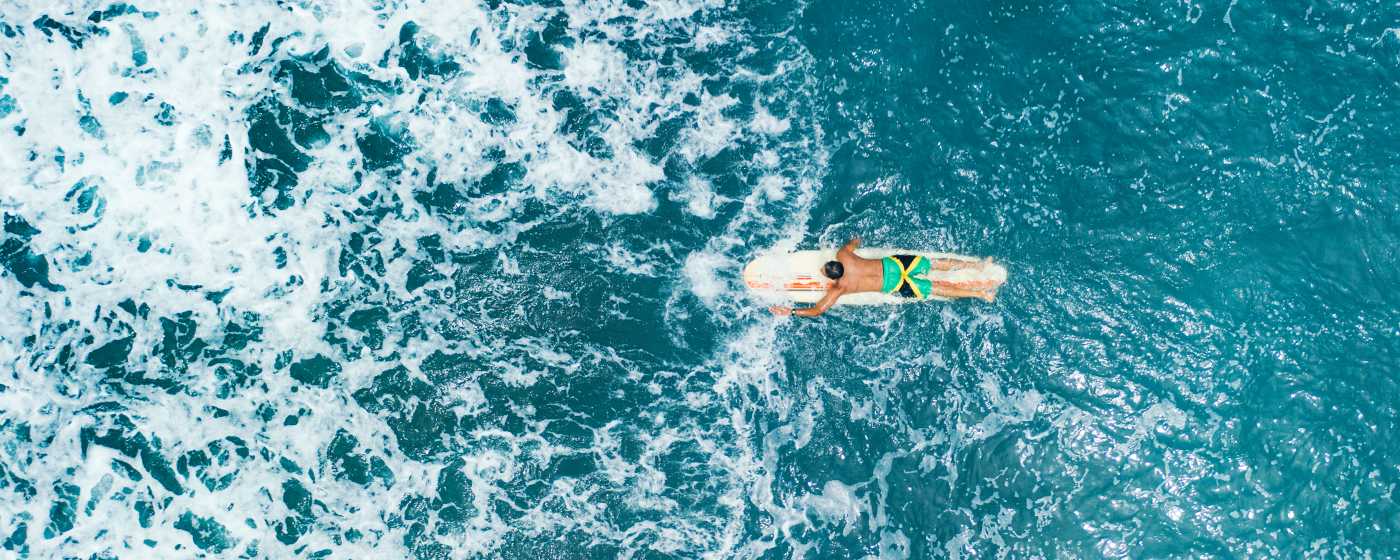 Surfing
Surfing in Jamaica
ride the wave
The country of Jamaica is surrounded by azure waters often creating gentle shoreline waves that paint our iconic beach scenes. We're known for a warm package of sunshine, sand, and sea; however, rolling tides and spitting tubes have given rise to surfing. As if you needed another reason to head to the beaches of Jamaica, our island has steadily developed into a prime surfing destination
Jamnesia Surf Camp
Elishama Beckford, affectionately known as Shama, is considered the first Jamaican professional surfer and an international sensation. Shama is originally from southeastern Bull Bay, where surfing in Jamaica was essentially birthed and developed. Jamnesia, the first surf school in Jamaica, is located in Bull Bay just a few miles from Kingston's Norman Manley Airport. It was founded by Billy 'Mystic' Wilmot in the late 1970s, and is considered a surfing mecca. The Bull Bay Jamaica surfing hub offers a library, competition information, and surf lessons.
Before becoming a reputed local surfer by age 18, Wilmot and friends would "surf" on makeshift boards. He has championed Jamaican surfing for decades, partly by founding the Jamaican Surfing Association which influences the expansion of the sport locally. He, Elishama Beckford, and others like them have helped attract the attention of the global community while aiding the sport's development here at home.
Where to Surf in Jamaica
Boston Bay in Portland is popularly known for its mouth-watering jerk cuisine and rideable waves. Its pristine Boston Beach was the first internationally recognized Jamaican surf spot. Other surfing hotspots with consistent tides in the Portland parish include Winnifred Beach, Long Bay, Outback, Ranch, and the remote Navy Island.
Our scenic north coast is considered fit to surf for all skill levels, but constant onshore trade winds often sink wave quality. Discovery Bay and Runaway Bay outside the resort town of Ocho Rios have exposed point breaks that create doable but choppy surfing. If you venture west, you may find Montego Bay surfing on a calm sea stretch by the beaches of Iberostar Resorts. 
Though these tourist-oriented cities have added surfing to their numerous offers, sadly, surfing in Negril Jamaica isn't as common. Serene waters gently brushing white sands and rocky cliffs along this resort town's coastline don't create ideal surf conditions. The staggering waves you may find in the north could dull in comparison to those of the southeastern coast. Jamaica surf reports suggest that the Kingston and Saint Thomas areas have the most wave variety and consistency, followed by Portland.
Makka Surf Contest
Makka Surf Beach in Saint Thomas is relatively small with smooth sand and eye-catching blue waves. Its world-class water tubes provide fairly long rides on breaking waves, and have allowed it to host the island's first professional surf competition, the annual Makka Pro Surf Contest. It is one of the region's largest surfing events and pulls surfers from all around the globe.
Surf Conditions in Jamaica
The best surfing in Jamaica is between December and March, and July through September. Trade winds provide year-round surfing conditions, and Jamaica's ideal location benefits from the summer and winter wave swells that grace the Caribbean. Summer trade winds make previously hidden spots come to life, while winter cold fronts create glassy waters.
Where will you go to catch a wave in Jamaica?