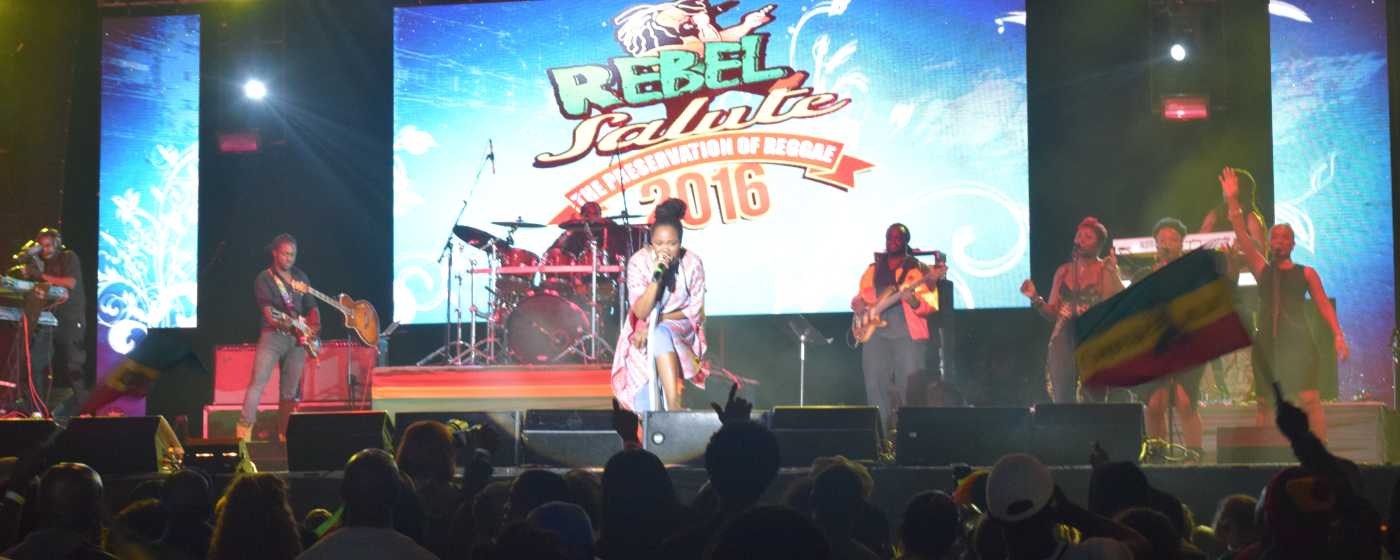 Rebel Salute
Rebel Salute
A Celebration of Conscious Jamaican Music
Every year in January, Rebel Salute welcomes Jamaican music lovers to the heartbeat of the world. The renowned cultural event has been a staple of the live music calendar in Jamaica for over 25 years. From the contagious beats of ska, rocksteady, and dancehall to roots reggae, this rhythmic experience consistently delivers what is globally considered to be one of the best reggae shows around.
Rebel Salute Jamaica Event Details
Event Day: January 17-18, 2020
Location: Plantation Cove, Priory, St. Ann 
Start Time: 7 p.m.
Registration Details: Rebel Salute website
The annual event attracts local and international patrons for its excellent performance line ups, organic foods, cultural arts, herb-friendly environment, and overall good vibes. Reggae music was inscribed into the UNESCO Representative List of Intangible Cultural Heritage of Humanity in 2018, and this holistic Jamaica music festival, known for its focus on roots reggae and conscious music, has appropriately coined the slogan "For the preservation of reggae."
The Evolution of Rebel Salute
Rebel Salute successfully captures the ears, hips, and hearts of roots reggae lovers around the globe. The initial bash was staged in 1994 in Brooks Park, Manchester before the swell of popularity over the years demanded larger venues and an additional night. What started as a concert event in honor of reggae icon Patrick "Tony Rebel" Barrett's birthday has continued to exponentially evolve through the decades. Over two nights, it invites a host of styles and expressions from music industry veterans and newcomers.
Highlights
Virtuous Music Performances
What sets Rebel Salute apart from other Jamaica music festivals is not only the quality of the entertainment, but also the presentation of the event and its performers. In keeping with Rebel Salute's upstanding image and wholesome nature, artists use their real names instead of stage monikers while performing strictly clean and conscious music selections. This initiative by promoter Tony Rebel is said to act as a reminder of the performers' versatility and an insight into their authentic self.
The world-class show ultimately aims to promote and preserve positive aspects of Jamaica's music and culture. Among the signature features of this reggae festival is its homage to both local and African heritage on and off the stage. If you're seeking a family-friendly live music event, Rebel Salute is an exemplary festival to consider.
Herb Curb
Marijuana is a popular aspect of the Jamaican way of life, especially in the Rastafarian community where it is considered a sacrament. That being said, it's no surprise that this roots festival features an Herb Curb where recreational, medicinal, and spiritual uses for the plant are highlighted through symposiums headed by industry leaders from across the Caribbean.
Getting There and Accommodations
Rebel Salute takes place in the parish of St. Ann, so your best bet for places to stay is to look in and around Ocho Rios. Staying here will give you access to plenty of restaurants, attractions, and things to do. Camping at the Rebel Salute festival grounds is also an option.
If you're renting a car, there is a large parking lot at the venue. Buses from Knutsford Express are the official event shuttle provider offering special rates for festival goers. For those coming from Montego Bay, Jamaica Tours will provide transportation services for attendees staying at hotels.