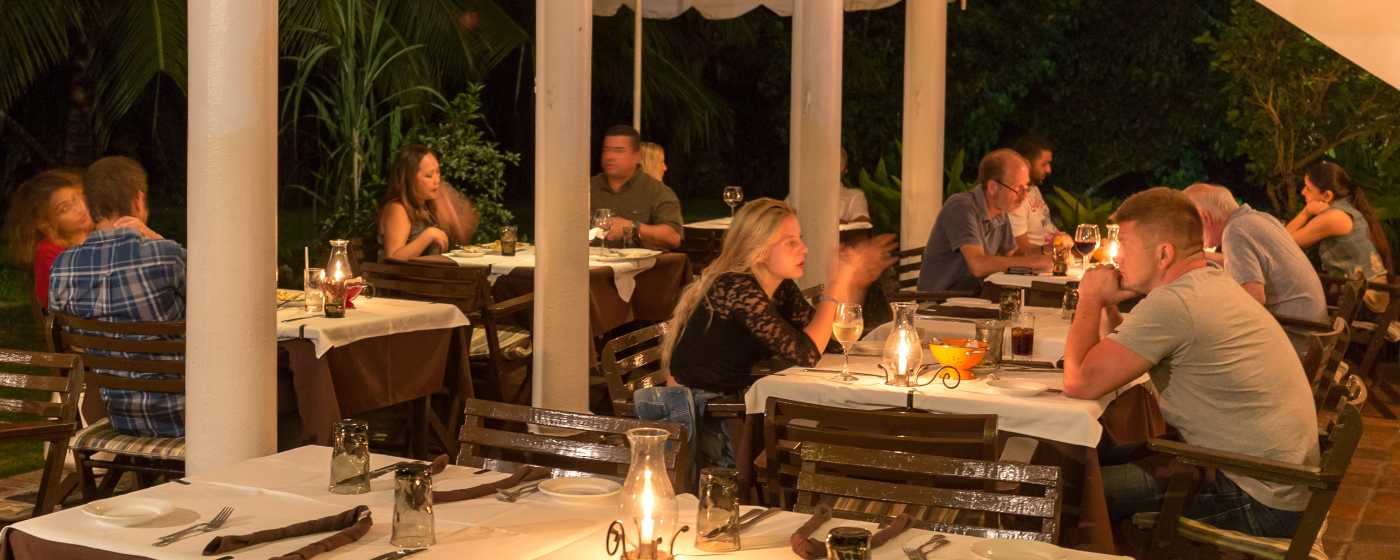 Cuisine
Restaurants in Jamaica
Dine, Island Style
Ever wonder what makes Jamaican food receive praise from all over the world? It's not just flavor-filled dishes hugged with herbs and spices—it's gourmet experiences you simply can't replicate elsewhere.
Imagine carefully cupping foil filled with just-smoked jerk pulled from pimento wood, enjoying a whole fish drowning in savory stew near a whispering seaside, or popping open a frosted Red Stripe beer bottle under the Jamaican sun. These are just a few of the unparalleled island pleasures you can have in Jamaica. Dining here is a feast for the senses, whetting appetites with an abundance of food festivals, street food, and a plethora of restaurants.
Kingston
Kingston is the country of Jamaica's capital city and thrives as a melting pot of cultures. This mixture has birthed and developed diversity in many forms, underscored greatly by our cuisine. Whether you crave crackling jerk under a bamboo hut, a homestyle meal fit for Sunday dinner tables around the island, or a taste of international flavors, Kingston has more than a few answers for satisfying your hunger.
Some famous restaurants in Jamaica were first established in Kingston before spreading to other parishes, such as Usain Bolt's restaurant and Gloria's Seafood. Different ends of the parish host pockets of foodie escapes with multiple eateries in one area. From the likes of Grog Shoppe and Damascus Gate at Devon House to New Kingston's Triple Century Sports Bar and Sweetwood Jerk Joint, to the revitalized downtown restaurants like Moby Dick and Ribbiz Ocean Lounge and beyond.
Montego Bay
The Gloucester Avenue 'Hip Strip' is Montego Bay's buzzing street that offers a variety of options to indulge in. Get a taste of what Montego Bay has to offer with samples from around the globe within steps of each other. 
Filling options from China House Restaurant, iconic selections from Margaritaville, and traditional Jewish servings from Chabad of Jamaica, the first kosher hot spot in Jamaica, will leave you with more than just a bellyful. Enjoy tasty eats at top restaurants in Montego Bay while bar hopping day to night from Pier 1 to Hard Rock Café for a well-rounded experience.
Negril
Negril has its own bustling stretch of culinary possibilities along the famed Seven Mile Beach. In between beachfront resorts, you can grab a bite before or after soaking up the sun at a cozy spot like Arthur's Beach Bar, or perhaps stop for a snack and a drink at a local jek spot, or live the high life at a high-end restaurant for a special occasion or just because you're in Jamaica.
Make your way to the quiet cliff side of Negril's West End to uncover an additional host of dining options overlooking the gradient horizon. You can get front row seats to Jamaica's impressive sunsets at Rockhouse Restaurant.
Ocho Rios
As a coastal resort town, it's no surprise that Ocho Rios has a sizeable selection of seafood restaurants in Jamaica. Pioneering fine dining establishment Spring Garden Steakhouse & Seafood and the appropriately named Seaside Dutchie are two popular picks to enjoy the catch of the day. You'll find a pod of other choice seafood selections at the central Fishing Village, which sits just by the shore.
Jamaica's savory options range from street food to fine dining, granting an indescribable satisfaction no matter where you choose to sample.
EXPERIENCE OUR ISLAND