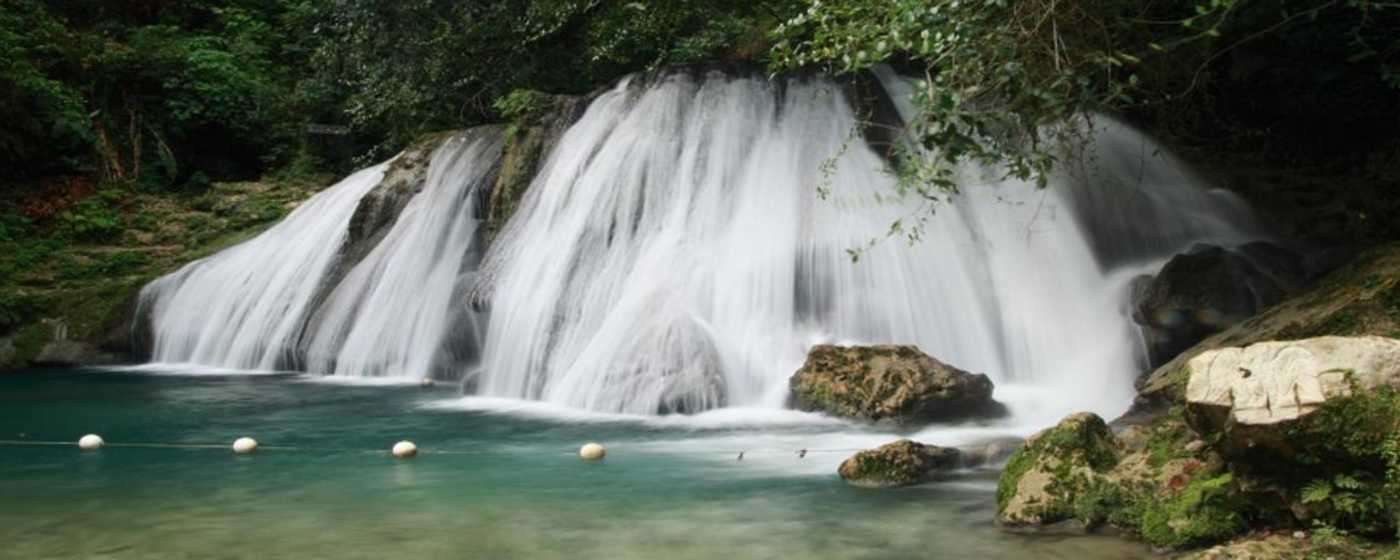 Plan Your Trip
Experience the Best of Jamaica in Ocho Rios
Featured Itinerary
In the center of our island nation lies the lively town of Ocho Rios, in the parish of St. Ann. This parish is affectionately referred to as the garden parish thanks to its lush green hills that provide the backdrop to the glittering coastline town. 
With all its rivers and beaches competing for your attention, there's a lot to see and do in the garden parish, from visiting the childhood home of the legendary Bob Marley to ziplining over or climbing up the iconic Dunn's River Falls. It's the place to sample the best Jamaica has to offer if you're confined to just this area for your stay. 
Ocho Rios Hotels
Where will you choose as your base? As a popular resort area, you'll find every type of accommodation in Ocho Rios, from luxurious adult-only all-inclusive spa resorts to family-friendly properties to chic villas and charming beachside boutique hotels. 
The Moon Palace Jamaica Grande underwent extensive updates and reopened in 2015 as a four-diamond all-inclusive family-friendly resort. It's the ultimate in luxury for the entire family with beach views from each balcony, Robert Mondavi wines in each room, 24-hour room service, nightly entertainment, and a choice of fine-dining and buffet options. 
One recent guest of the Moon Palace described their stay as memorable thanks to the staff and the seemingly never-ending array of delightful amenities. "The experience ... was breathtaking! Numerous dining options … top-shelf drinks and liquors, multiple bars and lounges, multiple pools ... the gaming center that is suitable for both kids and adults alike... made this experience a memorable one."
If you're looking for a party vibe or a hotel that will keep your children entertained, the Club Hotel Riu Ocho Rios is a great choice. With the upbeat energy of this modern all-inclusive property, its waterpark, multiple pools and restaurants, gym, sauna and spa, and variety of water sporting activities, you're down for a real treat with a stay here. 
The couples and those seeking solitude in nature will enjoy Hermosa Cove. This charming Caribbean-styled property offers 9 villa-style suites with their own dip pools and unique artwork throughout the extraordinary architecture. The property boasts a fine-dining restaurant and a gorgeous private beach filled with coral reefs for snorkeling. You will be close to all the action in the heart of Ocho Rios yet feel like you're a whole world away, tucked in your own private enclave. 
The charm of the Jamaican Inn is one to experience. This multiple-award-winning boutique hotel is loved for its captivating beauty. It boasts a 700 ft private beach where you can see or participate in turtle hatching and release. The expertly manicured lawns are teeming with beautiful tropical flowers providing the perfect backdrop for an idyllic stay. You'll love the ocean view from each of the 52 suites of this property and might luck out on staying in the same villa as Winston Churchill or Marilyn Munroe. The restaurant here is well-known for its exceptional epicurean delights. 
Blue House Boutique Bed and Breakfast is perfect for those wanting comfortable charm and affordability. The small property offers spotless rooms with convenient amenities, as well as a pool and restaurant on-site. One recent guest described their stay: "We had a fabulous time with great food, warm atmosphere and terrific advice about what to see and do in the area. The owners interacted with us during every meal which was nice and this makes me highly recommend The Blue House; it is excellent value for money. There were also a lot of flowers especially orchids which is a plus for all the plant lovers - So beautiful!"
Things to Do in Ocho Rios
With so many options for adventure, activity, and entertainment in Ocho Rios, it can be hard to decide where to go. A handful of the must-see spots include Dunn's River Falls, Green Grotto Caves, Island Gully Falls, and Mystic Mountains. Puerto Seco Beach is the perfect spot to enjoy the beach especially if you're not staying at a beachfront property. 
Puerto Seco Beach and Park is a modern, newly constructed beach playground complete with a swimming pool, cabanas, bar and grill, and kid-friendly waterpark anchored in the ocean. It's close to the Green Grotto and Runaway Caves and makes the perfect end to a day spent spelunking. 
The Green Grotto offers a 45-minute tour through a 1,525-meter long cave that goes down to a depth of 12 feet, where you will find the eerie Grotto Lake. These caves were once a hideaway for the first inhabitants of Jamaica, the Tainos, and later the Spaniards and African slaves. The tour guides are informative and entertaining, taking you through the vast expanse that once housed a nightclub, remnants of which still remain. 
Those chasing waterfalls will have plenty to choose from in Ocho Rios. Island Gully Falls, commonly referred to as Blue Hole, is less traveled though no less beautiful, offering hours of swimming, climbing, cliff jumping, and rope-swinging adventure, with the help of friendly and well-trained tour guides. 
The famous Dunn's River Falls is worth the steady stream of visitors it welcomes as it rises majestically over the Caribbean Sea. These gently cascading falls are easy to climb and will be a thrilling time for all members of your family. 
End your time in Ocho Rios riding the bobsled at Mystic Mountains, an eco-friendly attraction nestled in the hills of Ocho Rios. You'll take the Sky Explorer, a tram that carries guests to the top of the mountain, to the start of your bobsled ride. You'll enjoy breathtaking views of the coastal town, have the opportunity to zipline through the rainforest, ride the waterslide into the infinity pool, visit the bird aviary, shop Jamaican souvenirs and grab a bite at the restaurant here. 
EXPERIENCE OUR ISLAND