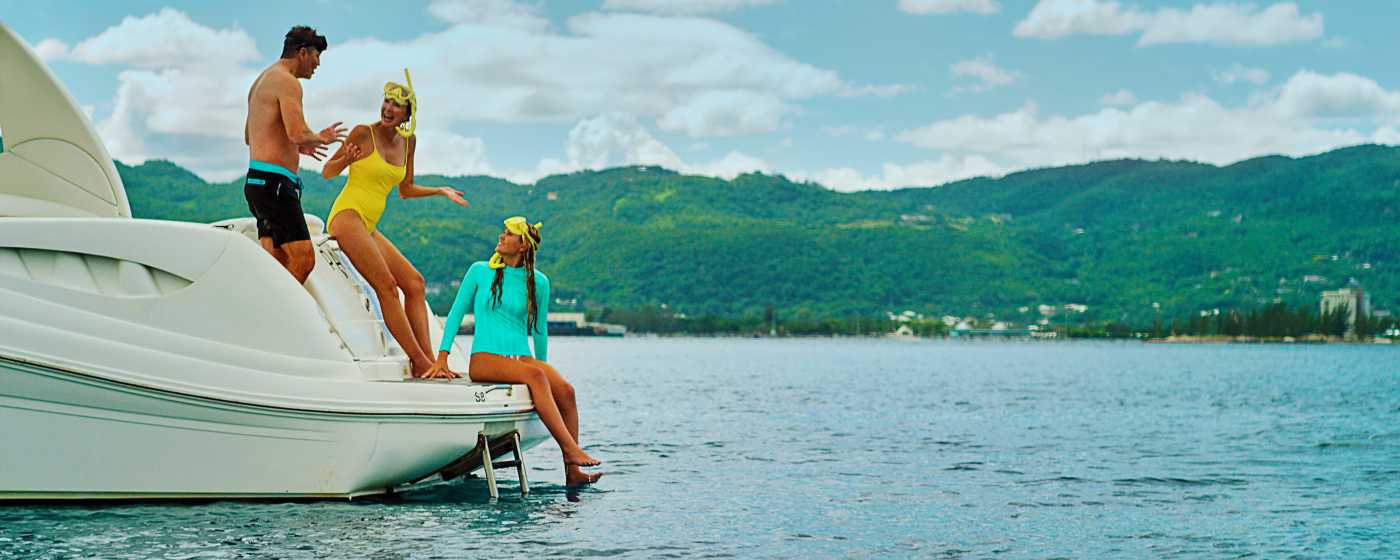 Adventure Boat
Luxury Transportation in Jamaica
Getting around is an important part of any vacation and visitors to Jamaica should expect several luxurious transport options to choose from. In fact, Jamaica's transportation options are as diverse as they are plentiful. If you're planning a relaxing holiday in one of our five-star resorts then choosing transport will be simple; pre-booked transportation can easily be included in your package and some resorts will pick you up in fine Mercedes flare.

Getting Here
From any of our international airports and smaller ports that land private jets to the luxury coaches that offer a comfortable and safe ride to your villa or resort, your entire vacation will be steeped in luxury from entry to goodbyes.

Getting Around
Exploring the island is a breeze. Jamaica boasts some of the most exotic transportation options for the flamboyant vacationer. Scenic helicopter journeys give passengers spectacular views of the water, and visiting celebrities and luxe travelers often opt for a sports car or premium SUVs during their visit to the Island.
A favorite among those who prefer to be behind the wheel are high-end rental cars from popular and reliable companies such as Budget, Hertz, and Avis. Jamaica is a large Caribbean island and visitors may want to rent cars for their own exploration. Use a day or two taking advantage of the opportunity to drive from one side of the island to another, stopping to explore some of the best views, watering holes, and historic sites that Jamaican has to offer.
This is a trip that can be done in 5-6 hours, more with longer stops.
With a rental car, you can roll into town without the worry of navigating your way there. And if it's a convertible you want or one with extra power and speed? No problem; rentals like this are easy to come by in Jamaica.

Leave it to the Experts
Not feeling like driving? We boast premium bus services that will take you to the popular cities safely and in the utmost luxury as well. This convenience is a great option for those who want to see more than just the beaches and attractions close to their resort, but also the rural areas for a slice of authentic Jamaica, or the city where the best of our culture converges.
Tour operators also often provide premium transportation on a shared or private basis. Ride your air-conditioned coach to attractions such as the Blue Mountains, Negril's 7-mile beach, the charming Treasure Beach Fishing Villages, or the metropolitan city of Kingston, the cultural capital of the Caribbean.
It doesn't stop there. Jamaica's luxury transportation options include everything from boats that will cruise you around the island's coastline or ferry you to one of our many beautiful outer islands, meeting Jamaican locals and enjoying some of the most authentic food and activities that this country has to offer.
Our island boasts an array of maritime transport options for those who want to go fishing, party on a catamaran, partake in water activities such as parasailing and snorkeling, or simply enjoy a day out on the water.
If you prefer to travel in a more private setting, your tour operator will be at your beck and call with premium options.
With such variety in transportation options, there's no denying that Jamaica is a luxury getaway paradise with something for everyone.