Jamaica: Heartbeat of the World offers travelers unique and immersive Carnival 2020 events. The 2020 Carnival season in Jamaica officially kicked with several major bands premiering the sexiest costumes and premium events. The party is just beginning with a line-up of events every week leading up to the grand finale- Road March on Carnival Sunday, April 19th. 
Every year, Carnival is held in the month of April in the city of Kingston with events held in Ocho Rios and Port Antonio.  If you want to experience Carnival in Jamaica then the best time to come is during the week of April 10-20, 2020. The week leading up to Carnival Sunday will see events or as they are referred to in Jamaica- fetes, happening every day of Carnival week. In addition, from late February to April, there will be events every weekend leading up to the big finale.Carnival is a large costume and road festival with big trucks playing music while revelers in their fancy costumes dance along the parade route. Each band competes for the best costumes and music. It's one of the best times to come to Jamaica if you want to experience the fanfare and excitement. Carnival although not indigenous to Jamaica, has become an integral part of Jamaican culture and one of those events that has the island pumped with excitement! Nobody parties better than a Jamaican! Come vibe with us and see what we're talking about.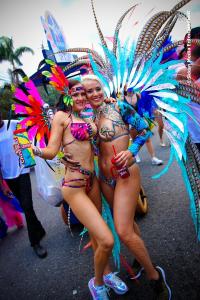 This year, 2020, is predicted to be the largest carnival event ever. In  2019 promoters estimated around 51,000 visitors to the island participated in carnival events. This means that carnival is a commercially viable season that is good for the local economy. So when you're having fun, you're also supporting the local industries in the island!
Visitors will have the opportunity to experience Carnival in the capital city Kingston, Ocho Rios and Port Antonio as events span some of the island's hottest spots. The bands this year are Bacchanal Jamaica, One World Rebellion, Xaymaca International and Xodus Carnival as they light up the Island with a line-up of unforgettable events. "Carnival season is one of the most exciting and culturally immersive times to visit Jamaica,"said Donovan White,Jamaica's Director of Tourism. "Travelers come to the Island for this one-of-a-kind experience and are immediately drawn to all that it has to offer. The activities for this season have increased and we are eager to host new revelers for all of the upcoming celebrations."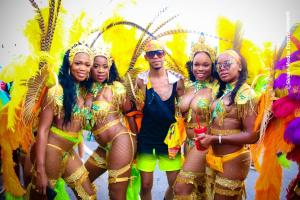 While many Carnival events are taking place in Kingston, there are plenty of festivities happening across the island including the annual Ocho Rios Carnival on Easter Monday April 13, 2020. The day starts as early as 10 AM with the carnival village at the Ocean Village Plaza on Main Street, where visitors can enjoy a food court, a mini kid's village and booths with Carnival merchandise. The road march, ending at Turtle River Park, will see five bands: Maroons, Tainos, Arawaks, Soca Junkies and Red Ants. See Ocho Rios Carnival events below.
Here's a list of events to plan for this Carnival season. Carnival Week 2020 highlights include:
Friday, April 10th.
Downtown Kgn Carnival- Ash  Jouvert
Saturday, April 11th
Frenchmen Rise Up Breakfast Party
Downtown Kgn Carnival- Dancehall Soca Street Jam
Rock the Boat
Sunday, April 12th
Frenchmen Weekend
Caesar's Army: BR Jamaica
Downtown Kgn Carnival- Soca Brunch
Monday, April 13th
Ocho Rios Carnival Road March and After-party 
Downtown Kgn Carnival: Road March Parade and after-party 
Dusk
Tuesday, April 14th
Soca By Di Tree
Ocho Rios Carnival: Roadblock (Kingston)
Tuesday on the Rocks (TOTR)
Moonshine 
Wednesday, April 15th
Bacchanal Premium
I Love Soca Jamaica
Carnival on the Cay
Xclusive Boat Cruise
Thursday, April 16th
Xodus Tailgate
Silent Morning
Afloat Cruise 
Big Phat Cooler
Frenchmen: Blocko
Tribe Ignite 
Friday, April 17th
Bacchanal Jamaica–Bacchanal J'Ouvert
Fete Republic: Night Carnival
Black 2 Blue Breakfast party 
Medz breakfast party 
Hookie Jamaica
Sunkissed
Soca Brainwash 
Scorch Duck Work
Saturday April 18th
Caesar's Army AMBUSH JA, Kingston 
Vybe Jamaica–Coolers & Cocktails
Xodus Fete Gala
Frenchmen: Bazodee
Sunrise Breakfast Party 
Suits Jamaica
PM Fete 
Baywatch Jamaica
The Network Jam
Sunday, April 19th 
ROAD MARCH–Parade of the Bands, Kingston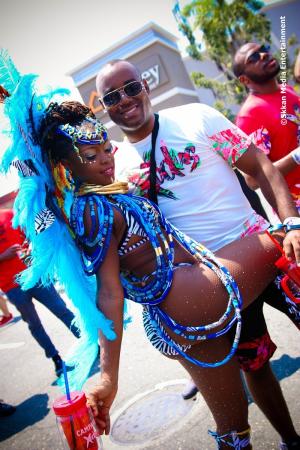 Xaymaca International 
Bacchanal Jamaica
Xodus Carnival 
French Quarter 
Big Wall House Party 
Monday, April 20th
Xaymaca Beach Fete 
Xodus Mawning After 
Download the Carnival Calendar here: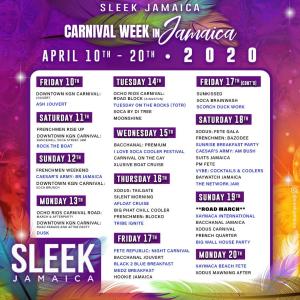 Carnival Travel Tips:
Ladies should wear either flats, sandals or sneakers because the route can take hours to get to the end and you'll be on your feet all this time.. if you wear stilettos or heels, walk with a flats. Of course everyone wants bomb photos! However, comfort is the name of the game. It's advised you also carry a light hand-held purse/backpack or fanny pack with your essentials items.

Do not wear your expensive jewelry or leave them at home completely! Try not to be too flashy with whatever you decide to wear.

If you are traveling with a large group, you should purchase a local phone or SIM card. This way, you will have a way to communicate with your travel partners. You can obtain a local phone or SIM card at the airport when you enter the island.

Drink plenty of water while you are dancing on the road- stay hydrated. If you consume alcohol, have a designated driver. Eat before you drink and ensure you drink enough water to stay hydrated.  

Walk with sunscreen if you have sensitive skin.

Remember to let loose and have fun, let the carnival spirit and the sound of the drums and music become one with you!
For more information and to plan the ultimate Carnival in Jamaica experience, please visit: http://carnivalinjamaica.com/.AboutJamaicaTouristBoard
Follow the JTB on Facebook,Twitter,Instagram, Pinterest and YouTube. View the JTB blog at www.islandbuzzjamaica.com.